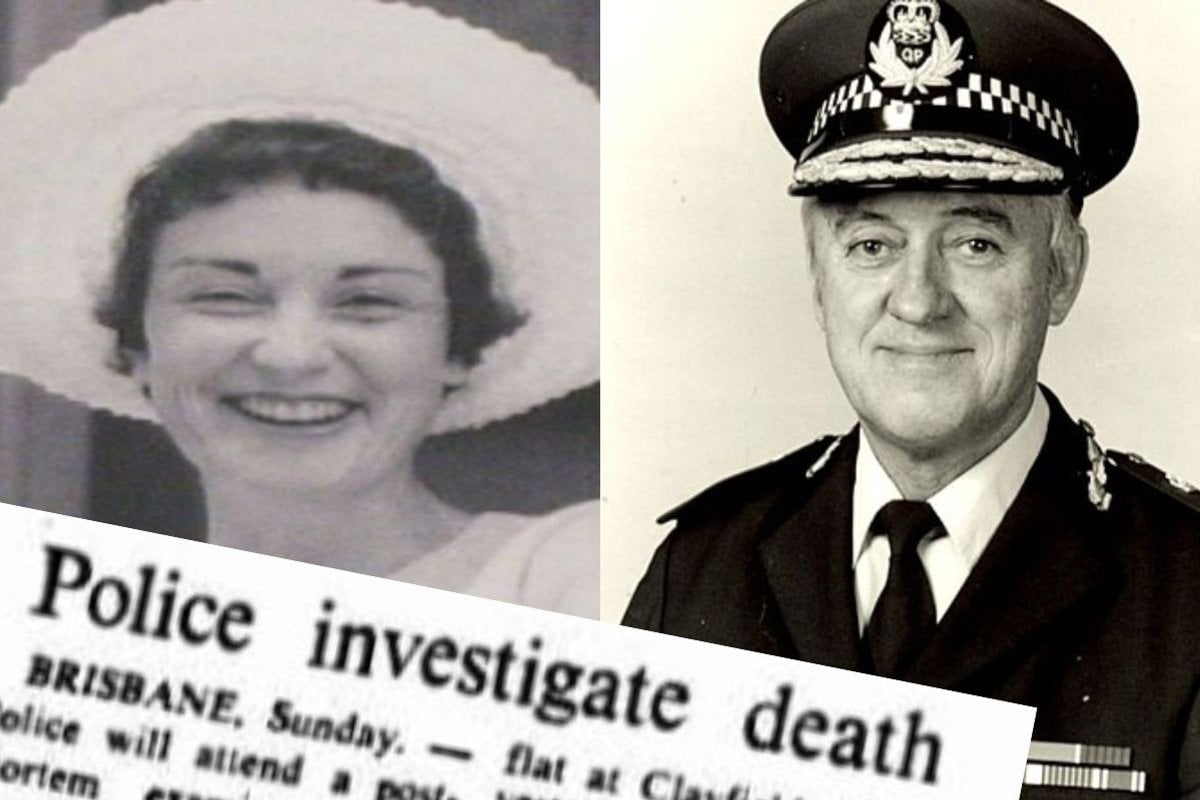 This post mentions suicide and murder and might be triggering for some readers.
It was the perfect scam. 
Former Queensland police commissioner Frank Bischof and his 'rat pack' of dodgy cops; Glen Hallahan, Terry Lewis and Tony Murphy, would cash in on weekly bribes from Brisbane's sex workers in exchange for 'protection' from prosecution.
It was a set-up that would continue through from the late 1950s until the late 1980s, despite multiple sex workers trying to expose them. 
LISTEN: To a deep dive on this era of Queensland crime. Post continues after podcast. 
Somehow, this scam just kept surviving, despite multiple attempts to take it down.
First, there was Dorothy Knight. 
She'd been arrested for forging cheques at department stores, and while in prison, was befriended by Queensland detective Glen Patrick Hallahan.
Fresh out of jail in the 1960s, Dorothy got involved in sex work in Brisbane and was kicking back $20 a week to Hallahan. That money in today's prices would be closer to $200. 
"She felt like there was very little she could do without his permission. And this is how these relationships evolve, there's almost a distinctive ownership of this woman as a piece of money generating property," investigative journalist Matt Condon told True Crime Conversations.
Hallahan had the same setup with multiple other women. And it wasn't all about control and handing over money. 
"They would sometimes have a drink together – have a scotch and ice in the National Hotel before everyone got down to work. They would share gossip ...so a sense of trust, and – from these women's point of view – a degree of an actual friendship," said Condon.
"But over time when the money starts mounting and the demands continue ceaselessly, women like Dorothy do reach a breaking point threshold where they go 'why am I working so hard, and just handing over my profits to these corrupt police?'" 
Dorothy reached that threshold in 1971, when she agreed to go undercover and catch Hallahan in a sting.
Wearing a wire, (non-crooked) Queensland police watched on as Dorothy did her weekly cash handover. 
The sting was successful in that Hallahan was arrested, charged and suspended from the police force. But his case was eventually dismissed in court due to dodgy audio from the wire.
It wasn't the first time the rat pack had gotten away with it.