1. A Brisbane dad's two young children vanished three years ago. Yesterday, they were reunited.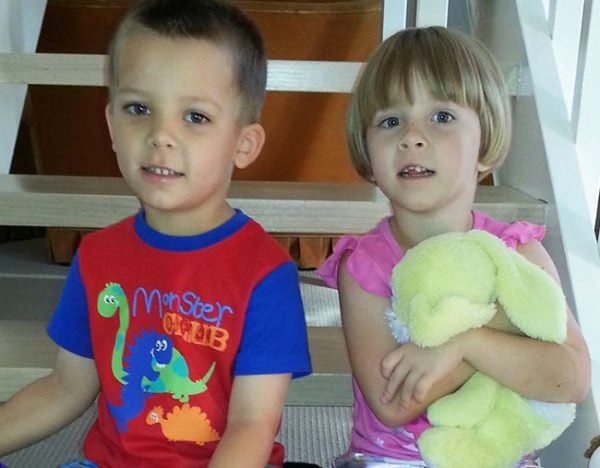 Harry Speath, 61, was preparing to spend yet another Christmas without knowing the whereabouts of his two young children.
On December 5, 2014, Thomas and Serena - then aged just four and five - were picked up from Harry's home by their mother, Jane Adare.
It was the last time Harry saw them.
"It was agreed we would share custody, a week in turns. We agreed shared parental responsibility," Harry told Mamamia earlier this year.
"The end of term before Christmas 2014 was the last time I saw my kids.
"With that, they were gone. I had a scheduled call with them on Monday. It went to message bank. My scheduled call on Wednesday went to message bank too."
Harry believed his children may have been taken to Europe by their mother, who holds dual-citizenship in the UK. For three years, Thomas and Serena were not enrolled in any schools and their Medicare cards had not been used. Harry set up a Facebook page to continue the search for his young children.
But on Wednesday, the Australian Federal Police knocked on his door and told him his children had been found and would be returning home the very next day.
According to Daily Mail, Harry's children - now aged eight and nine - were living in the Sunshine Coast hinterland with their mother, just 150 kilometres from where they were last seen.
"Thank you so much for all your support," Harry wrote on Facebook, sharing the news.
"This is the best Christmas present."
Speaking to A Current Affair, Harry said his reunion with his kids has been a "very emotional time".
"I was starting to lose hope, truthfully, and I guess that came about after the third anniversary. It was particularly difficult as that time came and went.
"It really means pretty much everything to me. It's the most important thing in my life, to be involved in raising my children.
"What's more important than your children?"
Thomas and Serena's disappearance has been described by police as a "parental abduction".
2. Love is in the air! Prince Harry and Meghan Markle release brand new engagement pics.
Britain's Prince Harry and his American fiancée Meghan Markle have released a series of portraits by New York-based fashion photographer Alexi Lubomirski to mark their engagement.
Lubomirski, a former assistant to Mario Testino, famed for his photos of Harry's mother Princess Diana, took the pictures this week at the royal retreat of Frogmore House, near Windsor Castle, west of London, where the couple are due to marry on May 19.
"I cannot help but smile when I look at the photos that we took of them, such was their happiness together," Lubomirski said.
"Prince Harry and Ms Meghan Markle have chosen to release this official portrait photograph to mark their engagement," Kensington Palace wrote alongside the photos on Instagram.
"Thank you so much for all of the wonderful comments following the release of Prince Harry and Ms. Meghan Markle's engagement photographs.
"The couple are so grateful for the warm and generous messages they have received during such a happy time in their lives."
Queen Elizabeth's 33-year-old grandson, Harry, fifth-in-line to the throne, and Markle, 36, who stars in the US TV legal drama Suits, announced their engagement last month.
Last week, Kensington Palace confirmed the pair would marry on 19th May 2018.
To see more of their engagement photos, click here.
3. Four people remain in a critical condition after an SUV deliberately ploughed into pedestrians in Melbourne.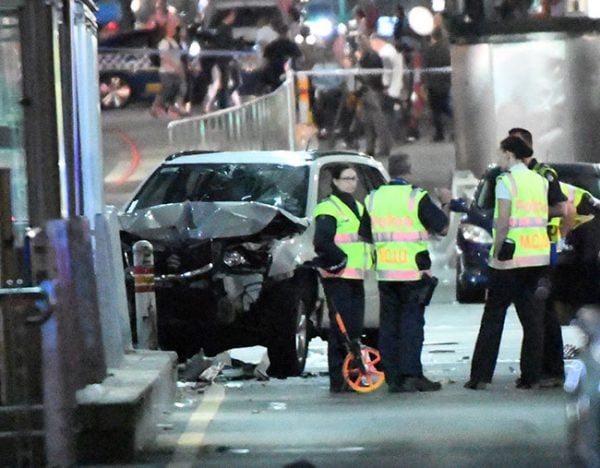 Four people remain in a critical condition after a car deliberately mowed down pedestrians at a busy Melbourne intersection, AAP reports.
A four-year-old boy with head injuries is among 19 people injured in the incident, which includes the 32-year-old driver who is an Australian citizen of Afghan descent.
The man, who was arrested by an off-duty police officer, was known to police following a 2010 minor assault matter, and has a history of drug use and mental health issues.
Acting Police Chief Commissioner Shane Patton says the man was on a mental health plan but was not on bail or any corrections order.
"He is still in custody, under arrest for these offences, for what we allege was a deliberate act," Mr Patton told reporters on Thursday night.
One witness said the 4WD was travelling at up to 100 km/h as it hit peak hour crowds crossing Flinders Street, 11 months after six people were killed in a similar incident four blocks away in Bourke Street.
"The only thing that slowed him down was him hitting pedestrians," witness Jim told ABC TV.
"There was no braking, there was no slowing down, he went straight through the intersection. All you could hear was the sound of the car hitting people and screams."
Those hospitalised vary in age from four to 83, including the off-duty police officer.
Mr Patton said there was no evidence to suggest any links to terrorism but investigations continue.
He said the man was alone in the car and accelerated as he drove on tram tracks down Flinders Street.
Police were on the scene within 15 seconds of the incident, Mr Patton said.
A second man, 24, was arrested after being seen filming the incident and was found with three knives in his bag although police believe he has no links to the incident.
4. Australia's leading doctors would like you to indulge in... salad this Christmas.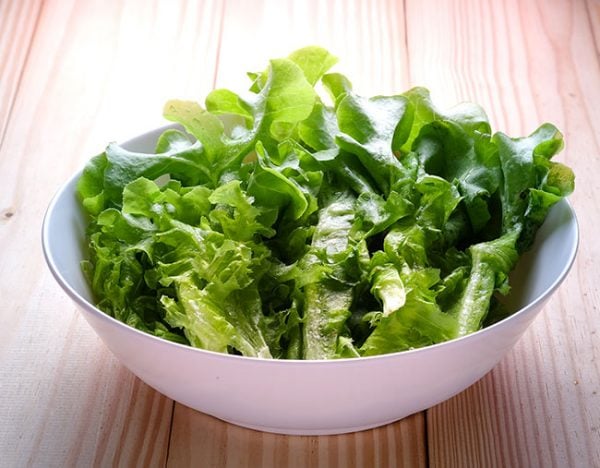 Forget the turkey, ham and prawns, the nation's peak medical body says a healthy serve of fresh salad is more appropriate to keep the kilos off on Christmas Day.
The Australian Medical Association has issued a gentle reminder that over-indulgence in food, alcohol and confectionary over the Christmas/New Year holidays will lead to adding on an extra kilo or two.
Australians can consume three times as many kilojoules as they need just on Christmas Day, the medical body warned on Thursday, AAP reports.
"Some Australians will consume more than 25,000 kilojoules - or 6000 calories - on the day, which is three times the amount of energy needed by a moderately active adult," AMA Vice President, Dr Tony Bartone said in a statement.
However, there are many practical ways to avoid weight-gain over the festive season, Dr Bartone says.
"First, consider how much food you actually need to purchase and prepare. When entertaining, there can be a tendency to over-cater, and much of this food is thrown away," he advised.
"A healthy serve of fresh salad, especially at the start of lunch or dinner, is a simple suggestion which allows people to fill up on fresh vegetables."
Other healthy tips from the AMA include: drinking plently of water and watching the alcohol intake, watch portion sizes, slow down and enjoy the food, and go for a walk or bike ride after eating.
"These steps can help keep your weight in check, and make your New Year resolutions easier to keep," Dr Bartone said.
5. "Possessive" and "jealous" woman who paid a hit man $4000 to kill her ex found guilty of murder.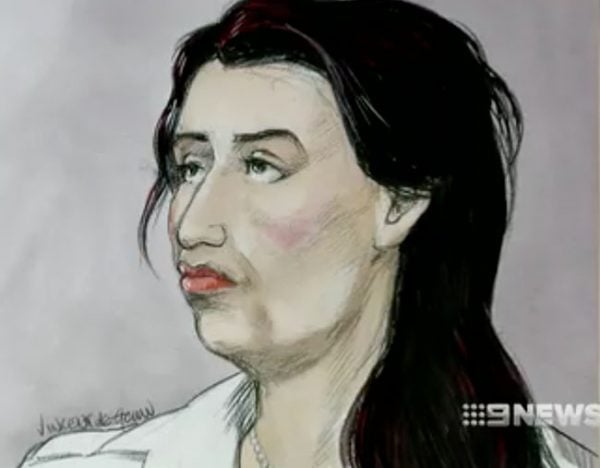 A "bitterly angry" and "obsessed" Sydney woman who paid a hit man at least $4000 to shoot her former lover has been found guilty of his murder, AAP reports.
Raymond Pasnin was leaving his mother's Pendle Hill home with his fiancée late one night in 2013 when a man emerged from the darkness and shot him dead without warning.
The shooter later received $4000 from Mr Pasnin's ex-girlfriend, Louise Catherine Spiteri-Ahern, who had allegedly hoped months earlier that they would reconcile.
On Thursday, NSW Supreme Court Justice Stephen Rothman found the 27-year-old guilty of murder after hearing during a judge-alone trial that she'd paid the shooter, Daniel Haile, for the killing.
A bitterly angry Spiteri-Ahern had a difficult relationship with Mr Pasnin, who spent time in jail earlier in 2013 when she accused him of stabbing her in the leg, according to a crown opening statement tendered during the trial.
Mr Pasnin maintained the stabbing allegation wasn't true.
Spiteri-Ahern sent him letters in jail which showed how obsessed she was with him and she hoped they would reunite upon his release, the crown statement said.
It alleged she was motivated by "anger, possessiveness, jealousy, vengeance and hatred" to solicit Mr Pasnin's shooting.
Justice Rothman on Thursday said Spiteri-Ahern had a motive having expressed significant animosity towards her ex.
But he found two other people, April Barber and Amin Zraika, not guilty of other offences related to his murder.
Ms Barber, now 30, who was also a former lover of Mr Pasnin, had pleaded not guilty to being an accessory before the fact.
The Crown alleged she set Mr Pasnin up for the killing by ensuring he would be at a certain place at a certain time and then communicated his whereabouts to Spiteri-Ahern.
However, Justice Rothman said it hadn't been proved beyond a reasonable doubt that Barber was aware any information she provided was for the purpose of causing grievous bodily harm or death.
He found Mr Zraika, 39, who was Ms Barber's partner at the time of the killing, not guilty of concealing a serious indictable offence.
Spiteri-Ahern fought back tears after the verdict and told a supporter in the public gallery not to cry.
She's next scheduled to face court for a sentence hearing in April 2018.
Haile has already been convicted over the shooting and was sentenced in 2016 to at least 24 years in jail.
6. Apparently, the "feel-good" nature of Christmas is responsible for a huge baby boom every year.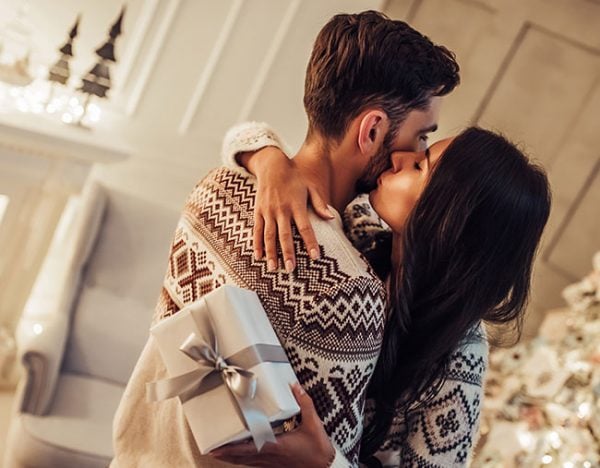 A focus on love, family and presents at Christmas time is responsible for people feeling more... frisky than at any other time of the year, a global study has found.
According to MailOnline, researchers from Indiana University in the US analysed Google searches and public Twitter posts from nearly 130 countries and discovered that an interested in sex peaks during major cultural or religious celebrations.
During these periods, the use of the word sex and other sex-related web searches peak during these times. The increased interest also correlated to a rise in birth rates exactly nine months after the holidays.
The most significant rise was found during Christmas, with many countries experiencing a 'baby boom' in September.
The research suggests people are more likely to feel in the mood during Christmas as they feel happier, safer and calmer during the holidays.
"Perhaps people feel a greater motivation to grow their families during holidays when the emphasis is on love and gift-giving to children," Professor Luis Rocha, of Indiana University, said.
"The Christmas season is also associated with stories about the baby Jesus and holy family, which may put people in a loving, happy, 'family mood'."