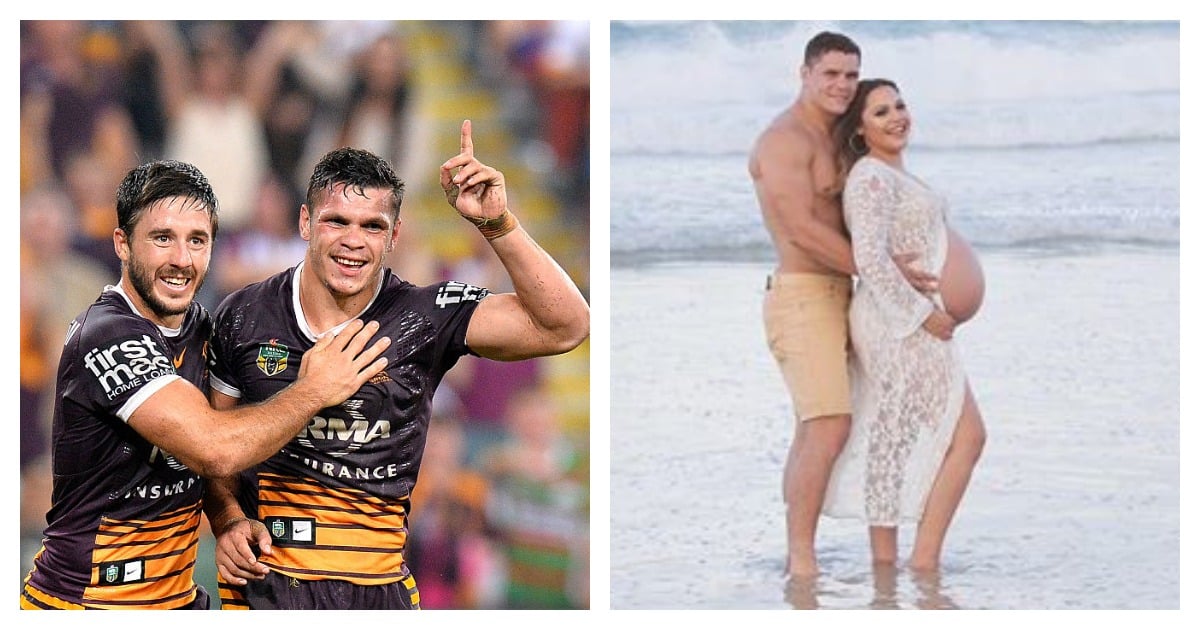 The role of a father during labour and the expectations of a partner are being hotly debated on social media after Brisbane Broncos star player James Roberts risked missing the birth of his first child, in order to instead play with his team.
The baby – the first for the 23-year-old and his partner, Anna Jovanovic – finally arrived on Sunday, but Jovanovic's waters broke Friday leaving Roberts with the decision whether to stay by his partner's side, or travel to Brisbane's Suncorp Stadium to play against the Rabbitohs.
James Roberts and wife, Anna with baby Kirk. Via Facebook.
Roberts admitted in a video release that his wife was against the decision.
"She was begging me to stay and not go but I just wanted to come up and do a job for the boys," he said.
"I am sure Wayne [coach Wayne Bennett] did (want me to play) but he didn't say much, I think he was just avoiding calls from Anna. I thought it was close — the water broke the day before, but it dragged on a bit. We ended having it on Sunday morning at four o'clock.
When the couple's baby, named Kirk, finally arrived the game was well and truly over (the Broncos beating the Rabbitohs 30- 8) and Roberts was by his wife's side.
He said : "I am glad it is all over and it's pretty enjoyable going home to my little boy."
But despite the fact Roberts didn't actually miss the birth of his son social media users were horrified at the thought Jovanovic, in Roberts's own words "begged him to stay" and yet he went anyway.
One woman wrote: "Your wife is begging you but no can't let the boys down, don't worry about your wife and child! When football is over who is there at the end, yeah not the boys!!"
Another: "To put the birth of your child second too your job is abit unfair, any other dad to be that works has the same decisions to make and 99.9% of them are right beside their wife! Footballer or not!!"
And they went on "his wife will remember she took 2nd place not a nice feeling. ...get your priorities right mate."
"Like so many putting themselves ahead of their kids. Has his priorities all wrong."
James Roberts and wife Anna Jovanovic Via Facebook.
But others defended him.
"Did he miss the birth? No. She was in hospital being cared for by doctors plus he was there for the birth. Its not like he left her on the side of the road and told her to make her own way there."
Another said: "What's so bad about doing his job? He is trying to provide for them"
And "He was there for the birth. He put his team ahead of himself, and in that sense he was selfless."
James Roberts played in Friday's game. Via Getty.
He's not the first footballer to invite controversy over the issue.
Last year Cowboys NRL Player James Tamou was slammed after saying he was going to miss the birth of his second child because he wanted to play for the Australian Kangaroos.
"You only get to play so many tests for Australia" the team at Triple M teased him at the time " And you are right you might go on to have seven or eight kids."
Chelsea goalkeeper, Petr Cech missed the birth of his child. Via Getty.
In 2008 Chelsea goalkeeper, Petr Cech also faced backlash after he not just skipped the birth of his child, staying in the UK to play soccer, rather than flying to Prague, but then playing in a semi-final before setting off.
He later said he regretted missing the birth, "but my daughter decided she was coming in the middle of the night, and there was nothing I could do about it".
Gordon Ramsay famously weighed into the debate saying he never regretted missing the births of his children. Ramsey said he thought his sex life "would be damaged by images like something out of a sci-fi movie - skinned rabbits and conger eels coming at me from everywhere.
"I didn't want that to be in my memory. Seeing a woman in distress, screaming at the top of her voice, pushing, pushing, pushing, and sweat, sweat, sweat? I'd rather be stark bollock naked in a steam room with 50 vegans."
Ramsey said he thought his sex life "would be damaged by images like something out of a sci-fi movie. Via Getty.
But that wasn't the case for James Roberts who not just witnessed the birth of his son but as he says "pretty much delivered the baby".
Late last night, home from hospital with their beautiful newborn the woman at the centre of all this made her feelings on the matter clear.
Anna Jovanovic took to Facebook to respond. Via Facebook.
Anna Jovanovic responded on the Facebook page of The Daily Telegraph writing:
"If only everyone knew the truth! Particularly the truth about how extremely supportive James was while I was in labour and how James has a heart made of gold! Not to mention how is so very caring towards myself and our son, and how he is extremely loving and nurturing!
Its oh so very sad to read the lies that people like Vanessa write.
Please note I was no where near having baby Friday night hence the reason for James staying committed to what he loves and where his passion lies and that's being the professional athlete he is and playing football.
I will stand by my man and support him in what he does best, that's what any strong woman would do!
This is so very disrespectful! I have just returned from the hospital with our son and this is what we have to come home to!"
Congratulations on the birth of baby Kirk James Roberts and Anna Jovanovic.