Anyone who's ever planned a wedding, or been anywhere near someone who is planning a wedding, knows that sometimes, things can get a little crazy in the process.
I'm talking arguing with your mum about the flavour of your wedding cake crazy.
Or yelling at your bridesmaids the night before your wedding because they are painting their toenails instead of helping you do something, you can't remember what, but it was obviously very important at the time, okay?
But one woman's story of the stunt her younger sister is pulling ahead of her big day definitely takes the (chocolate mud) cake.
A 33-year-old woman has turned to Reddit for help after revealing her 22-year-old sister was 'auctioning off' spots in her bridal party.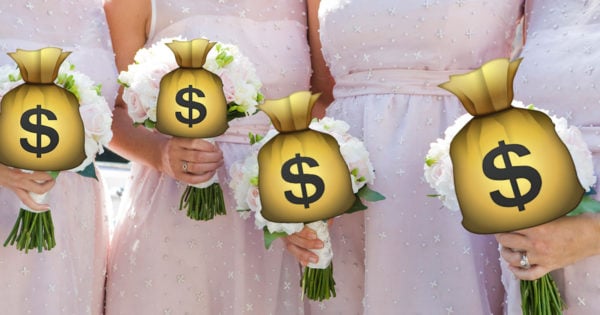 "She got engaged a couple of months ago and will be getting married at the end of August...she still hasn't chosen her bridesmaids," the woman, who referred to herself as 'sistersbridesmaids', wrote.
"Instead, she has sent out dozens of... invitations, to various girls. It's an invite to attend and participate in a 'bidding auction' on the six spots in her bridal party.
"Whichever six of all these chicks bid the most will be the bridesmaids. There's also an auction for being her maid of honour."