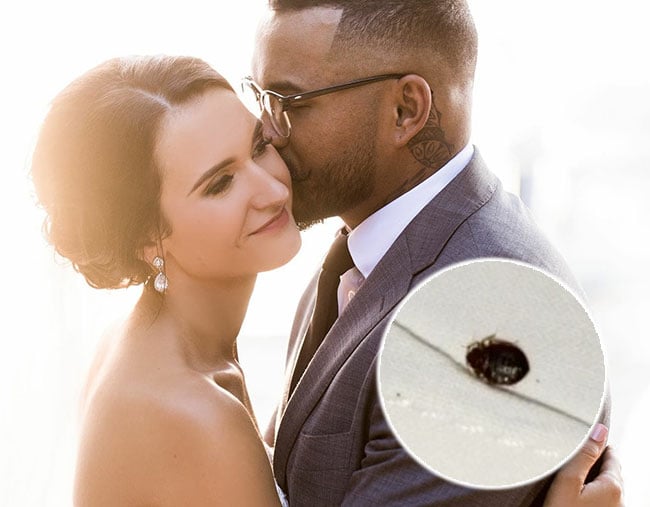 1. Bride's wedding from hell after finding 'blood-filled bugs' in her hotel room the night before her big day.
At the beginning of this month, Isabel Chan was preparing to marry the man of her dreams. The night before the wedding – set to take place on Stradbroke Island, off the coast of Brisbane – Isabel and her friends checked into the Meriton Holiday Apartments in Main Beach.
That, Isabel says, is when her dream trip turned into a nightmare.
Speaking to Nine News, Isabel said the horror started when around 20 "blood-filled bugs" were found surrounding her four-year-old flower girl after she was tucked into her hotel bed.
"It looked like a spider's nest had hatched on her pillow," Isabel told Nine News.
After checking the rest of the beds in the hotel room, the bridal party found more bugs.
"All three rooms were checked, and all three were positive for bugs coming up out of the mattress behind the pillows," she said.
After calling management to complain, the bride-to-be was told the hotel manager was aware of the issue, but would not be coming back to the property to help. The women were also refused a new room.
"No amount of pleading for a new room… made any difference," Isabel said.
Isabel and her friends were forced to make do with what they had, camping out on the tiled floors and the hotel room's leather couches.
"There was no choice but to use the cleanest top sheets from the beds that bugs weren't visible on," she said.
"Some were brave enough to use couch cushions as pillows while one bridesmaid used a pile of her spare clothes as a pillow."
The morning of her wedding, hotel staff accused Isabel of making up the entire story. Eventually, they agreed to issue a refund and the bridal party was moved to a smaller room – yet still expected to pay for the extra beds needed to accomodate all of the guests.
Hotel staff even wanted to charge Isabel a cleaning fee for the room, but eventually agreed to waive it.
"No effort was made by [the hotel] to help their guests, all help had to be demanded," Isabel told Nine News.
"All in our party were weary, astounded, and outraged."
To make things worse, the "chaos" of the pre-wedding night meant Isabel's mother wasn't able to walk her daughter down the aisle.
In a statement provided to 9 News, the Meriton Holiday Apartments have said they gave Isabel and her guests the option of a full refund so they could relocate to another hotel, but the group chose to stay another night.
"The rate is usually $300 to $350 for four guests, however six guests stayed at no additional charge for the two extra guests," the hotel said.
2. 'Wait for us!' Mum's horror as six-year-old daughter 'runs into traffic' and is hit by a van.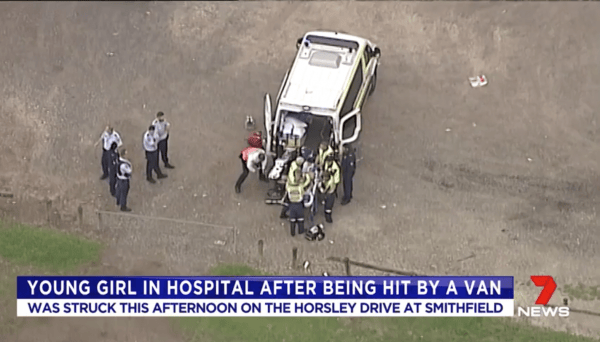 A six-year-old girl is clinging to life after being hit by a van in Sydney's southwest when she "stepped into traffic", police say.
The girl was hit on Tuesday afternoon on Horsley Drive at Smithfield and was taken to Westmead's Children's Hospital with critical head injuries.
Sickening CCTV footage, shared in part by Daily Mail, shows a white van driving along and the girl running out onto the road at the same time her mother screams, "Wait for us".
Next there is a thud, and the mother's cries for help.
"There is footage from businesses in the area that show the accident unfolding and it appears the girl just stepped into the traffic and there wasn't a great deal the driver could do," Acting Superintendent Craig Ireland told reporters in Sydney on Wednesday, AAP reports.
She's in an induced coma and remains in a critical but stable condition on Wednesday morning, police said.
The 55-year-old male van driver was taken to Fairfield Hospital for mandatory testing, while police have urged witnesses to come forward.
3. Uh-oh: Aussies are being warned their favourite sausage sangas actually contain nearly half of the recommended daily salt intake.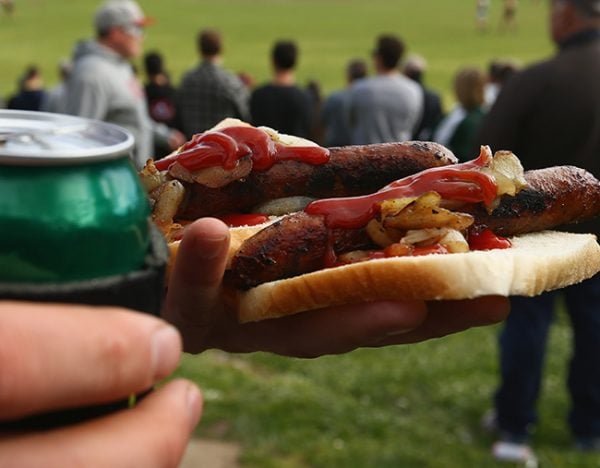 BBQ-loving Australians have been warned a sausage sandwich with tomato sauce contains nearly half the recommended daily salt intake.
Researchers at the The George Institute for Global Health analysed the salt content in more than 1000 processed meat products like sausages, ham and bacon from Australia's four major supermarkets from 2010 to 2017, AAP reports.
While bacon and sliced meats reduced their salt content, there was no change to the salt content of sausages during the seven year period.
On average, just one sausage contains more than one-quarter (28 per cent) of an adult's recommended daily salt intake.
The analysis also revealed huge variation in salt content, with some snags three times saltier than others.
Coles thin pork BBQ sausages were the saltiest, containing 2.9 grams of salt per 100g of sausages, according to the research.
The sausages containing the least salt were Cleaver's Organic Beef Sausages (0.95g of salt per 100g).
The researchers warned that when eating a sausage with slice of white bread and tomato sauce a person would consume about 2.35 grams of salt.
It's recommended adults eat less than five grams of salt per day, with excess salt consumption directly linked to high blood pressure - a key risk factor for heart attack and stroke.
4. The rate of homelessness in Australia has increased by more than 13 per cent in just five years.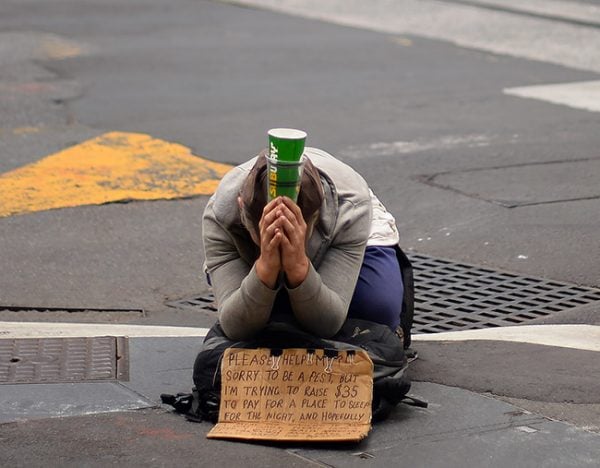 Homelessness means understanding "the absolute joy of dry socks in winter", says a mother-of-three now living in Victorian crisis accommodation, AAP reports.
Jennifer Donnelly's life spiralled out of control in 2014 after she was sexually abused by her male partner before turning to methamphetamines to ease the pain and finding herself one of Australia's 116,000-plus people with no place to call home.
The 40-year-old struggled with a lack of justice, fell into another bad relationship and again turned to drugs within two years.
"You know the absolute joy of dry socks in winter. We have to travel up to one-and-a-half hours sometimes to get meals," the mother-of-three said in Melbourne on Wednesday.
"I could sleep legally outside of the city which is not safe, but if I want breakfast I have to travel into the city. I had to make a choice if I was getting fined for being homeless or travelling without a Myki - that means $300 for breakfast."
She now plays soccer, volunteers in the kitchen at a centre for homeless people in North Melbourne and studies law at Swinburne University, all while living in crisis accommodation in Melbourne.
On Census night in 2016 more than 116,000 homeless people were counted as homeless in Australia.
In the five years from 2011 to 2016 homelessness in Australia leapt 13.7 per cent, according to data from the 2016 Census of Population and Housing.
This works out at a rate of 4.6 people homeless per 100,000, taking into account population growth, the data shows.
Men aged 20-30 made up a quarter of homeless people in Australia, while women aged 65 and over also had higher instances of homelessness.
Homelessness Australia chairwoman Jenny Smith said homelessness services need help to tackle the increased demand, with 250 Australians turned away from its services across Australia daily.
"Homelessness is not a lifestyle choice, it reflects a systems failure, and most critically, a shortage of affordable housing," she said.
5. Aussie scientists may be on the cusp of developing the first ever male contraceptive pill.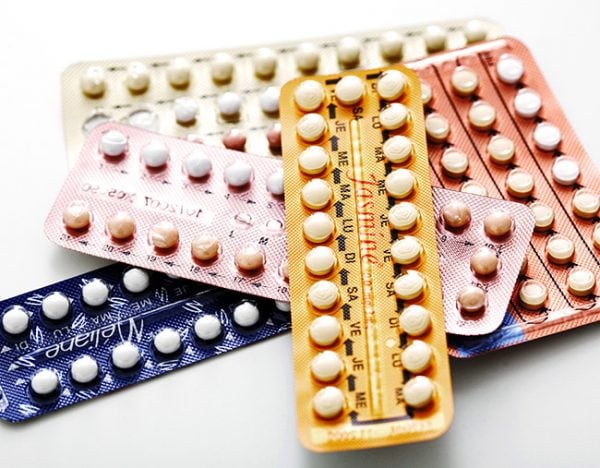 A team of Aussie scientists may be on the cusp of developing a male version of the contraceptive pill, The Daily Telegraph reports.
The scientists, from Monash University's Institute of Pharmaceutical Sciences, say the new drug could even increase male libido.
Previous versions of a male contraceptive have focused on a more hormonal approach, which have been found to interfere with male sexual activity. In some cases, there was a risk of long-term irreversible effects on fertility.
But Monash University researchers are focusing on a new approach, which aims use chemicals to 'turn off' the brain signal that causes sperm to be released from the body.
"There is a lot of social science research that shows men are happy to take control of contraception and women are happy to let them do it," Monash University's Dr Sab Ventura told The Daily Telegraph.
"But it's very hard to say without one on the market."
If the next stage of development is successful, trials for the drug could commence soon and a male version of the pill may well be on the market within five to ten years.
6. Britain is expelling 23 Russian diplomats after a former double agent and his daughter were 'poisoned' by a nerve agent earlier this month.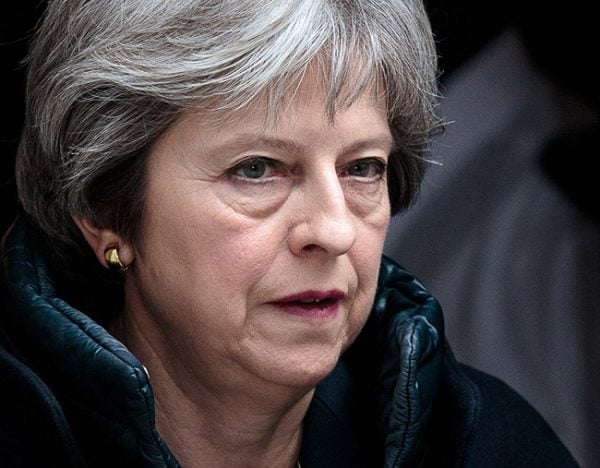 Britain will expel 23 Russian diplomats in response to a nerve agent attack on a Russian former double agent in southern England, Prime Minister Theresa May says, adding it is the biggest single expulsion in more than 30 years.
May told parliament Britain would also freeze Russian state assets wherever there was evidence of a threat and downgrade its attendance at the soccer World Cup this (northern) summer, AAP reports.
Former spy Sergei Skripal, 66, and his daughter Yulia, 33, were found unconscious on a bench in the city of Salisbury on March 4 and remain in hospital in a critical condition.
May has said the pair were attacked with Novichok, a Soviet-era military-grade nerve agent. She had asked Moscow to explain whether it was responsible for the attack or had lost control of stocks of the highly dangerous substance.
Russia has denied any involvement, and May told parliament Moscow had provided no credible explanation for the attack.
"There is no alternative conclusion other than that the Russian state was culpable for the attempted murder of Mr Skripal and his daughter, and for threatening the lives of other British citizens in Salisbury," she said on Wednesday.
"This represents an unlawful use of force by the Russian state against the United Kingdom."
May said the expulsion of the 23 diplomats, identified as undeclared intelligence officers, was the biggest single expulsion for over 30 years and would degrade Russian intelligence capabilities in Britain for years to come.
"We will freeze Russian state assets wherever we have the evidence that they may be used to threaten the life or property of UK nationals or residents," May said.
Shout out to all Dads.
Here at Mamamia we are always looking for ways to make Mamamia even better. Dads, we need you to help us do that by filling out this quick 15 min survey for us. Click the button below for your say.

Want to win some skin care goodies? Like to have your opinion heard?
Take our short survey now for your chance to a win a skin care pack.