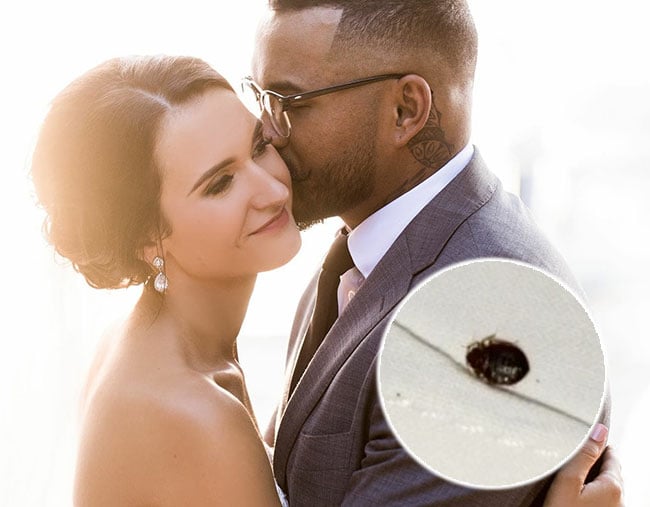 1. Bride's wedding from hell after finding 'blood-filled bugs' in her hotel room the night before her big day.
At the beginning of this month, Isabel Chan was preparing to marry the man of her dreams. The night before the wedding – set to take place on Stradbroke Island, off the coast of Brisbane – Isabel and her friends checked into the Meriton Holiday Apartments in Main Beach.
That, Isabel says, is when her dream trip turned into a nightmare.
Speaking to Nine News, Isabel said the horror started when around 20 "blood-filled bugs" were found surrounding her four-year-old flower girl after she was tucked into her hotel bed.
"It looked like a spider's nest had hatched on her pillow," Isabel told Nine News.
After checking the rest of the beds in the hotel room, the bridal party found more bugs.
"All three rooms were checked, and all three were positive for bugs coming up out of the mattress behind the pillows," she said.
After calling management to complain, the bride-to-be was told the hotel manager was aware of the issue, but would not be coming back to the property to help. The women were also refused a new room.
"No amount of pleading for a new room… made any difference," Isabel said.
Isabel and her friends were forced to make do with what they had, camping out on the tiled floors and the hotel room's leather couches.
"There was no choice but to use the cleanest top sheets from the beds that bugs weren't visible on," she said.
"Some were brave enough to use couch cushions as pillows while one bridesmaid used a pile of her spare clothes as a pillow."
The morning of her wedding, hotel staff accused Isabel of making up the entire story. Eventually, they agreed to issue a refund and the bridal party was moved to a smaller room – yet still expected to pay for the extra beds needed to accomodate all of the guests.
Hotel staff even wanted to charge Isabel a cleaning fee for the room, but eventually agreed to waive it.
"No effort was made by [the hotel] to help their guests, all help had to be demanded," Isabel told Nine News.
"All in our party were weary, astounded, and outraged."
To make things worse, the "chaos" of the pre-wedding night meant Isabel's mother wasn't able to walk her daughter down the aisle.
In a statement provided to 9 News, the Meriton Holiday Apartments have said they gave Isabel and her guests the option of a full refund so they could relocate to another hotel, but the group chose to stay another night.
"The rate is usually $300 to $350 for four guests, however six guests stayed at no additional charge for the two extra guests," the hotel said.