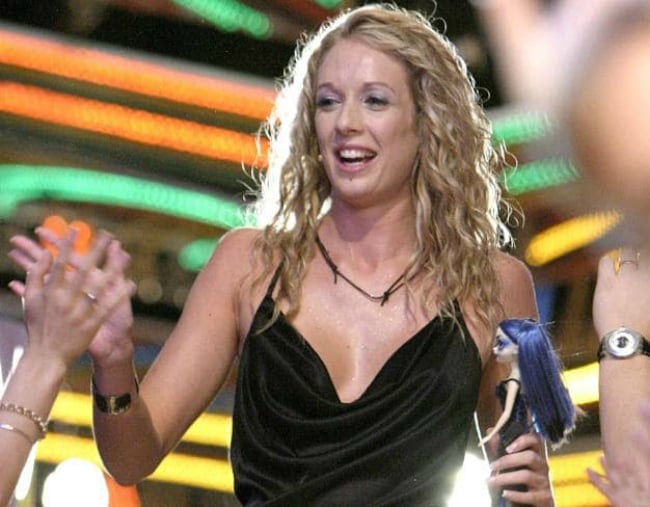 1. In 2004, Bree Amer was accidentally eliminated from Big Brother. Now, she's ready to talk about it.
Bree Amer was eliminated accidentally in the first season of Big Brother Australia and now she's spilling all the beans on exactly what happened that night.
"They took me off and I had a debrief with a psychologist, and he took me up to my hotel room and was like, 'I've just brought someone here as witness.' I was like, 'What? What's going to happen here?'" Amer told Tim Dormer for the Popcast podcast.
Amer said when she found out there had been a mistake with her eviction, she wasn't actually that annoyed, but producers were worried that if she didn't re-enter the house, she could have sued them for missing out on the prize money.
Side note: The prize money was no less than $1 million back then.
Anywho, Amer said it took some convincing but she went back in the next day to be greeted by some suspicious housemates.
"There was just this weird kind of vibe, and I hadn't slept because I'd been awake all night, processing what was going on... So I went in and literally went bonkers the first night... I think I cried half the night, because I didn't know if I'd made the right decision, and I was tired and emotional.
"I did it at the perfect time in my life — I was 21, single, no kids, and had no huge career to worry about... It was just a really fun holiday."
2. Oh. Lara Worthington is no longer blonde and this is different.
Lara Worthington is what some would call an iconic blonde.
As in, she's known for being the quintessential Aussie surfer girl with blonde, beachy waves thanks to her 'Where the bloody hell are ya?' moment what feels like a thousand years ago. It was 2006.
Now, she's gone and dyed her hair. It's very dramatic, so brace yourselves.
Lara Worthington is now... strawberry blonde. Shocking.
No, it's not breaking news. But it's really nice to look at.
Here are some more pics of the model and mum with her new copper bob.
3. I think we can all agree Nasser and Ryan from Married At First Sight aren't friends anymore.
It wasn't just the couples who were breaking up on this year's Married At First Sight.
Proving there really is no end to this series, stars Nasser Sultan and Ryan Gallagher have once again made headlines after getting into a public war of words.
It all started when Ryan, 29, accused Nasser, 51, of staging 'candid' photo shoots with the paparazzi.
Appearing on The Kyle and Jackie O Show on Friday morning, the radio hosts asked Ryan about some photos that had appeared in NW Magazine a few weeks earlier, appearing to show Nasser on a date with a 20-year-old male fashion student named Eyob Geist.
That's when Ryan accused Nasser of calling in the paps for publicity.
"He's said he doesn't like the fellas but then goes and sets up a date with a fella so he can make some money from taking photos! I don't understand that," said Ryan, as reported by Daily Mail.
Well, Nasser didn't take too kindly to Ryan's accusations, and he had a few choice words for his former friend.
"Me and Ryan were good mates. For him to go out and talk s***, I'm really disappointed," Nasser told Daily Mail.
"I thought we were great mates, I'm very disappointed. To bag me on national radio to other bogans saying, 'He's setting up pap shots'... Go f*** yourself, mate."
Nasser then went on to criticise the aspiring comedian's career, saying it was actually Ryan who was trying to cash in on his Married At First Sight fame.
"If he thinks he's going to tell jokes about Married At First Sight and get people to pay $40 for it, he's joking," Nasser continued.
Make it stop. Or don't. We're kind of enjoying the drama...
4. Kelis has accused her ex-husband Nas of physical and mental abuse.
Kelis has finally spoken out about her relationship with Nas, accusing the 44-year-old rapper of being abusive towards her.
The 38-year-old Milkshake singer was married to Nas for five years, from 2005 until 2010, and she says she realised she needed to get out of the unhealthy relationship when she was pregnant with their son, Knight, eight.
Speaking to Hollywood Unlocked, Kelis said "there was a lot of mental and physical abuse" in her marriage.
"We had really intense highs and really intense lows. It was never normal," she said.
"An intense low… we had a lot. It was really dark. A lot of drinking. A lot of mental and physical abuse and it got to the point where if I wasn't pregnant, I might have stayed with him."
She added that while he would hit her, she also "hit him back".
It was only after she saw the photos of Rihanna, 30, after she was assaulted by Chris Brown, 28, back in 2009 that Kelis realised she was in a similar situation.
"I also had bruises all over my body. But I didn't say anything because I'm private. But seeing her the way she looked and then looking at myself… I felt embarrassed," she said.
5. Married at First Sight's Davina Rankin is threatening to sue her ex TV-husband Ryan Gallagher.
Davina Rankin is threatening to sue Ryan Gallagher after he joked about her in one of his stand up routines.
"Davina is not too bad, though she has her moods, but she is actually quite a Babe - have you seen the movie?" Gallagher said, comparing Davina to the pig from 1995 film, Babe.
To read what Davina wrote to Ryan in a text message about him comparing her to a pig, see the full story here.