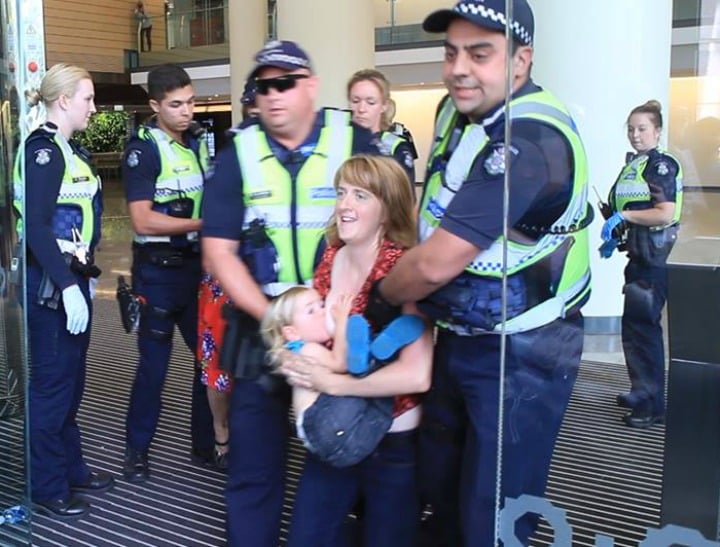 On Wednesday a group of pro-refugee supporters gathered at the Department of Immigration and Border Protection for a peaceful sit in-style protest in solidarity with the women and families suffering on Nauru.
Playfully titled the 'pram jam', a collective of parents, babies, children, pregnant mothers and friends called for an end to offshore detention.
They also demanded that Abyan, the pregnant Somali refugee who was allegedly raped on the island, be permanently resettled in Australia.
The protest was organised by Families, Friends And Feminists Against Detention (FFFAD) and went for around an hour and a half before the police asked those assembled to move on.
Although some did, many refused to leave voluntarily and some had to be carried out by police.
A rather spectacular video has emerged showing a mother, Jenny Sparrow, being dragged out of the building while breastfeeding her 22-month-old son Manning.
Watch the video here:
Radio shock jock Neil Mitchell who, funnily enough, supports the indefinite detention of children, chastised Ms. Sparrow for her actions.
"This would have been terrifying for the child. She should be ashamed of herself," he said.
"You don't take a kid to a protest."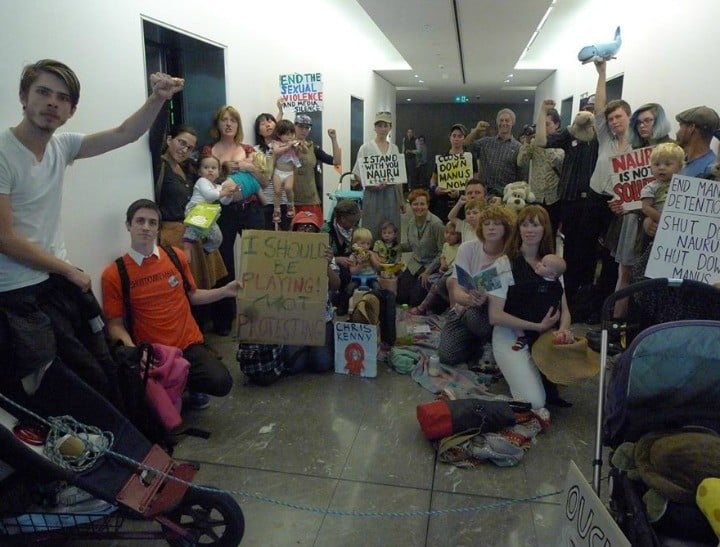 Manning, was so clearly terrified that he didn't even bother to stop feeding as his amused mother was apprehended by police.
Ms Sparrow has meanwhile responded to the comments, posing the question: "Why are my son's feelings so important, while the well-being of children in detention a matter of indifference?"
"Australian and international health professionals agree that children in detention are suffering from irreversible physical, intellectual and emotional damage. And it's not just the children," she told Mamamia.
"There is an obvious and independently documented culture of violence against refugees in Nauru, including sexual abuse of women. When a government starts overseeing human rights abuses and ignoring international law, it's time for citizens – including mums and bubs – to undertake civil disobedience. If that means breastfeeding while being carried out of a public service building by police, so be it!"