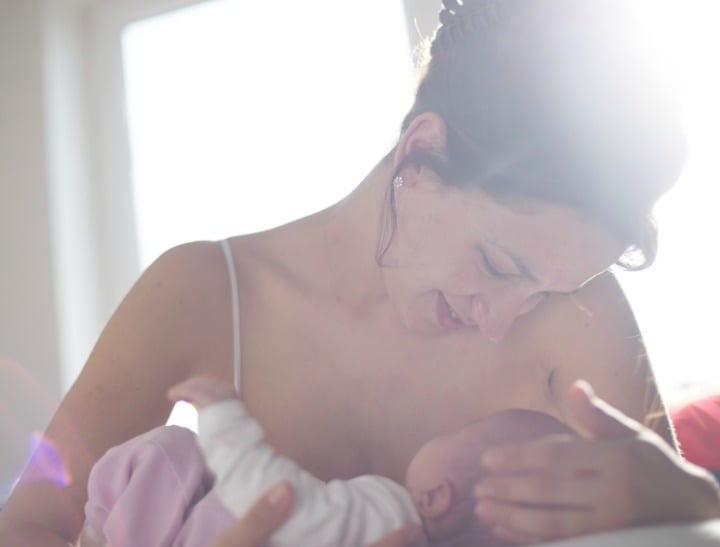 Following weeks of intense lobbying, the Government has guaranteed funding for the Australian Breastfeeding Association's breastfeeding helpline for the next 12 months.
Thanks for your support! Funding for the helpline renewed for the next 12 months #thankyou #breastfeeding #mum2mum pic.twitter.com/cV07Az9X71

— ABA (@OzBreastfeeding) February 22, 2016
In the first few weeks, as a mother sets out on her journey as a parent, there are few things more fraught than feeding your baby.
While for some mothers, breastfeeding comes naturally and perfectly normally, that's the exception rather than the rule.
For most mothers, learning to breastfeed a baby is a process filled with hope, crushing defeat, joy, questions, indecision, hormones and love.
WATCH: Alissa Milano talks about her "controversial" breastfeeding photos. Post continues below…
For us at The Motherish, the most important thing is that every mother is supported to feed her baby, however she chooses to do that.
And for women who choose to breastfeed, a critical part of her support network is the breastfeeding helpline run by the Australian Breastfeeding Association.
Holly Wainwright, writing for Mamamia last week, recalled her own experience; "It's hard to fathom that as I tried to weather the pain of another failed "latch on" technique, as I wrestled with crescent-shaped pillows and cushions and 'football holds', as my tiny, tiny baby's perfect rosebud pout failed to clamp around my nipple in any meaningful way, I questioned whether I was fit to be a mother.