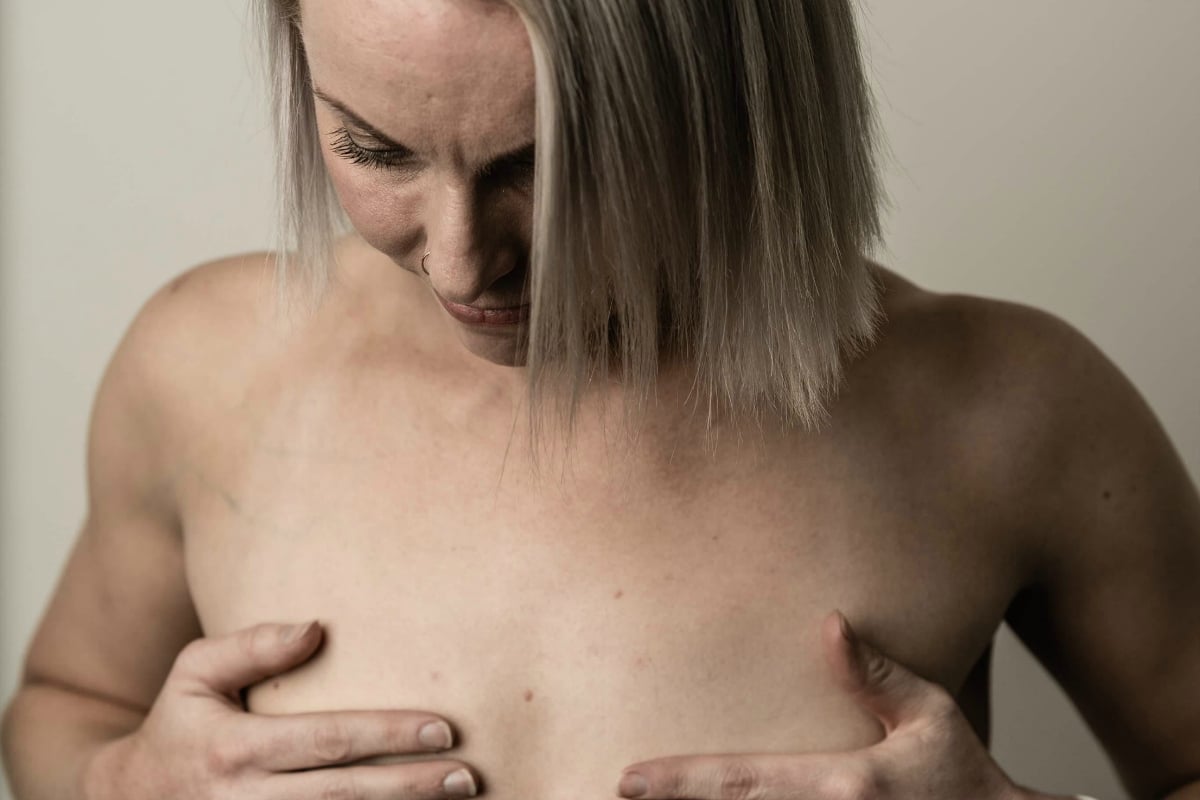 In March, I woke up in a hospital bed, groggy and scared, with bandages around my chest. I'd been here nearly 10 years ago, but this time was different. This time, my heart wasn't racing, and it didn't feel as though an elephant was sitting on top of me, crushing my chest. This time, there was relief.
After 10 years of auto-immune illnesses and life-changing symptoms, I was facing the possibility of returning to a normal life. Without my breast implants, I could be me again.
My experience of breast implant illness.
I was self-conscious about my body from an early age. I had a sporty figure — small, no curves, flat-chested — and I remember feeling bullied at school. I was so insecure, constantly thinking, 'why does my stomach stick out further than my boobs?'
By the time I reached my early 20s, breast implants seemed like the obvious solution. I could buy the womanly shape I longed for, and surely the confidence would follow.
I researched heavily, and spent hours online looking at photos and reading testimonials. I spoke to friends, and even though one urged me to hold off and keep investigating, my mind was made up.
I chose a surgeon on recommendation. He guided me through the process, showed me the implant options — I went for silicone with a textured coating — and he talked me through the risks.
And so in March, 2009, at the age of 25, I went under the knife.
Listen: Plastic surgeons are now offering treatments to make your nipples pert…

After the operation, I woke in agony. My chest felt like it was being crushed, my heart was fluttering. I remember thinking, 'what on earth have I done?'
That was only the beginning.
A few days later, I had a panic attack that left me feeling like I was going to die. Looking back, I feel it may have been my body's way of telling me something, of maybe saying, 'this isn't right'.
Within six months, I began experiencing physical symptoms. My already sensitive skin, developed granuloma annulure — a bumpy rash on my elbow. Eczema appeared inside my ears. I was having heart palpitations. Joint pain. Difficulty swallowing. I developed an allergy to egg out of nowhere, as well as IBS (irritable bowel syndrome), frequent urination, and more.
But among the most crippling new symptom was the brain fog. I was getting to the point where I couldn't concentrate at work. I'd sit there, staring blankly in a weird sort of daze, and lose track of what I was doing. At home, I'd put things in silly places and struggle to get out of bed. I'm a single mum, and the constant haze and tiredness impacted what I could do with my boys. I barely felt awake enough to take them to the park in the morning. It's hard to describe, but basically I didn't feel like me.
I overhauled my entire diet and lifestyle hoping it would help reduce the inflammation in my body; I cut back on processed foods and animal products, and was careful about what I put on my skin. It seemed to make things better for a while, but it didn't last.