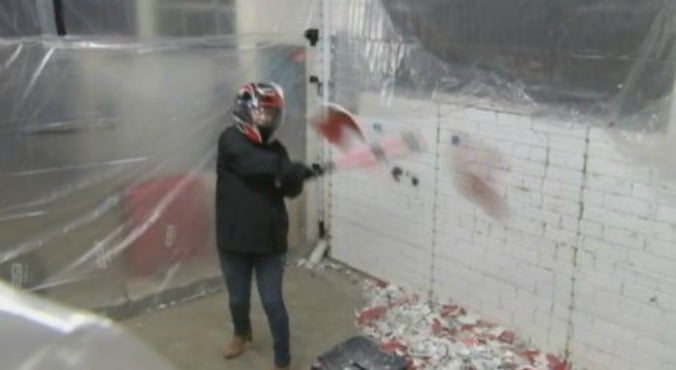 Image: supplied. 
AM BY RACHAEL BROWN
Whether you have steam coming out of your ears or are just looking for a stress relief, one savvy Melbourne entrepreneur has a smashing new space for you.
Ed Hunter has set up The Break Room — a place where visitors can don protective gear and smash things in the Brunswick cafe space bounded by plastic.
Patrons are given a baseball bat and a tub of crockery. The demolition is only limited by one's imagination.
Mr Hunter said "breakers" had constructed wine-glass towers, frisbeed dinner plates against the wall, or thrown teacups into the air ready to smash like a tennis serve.
He said some come for a fun new activity, others for stress release and he has seen everyone from frazzled workers from the Department of Human Services, to those unlucky in love.
"We had a couple of broken hearts come through, couple of people who'd just recently broke up with their boyfriend or girlfriends," he said.
Designer Harry Brown joked he had had a frustrating week, so he had come to channel his inner Van Gough.
"You get to a certain age where you've done all your taboos, you can drink, do whatever, drive a car," he said.
"Now you do this and it's still on the edge, still something a little bit risky and you can feel like a bit of a bad arse at the end of it."
Breaker Cam Wishart said he had a rough week at uni.
"There are other ways of venting stress but a really nice primal way is smashing stuff you're not supposed to," he said.