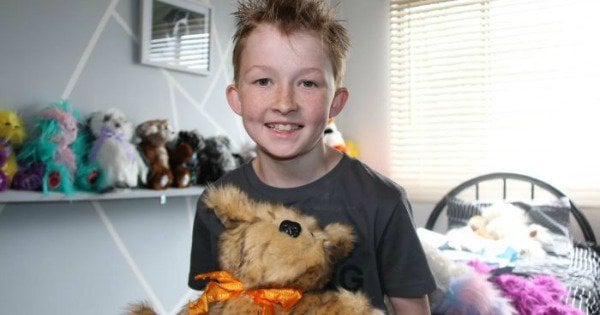 A young Hobart boy with a generous heart and impressive sewing skills has raised $26,000 for those affected by cancer in his latest venture involving handmade bears.
Campbell Remess, affectionately known as Bumble, has become a beacon of hope and kindness around the world through his teddy bear creations.
The 12-year-old spends all of his free time sewing bears and gifting them to sick children, their parents and even those affected by terrorism.
Campbell reached new heights of giving on Friday by raising more than $26,000 through a charity gala dinner in Hobart he helped organise and host.
"It was an awesome night, just amazing," he said of the event which fundraised for the Love Your Sister charity.
A challenge is not something Campbell shies away from, and on the night he sat up on stage with his sewing machine and made a bear from scratch to auction off.
It took him 45 minutes and the finished product raised $5,000.
For most, that would be a pretty daunting task but Campbell was not fazed at all.
"As a mum I was nervous as to how he would handle it. But he was just amazing. I couldn't do it," his mother Sonia Whittaker said.
"He totally owned it, he really worked the crowd. I've seen him do all sorts of things and he never gets nervous."
Now Campbell wants to go bigger and better and tour his gala fundraiser around Australia by holding one in every capital city.
He has also begun auctioning off his beautiful bears on Facebook, where people from all over the world bid in the name of cancer research.
The talented youngster is determined to raise enough funds so researchers can "make a needle that people can have to make sure cancer never comes back".
Campbell's desire to find a cure stems from his own experiences seeing family and friends diagnosed with cancer, including his dad who has beat cancer four times.