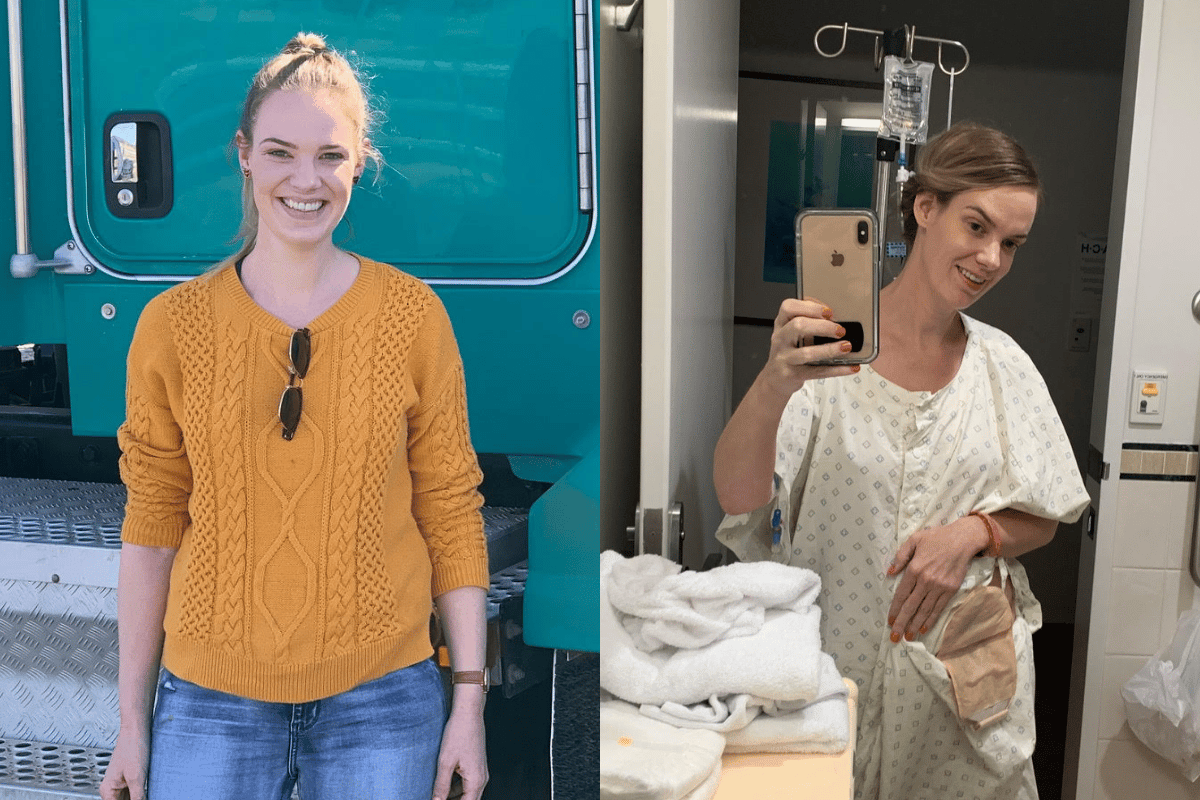 This post is one person's experience and should not be considered medical advice.

For Melissa Laan, the signs were small and easily dismissed; an upset stomach, frequent trips to the bathroom, and problems eating some food. 
"I passed it off as one thing or the other like stress or just being a mum," the 39-year-old told Mamamia. 
Then one day, while working in administration at a Queensland hospital, she started feeling unwell. 
"Drinking water makes me sick," she told nurses in a passing comment at work. 
"That seems strange," they replied. "It's probably not the water."
Not thinking too much of it, Melissa, who was in her mid-thirties, brushed it off as she had done with other symptoms for 18 months. 
Little did the mother-of-five know she had a tumour in her bowel.
***
At the time, bowel cancer, which is most commonly diagnosed in people over 50, was the furthest thing from Melissa's mind. 
"I just didn't fit the boxes. I wasn't over 50, I wasn't overweight, I didn't drink alcohol."
Even when Melissa sought medical help after noticing bleeding, doctors told her "it's probably haemorrhoids". 
"I sort of felt almost silly for having wasted their time," she shared. 
It wasn't until she started passing mucus that alarm bells started ringing. 
"It got to that stage when I thought this isn't just a tummy bug or stress or a poor diet. I was finally at that point when I thought this shouldn't be happening."
Listen to Melissa's interview on The Quicky, Mamamia's daily news podcast. Post continues below. 
Melissa later presented to the hospital after throwing up what resembled Coco Pops. 
"That's where you're actually throwing up, grainy sort of coffee grinds sort of poo. [It's] pretty gross."
Doctors told her she had a bowel obstruction and would need to undergo a colonoscopy in November 2018. 
That's when they found a five centimetre polyp in her bowel. 
"At five centimetres, certainly there were concerns," she shared. "That's where I started going to the place where I thought here we go, this is really bad... this is my last Christmas with my kids. You go down a bit of a dark path there."
Just two weeks later, Melissa had an MRI and the polyp had grown to nine centimetres.