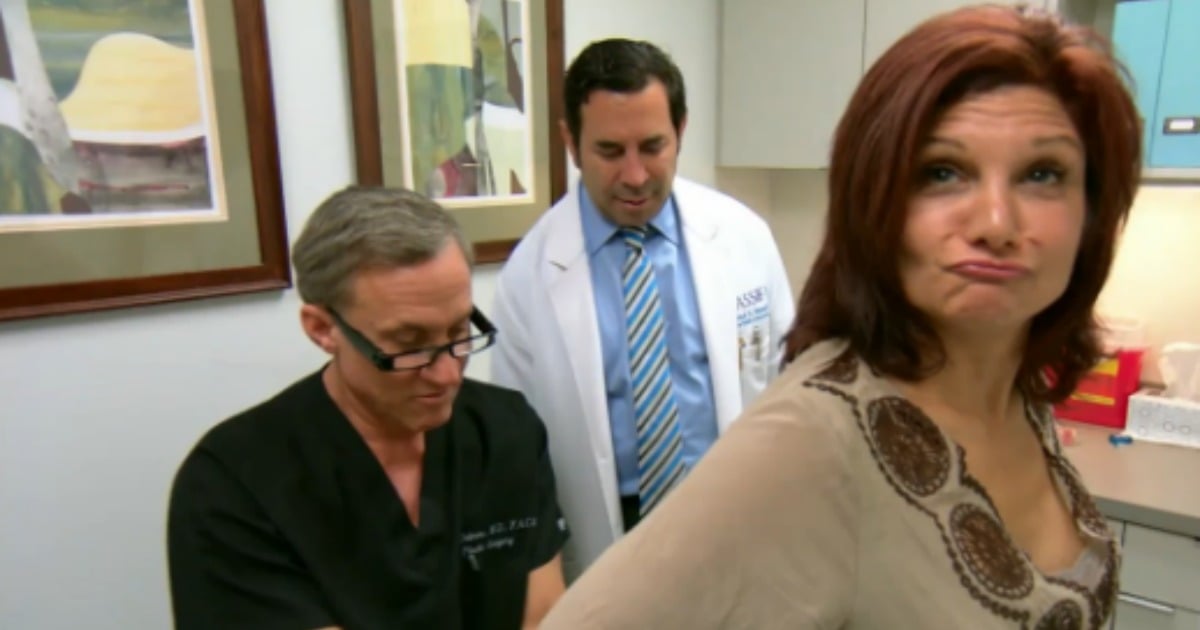 If you feel as though every celebrity, your neighbour and that woman from the gym seem to have dramatically changed their bums, you mightn't far from the mark.
A recent report from the American Society of Plastic Surgeons signals that buttock implants were the fastest growing cosmetic procedure in 2015.
Misty is one of thousands of women who opted for surgery to achieve a more look-at-me Kim Kardashian-esque booty. However, hers grabbed attention for reasons she wasn't expecting.
Appearing on the latest episode of E! series Botched, doctors Terry Dubrow and Paul Nassif tried to sort out her painful butt implants.
"You could flip this thing right round. Wow. You can get your hand entirely underneath this implant. This implant was just put in like a breast implant on top of muscle. This is wrong," Dr Dubrow said.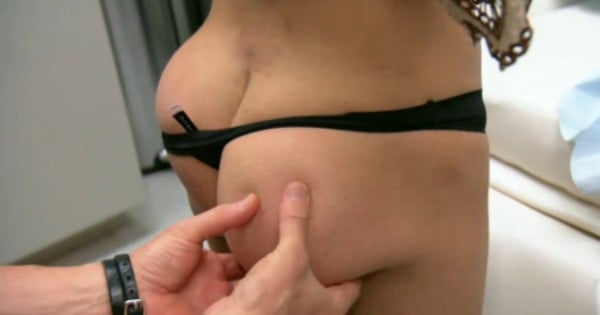 Image: Botched/E!
"The whole thing is totally scarred and pushed up. Buttock implants are not a very common operation therefore there are no textbook, no journal articles, there's really very little information about how to deal with buttock implant problems."
Misty conceded that the pain was so great it wasn't worth keeping the but implants in.
"I had no idea about the severity of the right buttock, I always thought it was just the left. I fought hard for these implants and I was willing to keep them as long as possible but I know the best decision would be to eliminate the pain and if the implants have to go, then they've got to go," she explained.
(Watch: Forget the butt - the Kardashians' favourite braids are far easier to get. Post continues after video.)
Misty's implants are a clear reminder of why trend-driven plastic surgery always needs to be properly and carefully researched and carried out by a professional. 
"Here's the problem - your muscle and buttocks are normally attached so when you put them in the muscle everything goes up quickly. They've been separated and now your buttock skin has been stretched so if we [remove and] put the new implant on the muscle, your buttock skin will just kind of do it's own independent thing," warned Dr Dubrow.
"The other option is to take them out knowing that the skin will hang and do a buttock lift. But that's a really big scar across a very good-looking buttock." (Post continues after video.)
According to Costhetics, buttock augmentation can be done two ways. The first is known as the 'Brazilian Butt lift' which involves extracting fat via one part of your body (usually the thighs, abdomen or back) via liposuction, extracting the healthy fat cells and transferring them into your buttocks.