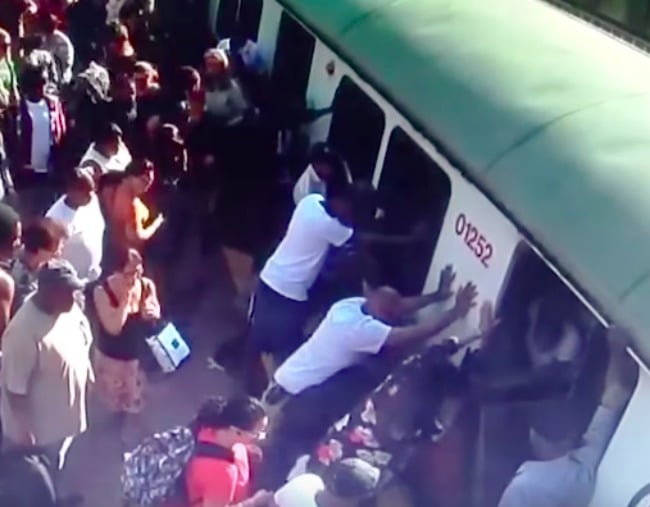 When a woman fell between the platform and the train at a Boston train station, there was only one thing on her mind – the financial implications.
Her injuries were horrific, with her thigh bone reportedly clearly visible through her skin. But the 45-year-old American woman continued to beg bystanders not to call an ambulance.
According to Boston Globe reporter Maria Cramer, who was present at the "twisted and bloody" scene, the sobbing woman begged commuters not to call emergency services, as she couldn't afford it.
"Do you know how much an ambulance costs?" the woman cried out.
"It's $3000. I can't afford that."
In a video shared by the Massachusetts Bay Transportation Authority, fellow commuters rallied around and pushed on the train car enough to pull the woman free in just a few minutes. She was then taken away by emergency services.
"When I saw her sitting on the platform, she was shaking, crying, in terrible pain and very scared about what this injury would do to her financially," Boston Globe reporter Cramer wrote on Twitter.
5/ Luckily, she apparently suffered no broken bones but the EMTs who responded said she would need surgery. When I saw her sitting on the platform, she was shaking, crying, in terrible pain and very scared about what this injury would do to her financially.

— Maria Cramer (@GlobeMCramer) July 3, 2018
Cramer's tweets about the incident, which have since received thousands of retweets, has reignited the debate about the US's health system.
The New York Times described the injured woman's reaction as "one you might expect to see in an impoverished country".
While on Twitter, countless people called for changes to the system.
The system is designed to assume that you never go anywhere but to a job and home, so you have to buy additional travel insurance if you dare cross a state line EVER. It's barbaric, outdated, and just unrealistic.

— Toad Lady ???? GDOC ???????????? (@nyhcmaven84) June 30, 2018
Bloody awful. Ridiculous. Inexcusable. This is the state of American healthcare even in a city with some of the best hospitals in the world. Hope she got treated.

— Stefan Sirucek (@sirstefan) June 29, 2018
I hope she has been transported to a hospital okay. I'm glad it doesn't sound life threatening.

We need universal healthcare bad, an accident shouldn't force you to choose between crushing debt or permanent injury/death.

— kamiten (@Kamitenz) June 29, 2018
I've seen so many horrifying things like that happen. A guy catapulted off his bike into the street with no helmet. It was gruesome as hell. He didn't want an ambulance. I felt terrible but a bunch of us went ahead and called 911 anyway. I couldn't let him leave like that.

— never claimed i was funny (@veronicamariez2) June 30, 2018
My first time in NYC I was fifteen. I man had a seizure on a bus. No one was helping so I tried. I ask bus driver to call ambulance he said "look at him, he can't afford it" guy came around he said "can't afford to go to hospital". As Canadian I couldn't understand. #medicaid4all

— Cicely McWilliam (@CicelyMcWilliam) June 30, 2018
Data charts released by Vox in May prove how out of control America's health care prices are.
According to the data released, a day in the hospital in the US costs on average $5,200, compared to $765 in Australia.
A normal birth in the US costs more than double a birth in Australia.
And for an appendix removal, it's $12,000 cheaper in Australia compared to the US.