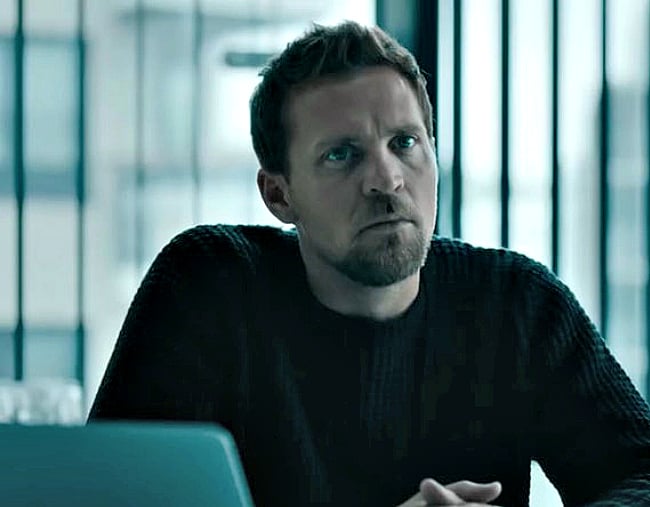 I have a confession. Before 2018, I had never watched a Netflix crime TV show.
Yes, I've been watching Law & Order: SVU and Criminal Minds since I was old enough to hack the parental lock on the family Foxtel.
But dark, gritty series with complex characters that make the hairs on the back of your neck prickle? Nah, not for me, I thought.
Too scary.
Then I forced myself to watch The Sinner and BAM! All of a sudden the flood gates of my Netflix opened up and out came pouring a year's worth of crime series I'd been avoiding.
Mindhunter. Manhunt Unabomber. Narcos. Dark. Broadchurch. Making A Murderer. The Keepers. Seven Seconds.
This week, it was the new Netflix Scandinavian noir show Borderliner.
Watch the full trailer for Netflix's Borderliner below. Post continues after video.
When Norwegian police detective Nikolai (Tobias Santelmann) returns to his hometown near the Swedish boarder to take leave from a high profile case in Oslo, he finds himself investigating the suicide of a local drunk.
Helping his little brother Lars (Benjamin Helstad), an average local cop with the investigation, Nikolai soon realises he's stumbled across a case much bigger than what it seems.
By the end of episode one, almost everyone who is meant to be good winds up implicated in something very bad. To protect his family, Nikolai makes the split second decision to cover up the murder investigation. The question is, who will get caught?
The only character whose hands manage to stay clean are Anniken's (Ellen Dorrit Petersen), an Oslo homicide detective who is determined to get to the truth. As she gets closer to finding it, things for Nikolai and his family begin to unravel until no one is innocent anymore.
We deep dive on new Netflix show The Sinner, from Jessica Biel's acting to the major plot hole, on our pop culture podcast. Post continues after audio.
If you're a fan of nordic and Scandinavian crime offerings like The Bridge, Girl with the Dragon Tattoo or Girl on the Train, Borderliner – or Grenseland in Norwegian – will become your new obsession.
With each episode, the story becomes more entangled, reeling a new character into the lies as it goes along and keeping you hanging onto every subtitle. You aren't able to watch the show in English, which makes for an intense viewing experience because you can't afford to glance at your phone or get sidetracked.
Fans of the series have also been pleasantly surprised to see a masculine gay male lead in Nikolai. Although it's an important part of his character, it's not the defining part, just as it should be.
The eight-episode series doesn't tie up nicely in a bow by the end, which hopefully means there'll be a second season.