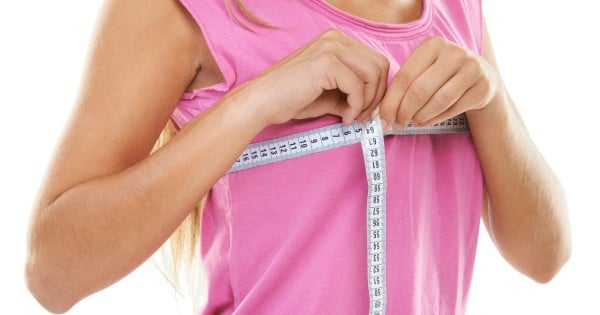 I may not have come to appreciate my body until I felt how profoundly uncomfortable I was when I tried to change it.
As a kid, I prayed for big boobs. (Shallow, I know.)
Such prayers were never answered. I hardly filled an A cup.
But as my teenage years went by, I more or less came to terms with my chestal "deficiencies." I had a great ass to make up for it, and I knew that help from Victoria's Secret was just a bra away, should I want it.
Then, one day, I discovered that my sister (who is 10 years younger than me) had a chest like whoa. Barely a teenager, she was rocking tits and hips. I bitched to my mum about the injustice, and she said, "You can have boobs if you want them. It can be your graduation present."
Watch: Mia Freedman talks about the miracle of finding the right bra. Post continues after video.
Hmmm…
I spent the next few months researching — saline, silicone, plastic surgeons, over the muscle, under the muscle.
I never thought I would find myself typing such words and phrases into the Google search box, but I became semi-obsessed.
I even made a few consultations (which I always backed out of last minute). Yeah, it would be nice to fill out a bathing suit, but was that worth going under the knife? The battle was alive in me for months. Every time I would talk myself out of it, I would revisit it weeks later.
Eventually, it got to the point where I just said, "Whatever. Let's give it a go." (Yeah, I'm a little impulsive.) (Post continues after gallery.)
A few of our favourite flat chested babes.
Months later, I was driving to my surgery appointment, crying. I thought I might be making a mistake, but this fear wasn't powerful enough to stop me. I told myself that I was just scared, and that it was normal.
Hours later and implants in, I was back in the car, clawing at the windows, moaning, whimpering, and biting. I was in the worst pain I had ever felt. The pain pills offered me little-to-no relief for days. I was a mess — miserable, immobile, bedridden. When I could finally make it to the bathroom, I had to have my mum wipe me.