For the past two years, Skye Quartermaine has been fighting to stop other parents from going through the pain she goes through on a daily basis.
Quartermaine lost her 22-month-old son, Reef Kite, when he was crushed by a heavy chest of drawers at the family's rented home in Perth in October 2015. Quartermaine had previously asked the landlord if she could bolt the chest of drawers to the wall but alleges he said no.
"I do not want any parent to go through what I go through every morning," Quartermaine tells Mamamia.
"It's not nice to wake up and momentarily think, 'Everything's perfect,' and then it dawns on you: 'My family is never going to be whole again. There's always going to be that one person missing.'"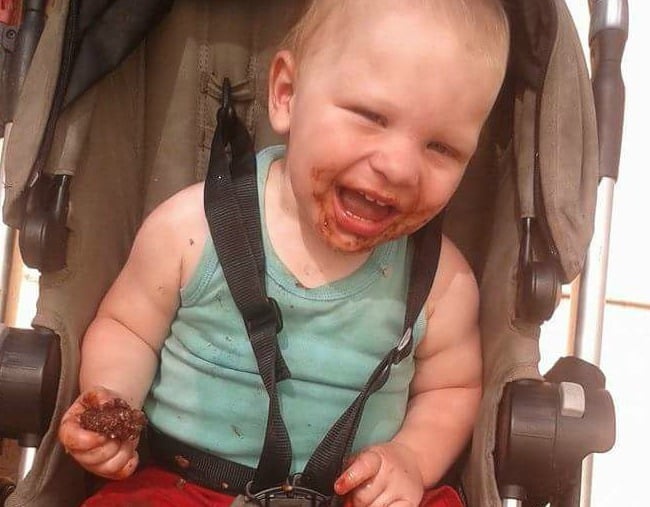 For two years, Quartermaine has been campaigning for parents in rented homes to be given the right to bolt furniture to walls. Through a Facebook page, Bolt It Back For Reef, she and her sister Dee have been giving advice and support to other mums and dads.
"We get parents posting there constantly, photos of drawers that have tipped over and their kids have been under them and it was all due to the fact that they weren't allowed to bolt them back," she says.
Quartermaine says some parents decide to bolt furniture to the walls anyway, even if they don't have the permission of the landlord, which she thinks is "great".
"Then we get some parents who are too scared to," she adds, "which is very understandable, because it's their first rental and they don't want a bad name.
Listen: What you need to know about safety with a baby. (Post continues audio...)

"The landlord should be a lot more lenient. Falling furniture does kill, but they don't take this into consideration when their tenants ask. They're putting property value above the safety of children."
After two years of working hard, Quartermaine says her campaign hasn't had a lot of attention, with most of her support coming from other parents. She's "not too hopeful" of getting a new law brought in.
"The Government has to get involved," she says. "I just don't know how to take it further now. I've done as much I can. But one voice is not big enough."
Mamamia approached the WA Minister for Commerce, Bill Johnston, for comment. Johnston says the WA Government is looking into this issue "and if there's an effective response, we'll take it".
Meanwhile, the treasurer of the Property Owners' Association of Western Australia, Paul Pellegrini, says it's "very tragic" that Reef lost his life because of a chest of drawers. Pellegrini says he personally would say yes if tenants asked to attach heavy furniture to a wall to protect their child.
"I'm a bit more savvy now because of this," he tells Mamamia. "It's the first time I've really heard of this happening."
Pellegrini says he would encourage other landlords to allow tenants to attach furniture to walls, because it's an easy thing to fix once the tenants have moved on.
"You simply take the bracket and the screw out and you're just left with a bit of a hole that can be patched up. It's a straightforward thing, really.
"I would say, 'Yeah, go for it.'"
Feature image: Skye Quartermaine/Facebook