fitness
'Will it ride up my butt?' The Mamamia team road-test unitards... while exercising.
If you've been looking at the activewear on offer lately, there's one style in particular that's growing in popularity.
Some absolutely love it, others can't stand it. But what's for certain is that the unitard/bodysuit is getting plenty of attention.
Here, two members of the Mamamia team road-test the divisive piece of activewear while exercising, and share their honest thoughts.
Let's get into it.
But first, watch: Fashion crimes, aka festival chaps. Post continues below.
Isabella, trialling the unitard at Reformer Pilates.
I am a massive Reformer Pilates fan. I do it once or twice a week, and I find it a great way to stretch my body and destress after a long, busy day.
Usually to Reformer, I wear some long leggings, a sports bra and a reasonably tight t-shirt of some sort. Wearing clothes that are flowy or loose can get in the way sometimes. BUT... I cannot stand bike shorts. I find they always ride up when I've got my legs in the air while on the Reformer machine.
So when I decided to road-test a unitard, you best believe I was nervous about the shorts part of the bodysuit riding up my bottom.
I opted for a black romper from Kate Galliano (I figured black would be the best in terms of not showing sweat patches).
It's also worth pointing out the type of body I have – I'm straight-sized and I have relatively small boobs, around a C-cup. If I had a chance to re-pick a bodysuit, I would have sized up. But to be fair, it still fit well, was comfortable, and my boobs were comfortable in it.
I'm about 165cm as well, so the length of the romper on me was spot-on.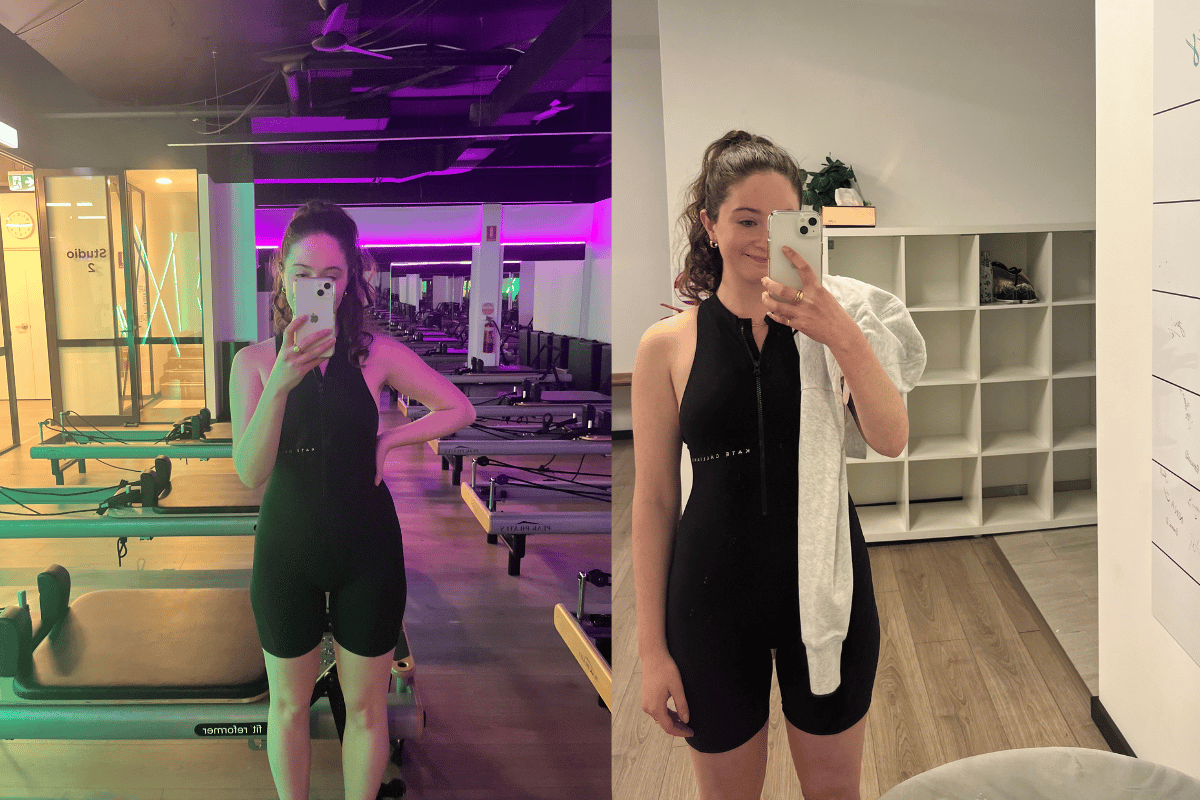 Before and after trialing the bodysuit at Reformer Pilates. Image: Supplied.
My only critique – I'm not a huge fan of the cut-out in the back of this romper. I had to wear undies that weren't high-waisted, otherwise, they would show in the back.
Okay onto the road-test. Given it was pretty chilly on the night I went to my Reformer class, I wore a jumper over the top to the studio. But in the studio, where it's nice and toasty, I could take off my jumper and give the unitard a red hot proper test.
My boobs were secure (yay), the shorts part of the unitard did not ride up during the class (big yay), and it wasn't too tight that I felt "on show" if that makes sense. Yes, when I looked in the studio's mirrors I did at one point wonder whether the bodysuit style was really my vibe. Did I look like I was trying to be an influencer? I hoped not.
But ultimately, it was comfortable and it did work very well – and the sweat was contained too. A perhaps icky but necessary point to make.
For the ladies with bigger breasts though – I could see a bodysuit like this proving more of a challenge.
Will I wear this again to Reformer Pilates? Yes definitely. Would I feel comfortable wearing it to the shops or getting the groceries? Yes, with a jumper over the top.
Alix, trialling the unitard at a heels dance class.
You guyyyyyyyys.
I cannot tell you how much I flippin' WANTED to love the absolute heck out of this unitard as my cool new dance class 'fit.
I mean, come on. It's a onesie. A onesie! In a dance class! Wearing heels! How cute!
Full disclosure: I cheated a bit and wore my unitard as daywear before I trialled popping and locking (and okay I did neither of those things, but I did a few slut drops in it). And I have to tell you - it was comfy as heck. For context, my bodysuit is from Estroni and I opted for the black colour.
I popped it on to wander around Ibiza's old town one day during my recent Hot Girl Euro Summer (that's what we're calling all trips to Europe now, right?) and my gosh, the fabric was smooth and soft and sucky-inny and it soaked up the sweat dripping down my back (come on, it was summer in Ibiza, what do you expect?) like a dream.
I wore no bra, which, as a 14C, I definitely usually prefer to. But with built-in e-v-e-r-y-t-h-i-n-g, why not go unrestrained? I felt free.
Until I needed to pee, then I felt... naked, mostly, because I was. Sitting on a public toilet. In Ibiza. But I digress.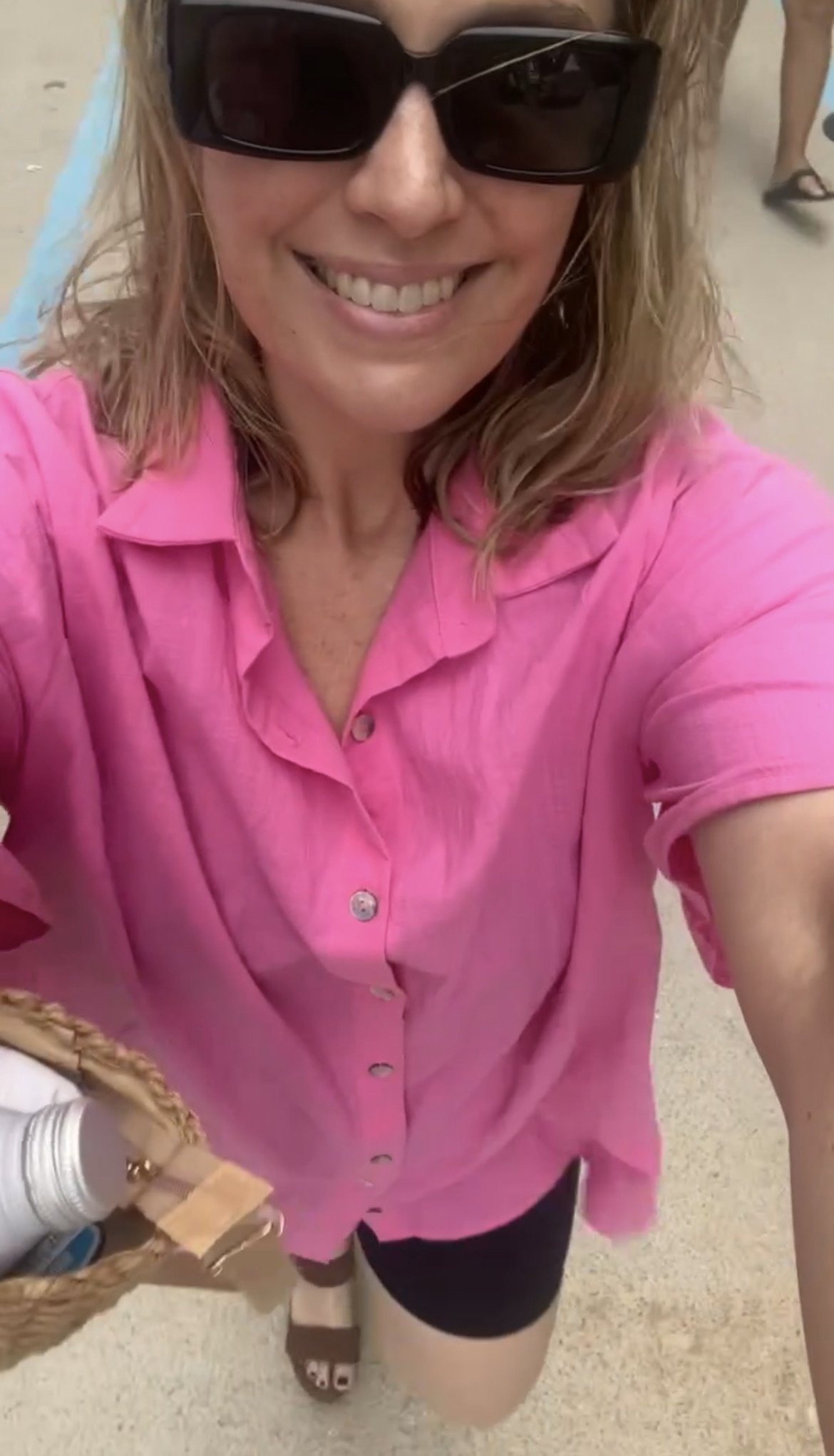 Okay, okay, I know, you can barely even see the unitard. Image: Supplied.
Anyway, overall, I had warm, friendly feelings towards my little black lycra one-piece when I wore it under a hot-pink button-down shirt and paired it with a pair of cute flat-forms.
The length of the shorts part was the perfect in-between mid-thigh length - the goldilocks of lengths, I'd say - and the top half fit my torso nicely.
I was more than prepared to put it on for one of my fave dance classes of all time when I got back to Sydney: a Gucci Booti 'heels' dance class.
And as I said, I wanted to love it for strutting around and sexy dancing. And to be fair, I cannot fault the unitard itself - it was comfy, stretchy, supple, and very easy to move in.
But I did feel... exposed. Keeping in mind I'm usually in tights and a baggy tee for this class, rather than a form-fitting one-piece with most of my skin on display, I hope I can be forgiven for feeling a little out of my comfort zone.
Image: Supplied; Leon Putros/Mr Cheeky Photography.
I think, perhaps, if you happened to be a more confident person than I, you could actually feel extremely sexy donning a slinky little number like this for a turn around the dance floor.
And maybe I should give it another try - maybe unitard life is the kind of thing a person needs to ease into gradually.
But for me, this time around at least, it was sadly a no to a heels class in this bad boi. I'm much more comfortable wearing it under an oversized tee or a hoodie (or a hot pink shirt) as part of my everyday wear.
Even if I do have to get naked to pee.
At Mamamia, we independently curate and write about products we rave about in our group chats and think you should know about too. If you purchase a product we have recommended, we may earn a small commission.
Feature Image: Supplied.
Love watching TV and movies? Take our survey now to go in the running to win a $50 gift voucher.
Sign up to Mamamia Lifestyle.
A daily digest of fashion, wellbeing, food and more, sent to your inbox.
Tags: