tv
Let's talk about the big question we're all asking ourselves after watching Bodyguard.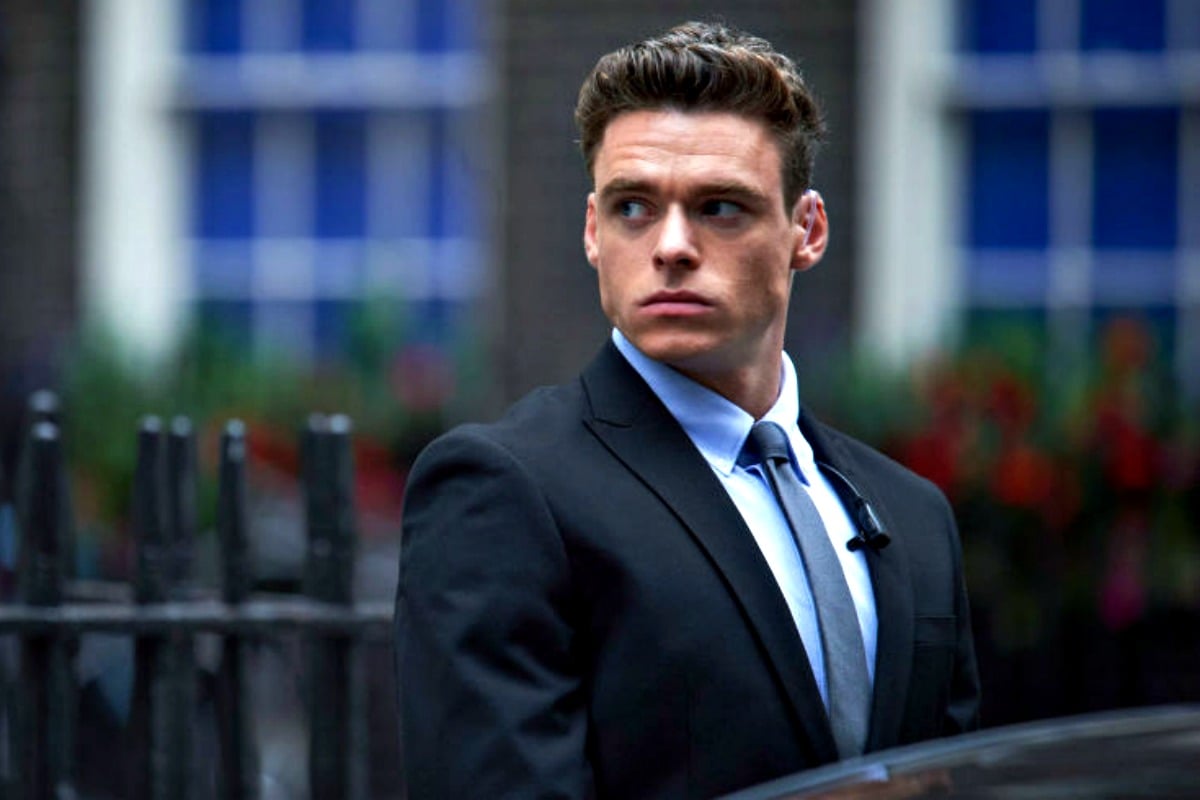 Just a note that this article contains spoilers for the season finale of Bodyguard. You have be warned. 
It's easy to spot the people in your life who have been watching Bodyguard.
They are the ones with dark circles under their eyes from watching episode after episode late into the night, the people in the corner whispering to each other under their breath about conspiracy theories, and the ones with posters of the show's star, Richard Madden, taped above their beds.
All six episodes of the popular BBC British crime drama are now available to watch on Netflix in Australia. The series is set in London in the present day and centres around David Budd (played by Madden, who is best known for his role as Robb Stark in Game of Thrones). Budd is a war veteran who is now working in a police unit that provides protection details.
You can watch the Bodyguard trailer below. Post continues after video.
Shortly after events known in the series as the October 3rd attack, Budd is promoted to the role of personal protection officer (PPO) for the Home Secretary Julia Montague (Keeley Hawes), who is the UK's equivalent of Australia's Minister for Home Affairs, a politician responsible for issues of national security, law enforcement and cyber security policies.
After watching the action-packed final episode many of the main story threads were wrapped up in a neat bow, but viewers were still left with a few lingering questions and unsolved mysteries.
Bodyguard wrapped up its season one finale episode with Nadia (played expertly by Anjli Mohindra) revealing that she was the actual mastermind who set up the foiled train bombing. She was also responsible for the death of Julia Montague and she was behind the suicide vest that Budd found himself wearing.
This confession has led fans of the BBC drama to rethink everything she had told the police so far, leaving many of us to wonder about Nadia's backstory and how so many pieces of this puzzle were able to fit together.
We unravel everything that happened on The Bodyguard in our Recap podcast. Listen below, post continues after audio….

Questions such as:
How did Nadia even come to form an alliance with Aitken? And this is a part of the plot that was never properly explained, was she perhaps recruited by Chanel Dyson?
Also, while we're all here and asking Nadia questions, how did she know to target Budd's children at the school, and why did she risk everyone discovery her true actions and person in order to to enact personal revenge against him?
Hopefully the answer to this question and more will be answered in a second season of the critically acclaimed show.
The first ray of hope for this came in September 2018 when Bodyguard creator Jed Mercurio confirmed to news outlets that he was "just beginning" talks with the BBC about a possible second series. Then Madden confirmed in November 2018 that he'd arranged to meet with Mercurio to discuss returning for the new season. "I'm going to meet Jed in a couple of weeks, to have a chat and see what's in his brilliant brain," he told Deadline.
Mercurio has also suggested that the second series could see Budd back on duty, but protecting a member of the royal family or a foreign dignitary, rather than another politician.
All six episodes of Bodyguard are now available to watch on Netflix. The series is rated MA 15+.