When you hear the buzzwords "body shame" or "body positivity," it's common to think those phrases only apply to those who have a little extra junk in the trunk, but a huge demographic is excluded the conversation when it takes that cliché Christina Aguilera "We are Beautiful" turn.
As a woman with a physical disability, I am usually glaringly aware of how my body is the polar opposite of what is deemed the norm. I have had to answer, "What is that scar from?" from strangers seconds into an initial conversation, and have seen the words "anomaly" and "deformity" scribbled all over my medical chart.
It's a weird feeling to feel such a huge disconnect from your body. I've never been diagnosed with a thick skin, but it has definitely been helpful in my circuitous path to self-acceptance.
But how did I get to this place where I can say, "This is me. Deal with it!"?
Well, first of all, let's be clear: it's unrealistic to expect that anyone can be a bastion of confidence every single day. The portrayals of disability you see in the media are rare, and when they exist, the portrayal is often tanned and athleticised and toned down considerably from the reality.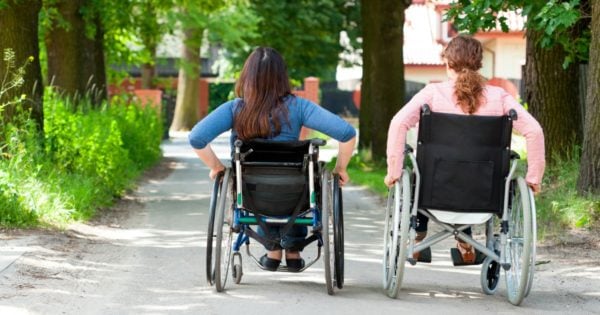 I don't often see myself out there, so I have just accepted myself as is. I was born with a disease called congenital muscular dystrophy, and over the years, I have come to terms with the fact that when I look in the mirror or at pictures of myself, I'm not going to be 100 per cent in love with it all.
Sure, I can fool myself into thinking that 24/7, my body will only be viewed from the most flattering angles in golden hour lighting… but that's not reality. I'll see a candid photo of myself and suddenly realise my back looks contorted in a strapless dress the same way someone might despise a double chin. It happens.
Like most women, this is just another sock in the laundry list of things about my appearance that tend to wear on my nerves. For instance: I have scoliosis and a wide, uneven rib cage. Due to bone grafts and tendon transfers, my feet look like putting wedges. My spine is fused, so I can't turn my head much, which sometimes puts off a definitive Frankenstein's-monster vibe.
I have the muscle tone of a four month old. I have a tracheostomy scar on my neck from a medical emergency, so the head and neck I had always prized are no longer pristine.
Truly, if I wanted to torture my psyche by making a list, it could go on and on.
Watch the trailer for 'Embrace', a documentary about body image and how we're going to change the future for women and girls. Post continues after video.