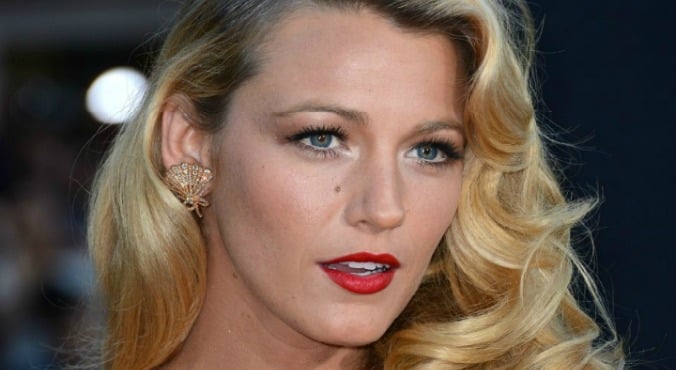 Image via Getty.
The world has always been a little bit obsessed with Blake Lively's hair. It's voluminous, thick, Rapunzel-like, manages to simultaneously nail beach hair AND red carpet glamour and it's a delightful shade of sun-kissed blonde.
Or at least it was.
RELATED: Found: the most universally flattering hair colour.
The 27 year old posted a picture of her darker new hair on Instagram. Pictured mid-laugh on a bridge, Lively captioned it: "Brondes have more fun – #NoTypos-IThinkItsCrazyToo".
Yes, the Age of Adaline actress and L'Oreal ambassador has gone for the perfect middle ground – bronde.
The mother-of-one is the latest celebrity to jump on the bronde bandwagon, with the flattering hair colour a favourite among the likes of Elle Macpherson, Chrissy Teigen, Jessica Alba and even Matt Damon (yes, really).
The natural looking effect uses tones popular for balayage but incorporates the brunette/blonde mix all over the head. (Post continues after gallery.)
Celebrities with bronde hair.
It's also a long-lasting alternative to traditional highlights which reduces the need for six-weekly hairdresser visits.
RELATED: Um… why is Alessandra Ambrosio lighting her hair on fire?
The hair colour change has caused quite a stir, with even husband Ryan Reynold weighing in on the bronde debate.
"You know, I like it," he told E!. "That's the great thing about our weird jobs. We come home sorta looking different once in a while." (Post continues after gallery)
Blake Lively on Instagram
Considering Lively is on the pulse of hair trends, we wonder how long it will be until she goes for our other favourite, the lob.
RELATED: Blake Lively's natural hair colour may surprise you.
Surely Gossip Girl would approve?
Lucy Hale
The Pretty Little Liars star has also been showing off her new hairstyle (and tropical holiday!) on Instagram.
While her character Aria is recognisable for her dark hair with the occasional coloured streak, off-screen the 26-year old has gone for something a little lighter and natural looking.
She's been sporting a tousled shoulder-length style for most of the year, but has now gone even shorter, with a jaw-line grazing lob.
And she obviously made the most out of her trip to the hairdressers, opting for some caramel and dark blonde toned balayage.
RELATED: Good bye balayage. Everyone's getting tortoiseshell hair now
So yes, Lucy Hale, we're envious of both your holiday AND your hair.
The best celebrity hair transformations