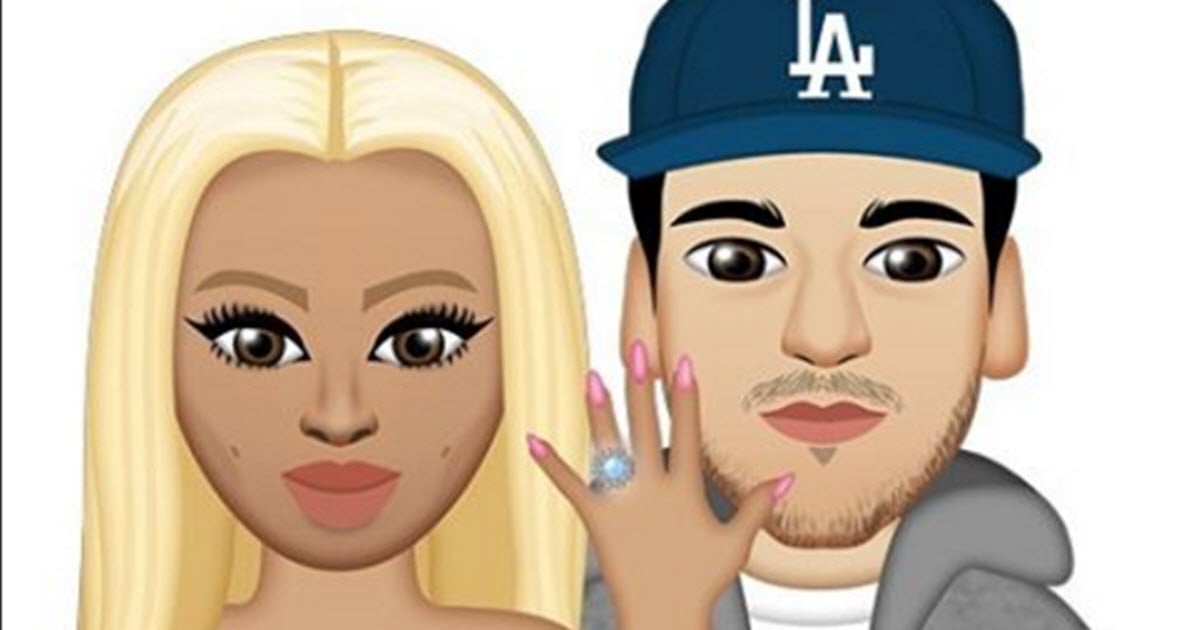 There's about to be a brand new Kardashian, and something tells me Kim and co won't be welcoming her into the fold with open arms.
The only male Kardashian heir, poor, put-upon, hen-pecked Rob, 29, has taken a fiancee in the form of Amber Rose's bestie Blac Chyna, 27.
He proposed with an enormous seven-carat ring worth, according to E!, US$325,000 proving that there's still juice in the sock industry for a young, eager sock entrepreneur (Rob is a sock entrepreneur, and yes, that is a thing).
So far, none of the sisters K has made a social media pronouncement on the impending nuptials, despite their perpetual online presences.
A source told People magazine, "No one [in his family] is jumping up and down with excitement today. They have made a united decision as a family to not comment on social media yet about Rob's engagement. The news is not shocking, and not totally unexpected."
The reason the Kardashians are so displeased with this union probably has something to do with the fact that Blac Chyna is the ex of Tyga, 26, who is the current boyfriend of family baby/matriarch Kylie Jenner.
Confused about how a Rob and Blac marriage will impact an already confusing family tree, here is a simple way to understand it all: 
The all-powerful 18-year-old was embroiled in a tiff with Blac Chyna after Tyga took up with a then 17-year-old Jenner following his break-up with Chyna, who is also the mother of his three-year-old son King Cairo.
When her older brother and Blac Chyna began dating, Kylie Jenner was allegedly furious.
"Kylie is livid," a source previously told People. "She feels super-betrayed and can't understand why someone in her own family would stab her in the back like that."
Blac Chyna and Rob Kardashian announced their engagement at a strip club, and just look so in love with one another… Post continues after video.
The marriage of Blac Chyna and Rob Kardashian will make Chyna and Jenner sisters-in-law, and Jenner will be aunt to King Cairo. If she were to marry Tyga, it would make Jenner both aunt and stepmother to the child. It would make Tyga both father and uncle. The mind boggles.
"There has been a fear that Blac Chyna is manipulating the situation with Rob, that he is getting himself into a situation that is not ideal for him. Blac Chyna has been great as kind of a rebound. As someone that got Rob out of a dark place, that helped him get motivated and healthy again. Let's just be honest, no one is really hoping for a marriage to happen," the source told People.
Rob Kardashian marked the event by posting this romantic and classy image to his Instagram account.
According to E!, Kardashian sought the permission of Chyna's mother, whose name is Tokyo Toni, for her hand in marriage (I didn't make that name up, I swear).
I'm seeing a spinoff, and I have some suggested titles.
Robbed: the new Kardashian kween
.
Getting down with Blac and Rob
.
Man in Blac: the Rob Kardashian story
. Too much?
In one of the Snapchats that Blac Chyna shared with her fans, she and her fiance listen to Kanye West's
Highlights
in the car, in which Kardashian's brother-in-law raps, "Blac Chyna fucking Rob helped him with the weight." I can't actually believe I used to love
College Dropout.
Despite the Kardashian discord, some people were very pleased with the announcement, including Kanye West's ex-girlfriend and Chyna's best mate Amber Rose.
Bring on the wedding!