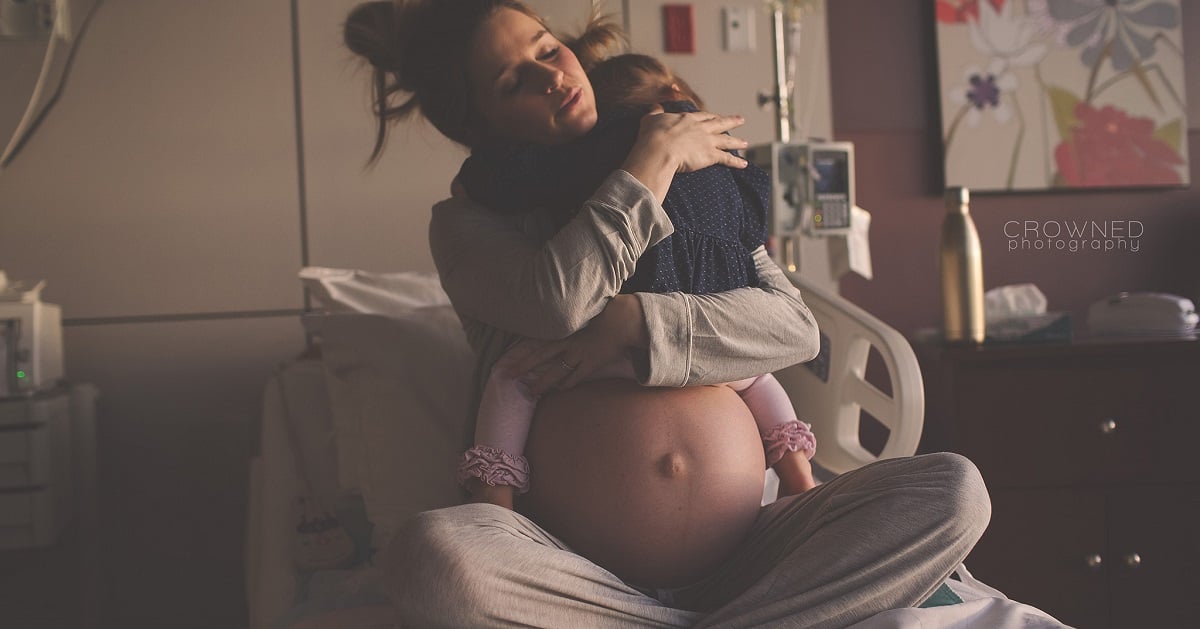 A beautiful photograph of a Mum, Nikki Colquitt, holding her daughter in one final embrace before she labours and delivers her new baby Isla, has, well, gone viral this week.
The photo, taken by US birth photographer Laura Paulescu, was shared on Facebook in January earlier this year Laura's business Facebook page.
When I emailed Laura at Crowned Photography, to request permission to share her beautiful photograph with Mamamia's readers, I had every intention of writing about the moments of pure love between a mother and her children, and how profound life feels when you're on the cusp of new life.
I wanted to write about how those moments are made more tender when you share them in some way with the children already in your life. It's a hello and a goodbye that happens to every mother going to give birth for a second or a third or a fourth time.
But, Laura, when she wrote back to me, shared so much from her own experience as a mother and as a birth photographer I felt that the words of the photographer deserve to placed alongside her work.
What follows are Laura's words and more photos that show a family joyfully welcoming Baby Isla. I hope you find them as meaningful as I did.
"I originally posted this photo (along with a few others from Isla's birth) shortly after she was born in January of this year.
"At first glance, it's not one of those birth images that would grab your attention, but this is the beauty of true documentary birth photography. I capture the moments around a family welcoming their new baby just as they happen naturally, so there's no posing or directing going on while the laboring & delivery process is going on.
"At this time, mom had both of her older two children running around the hospital room while she was in early labor, before their dad was running them home to stay with a sitter, and when her "little" big girl (whose birth I also photographed) climbed up on the bed to say goodbye, she scooped her up over her contracting belly and they just held each other so close.