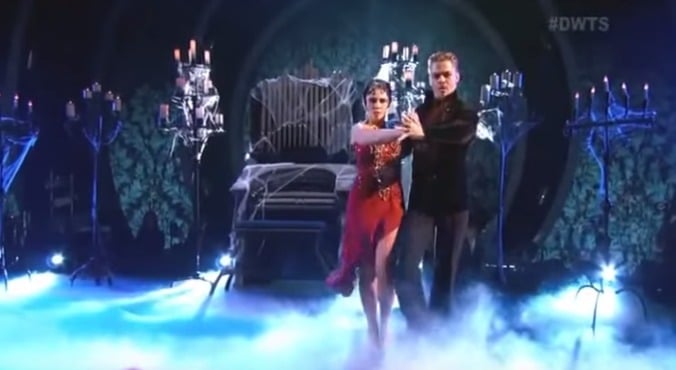 Image: YouTube.
After swapping her khakis for dancing costumes, Bindi Irwin has been enjoying incredible success on the US Dancing With The Stars.
Just a week after nailing the iconic Dirty Dancing lift that we've all secretly wanted to attempt, the 17 year old earned herself a second perfect score with a Halloween-inspired tango – but it seems not everyone is #TeamBindi. (Post continues after video.)
Many viewers have taken angrily to Twitter to accuse the competition of being "rigged" and playing favourites with the Aussie teen, who's the current favourite to take out the trophy.
"Gosh, @DancingABC judges are a joke! Bindi could go out there and just sit and they'd give her all 10s," wrote Riley Stewart.
Another put it plainly: "If u not Bindi u not getting a 10 hate to say it #DWTS."

Look, it certainly can't hurt that Irwin's dance partner Derek Hough's sister Julianne happens to sit on the judging panel (to put it in perspective, that's like Dani Minogue judging sister Kylie on a singing competition) there's no denying that the 17 year old is talented.
"Bindi has become such a great dancer, but more importantly she embodies the character. I don't teach that. I can teach her so many things about technique, but the performance comes from the soul," Hough told People. (Post continues after gallery.)