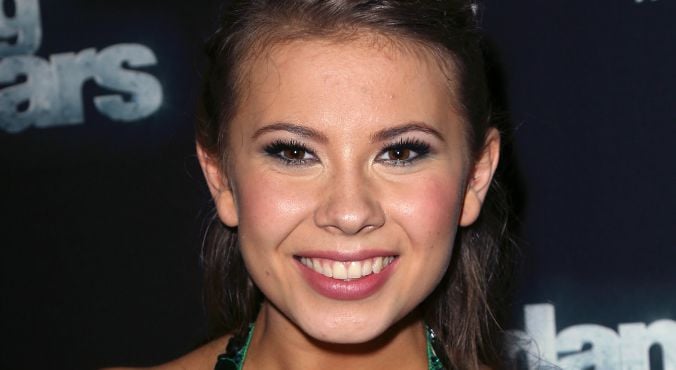 Image via Getty.
She says she's more comfortable in hiking boots than heels, so competing on the US version of Dancing With The Stars was always going to be a step out of her comfort zone for Bindi Irwin.
The 17 year old and her dancing partner Derek Hough recently wowed the judges with a jive to Crocodile Rock (complete with khakis and green sequins!) in a clear tribute to her father Steve Irwin, earning themselves an equal top score for the night of 24 out of 30.
Her trick to calm the nerves pre-performance? Singing a song we've all belted out in karaoke – and one she says was also inspired by her father.
While awaiting the scores, Irwin was asked whether it was true that she was humming Eye of The Tiger before she went on stage.
"Yes! It's my theme song other than Crocodile Rock and I don't know, it just felt natural and helped me get into the groove. My dad liked that song, my mum likes that song… we're bringing the fight!" she said. (Post continues after video.)