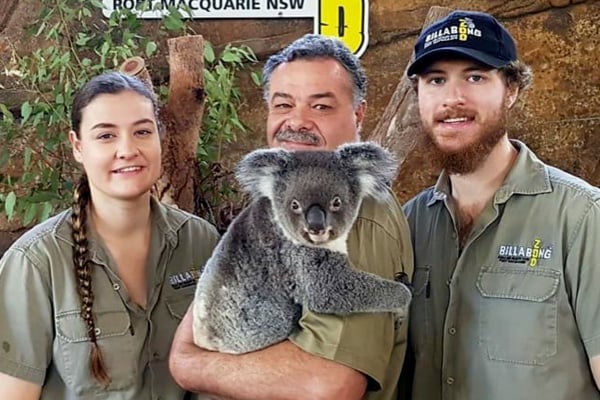 Brooke Stone's childhood was a little different from others.
In 2003, when she was just seven years old, her parents, Mark and Danena Stone moved from Nowra to Port Macquarie, where they made a rather hefty purchase: Billabong Zoo. Apart from inheriting a multitude of new furry friends, Brooke, now 24, and her brother Blake, 27, would go on to grow up on the four-hectare property.
"I could literally walk out from my back doorstep and go and make new friends and educate them about animals even though I was seven," she told listeners of Mamamia's That's Incredible podcast.
With an abundance of animals on her doorstep, Brooke would wake up to the deep rumbling sound of cassowaries, and shrill calls from the peacock enclosure.
"I used to have to share a bedroom with my brother for a little while, and [one of my earliest memories] is waking up to the sound of the peacocks," she said.
"They are the noisiest things in the world."
Brooke shares what it was like growing up in a zoo on Mamamia's podcast, That's Incredible. Our podcast for parents, kids and teachers. It's packed with fun facts and amazing stories about the world around us. Post continues below.
Before the Stone's ownership, Billabong Zoo was primarily known as a koala breeding centre. Now the wildlife park is home to a multitude of exotic animals, including snow leopards, penguins, crocodiles and common marmosets. Working at the zoo as one of their keepers, Brooke specialises in taking care of the big cats.
"We have three different big cat species now. We're really lucky. We have lions, cheetahs, and we also have snow leopards," she said.
On January 4 of this year, the zoo welcomed three lion cubs – two females, Zoraya and Nuru, and Kiros, a boy – and it was Brooke who oversaw their birth.
"So the time our lioness [Misty] had her cubs, I actually slept [at the zoo] to make sure everything ran smoothly and that she was good, and she was labouring fine," she said.
"During that process, I would wake up to the sound of them roaring."
 

View this post on Instagram