In his first interview with Mamamia, Bill Shorten talks about what needs to change so that we can stop women dying at the hands of their partners.
Family violence is at national crisis levels in this country. So you would expect it to be at the top of the list of priorities for our country. Unfortunately – it isn't.
Mamamia requested interviews with the leaders of both major parties to discuss their commitment to family violence and to push them to do more.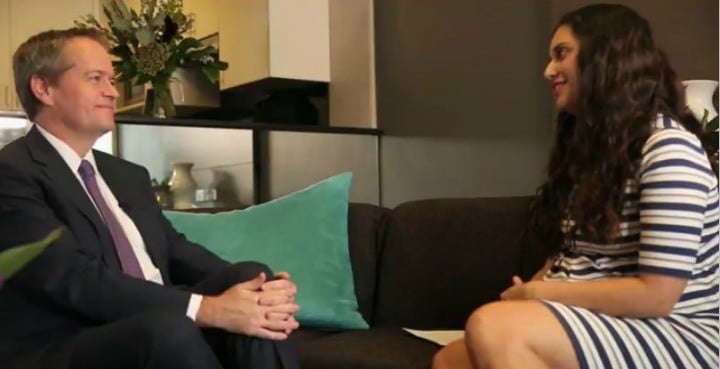 Last week, Editor in Chief of the Mamamia Women's Network, Jamila Rizvi spoke to Opposition Leader, Bill Shorten about his commitment to family violence, what he planned to do about gender equality in this country – and whether he would ever appoint himself Minister for Women.
We note here that Jamila has previously worked for the Labor party, but that had no bearing on the conduct of this interview.
In this first excerpt from the interview, Jam asks about Labor's commitment to ending family violence, and the Opposition leader explains why he thinks Parliamentarians need to sit up and pay attention.
In the second clip, Jam asks the Opposition leader about whether he thinks the Government is doing enough. And Bill Shorten explains that, right now, whether a family violence survivor gets the help she needs is a "postcode lottery".
Across the country, very few crisis centres and refuges have the funding to accept women on the weekend – even though that is a peak time for women in crisis. In this third clip, Jam asked the Opposition leader about whether he would give women's services what they desperately need: certainty in their funding.
In the final clip, Jam asked Bill Shorten whether he would ever appoint himself Minister for Women – and whether he calls himself a feminist. He says that his would be a "Government for women".
We have repeatedly requested an interview with PM Tony Abbott on family violence and hope to bring you an interview with him soon.
What do you think? Are politicians taking this issue seriously enough?