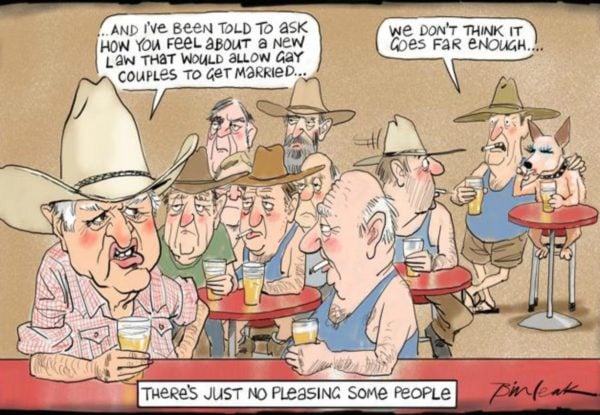 Editorial cartoonist Bill Leak has drawn yet another controversial cartoon today, published in The Australian.
The cartoon depicts a group of men, dressed in rainbow attire, marching like an army with violent batons in tow.
The Gay Agenda(™) has become Stasi-esque, supported by jackbooted thugs pic.twitter.com/ZhFOjfsBLN

— Bill Leak explained (@BLeakEksplayned) September 20, 2016
The image has created a stir on Twitter, where it was shared by the account Bill Leak explained, alongside the caption: 'The Gay Agenda has become Stasi-esque.'
People are understandably outraged, with the term 'Bill Leak' trending on Twitter, and tweets criticising the cartoonist and the image continuing to grow.
In other (unsurprising) news Bill Leak is still an unfunny prick #marriageequality #plebiscite

— Samuel (@Sp00kD) September 21, 2016
I know Bill Leak is a hate-spewing right wing extremist, but to be honest, I mostly despise him because he's such an incompetent cartoonist.

— Just Plain James (@jamesjdominguez) September 21, 2016