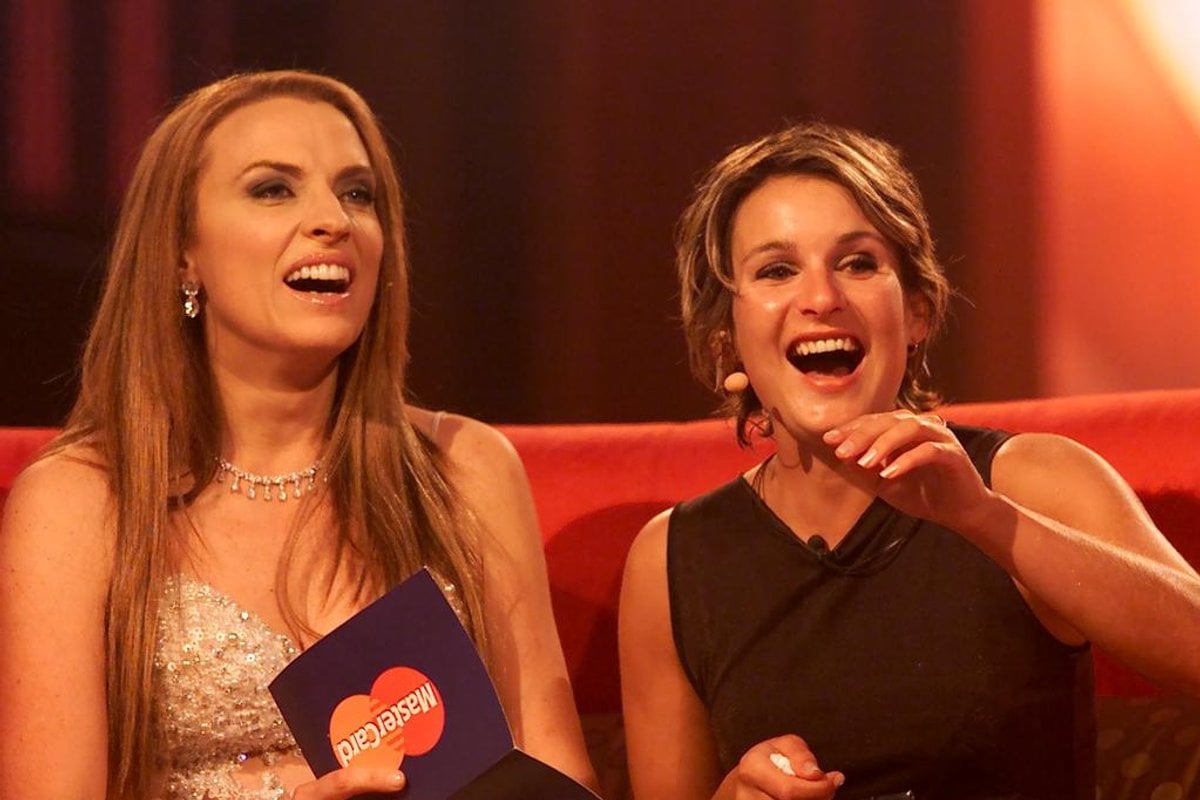 It's been 19 years since "Aussie battler" Reggie Bird won Big Brother season three in 2003.
Not only was she the first woman to win the $250,000 [season one was won by Ben Williams and season two by Peter Corbett], but, many seasons later, she still holds the record for the largest margin in the finale - a whopping 72 per cent of the votes were for her.
Speaking to No Filter podcast host Mia Freedman, Reggie recalls the "madness" of the night she won.
"Oh my goodness, that was crazy! Coming out of the house and walking onto the stage with screaming fans... It was bizarre because I'd been locked away for three months [in the house]," she told Freedman.
"And then all of a sudden it's just like 'Whoa, this is insane'. It was so mad, crazy mad. And it was all fuzz, like my head was really fuzzy.
"That's how I always remember it; it's when a television has gone off air and you had the black and white fuzz. That's what my head was like at that time. It was just all madness."
Listen to Mia Freedman's full interview with Reggie Bird on the No Filter podcast below. Post continues after audio.
Despite winning Big Brother, Reggie's life hasn't been all sunshine and roses. In fact, she went through a series of terrible lows.
While she was able to pay off her mortgage with the $250,000, her marriage to husband (and fellow fish and chip shop owner) Adrian fell apart.
A year after the show, Reggie was diagnosed with a degenerative eye disease called retinitis pigmentosa, which is a genetic condition causing loss of vision and blindness.
After being told she had the eye condition by the ophthalmologist, Reggie "didn't take notice of it. It didn't even sink in what it was."
It wasn't until she moved to the Gold Coast and had her daughter, Mia, with her second husband Dale, that she realised how serious the eye disease was.
"[Mia] started crawling, and I'd never see her. I kept tripping over her and kicking her on the floor and I'm like, 'oh my goodness'. Dale said, 'Go and get your eyes looked at again'," Reggie told No Filter.
"So I went, and the ophthalmologist said, 'You need to stop driving right now. You cannot drive.' And that's when they said, 'You've got no peripheral vision.' I can't see beside, below, above, the low above, and [I have] no night vision."
After falling pregnant with her second child, Lucas, Reggie underwent emergency surgery due to an ectopic pregnancy [when a fertilised egg attaches outside the uterus].
Lucas was born with cystic fibrosis.