Last week, I made a very shocking discovery.
As I was scrolling through my phone, barely able to see over my offensively large chest, I came across some very important, breaking news.
Vogue has declared the death of cleavage. It's out of fashion, you see.
It's like when testicles went out of style in 2013. Remember that? Remember?
As Coco Chanel famously said "Before you leave the house, look in the mirror and take at least one thing off," and this season, it's your boobies.
Give it a month, and shops will stop selling them. They're as dated as tinted sunglasses, or a Supre t-shirt that reads "Naughty Gal".
And women everywhere need to be alert, so we can stop doing this and embarrassing ourselves.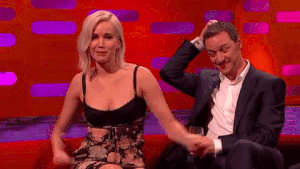 "Whatever shall I do?" I asked myself.
Then, I immediately began brainstorming. There was really no time to waste.
I could feel everyone staring at me. I might as well have been wearing three quarter, glitter jeans and a boob tube with a goddamn SHARK TOOTH NECKLACE.
Just like that, I'd become lame AF.
Luckily, I've always carried with me an emergency skivvy, just in case this kind of crisis ever arose.
It's the middle of Spring, but none of that matters.
Listen to Holly Wainwright, Mia Freedman and Jessie Stephens discuss Vogue's claim that boobs are now out of fashion. Post continues below.