Thick glasses. Laughs. Quirky tee-shirts. A highly introverted Sheldon who we all seem to relate to a little too much.
CBS' The Big Bang Theory is not known for sex. Or sexiness. And especially not bondage.
But one scene has been banned from televisions in the UK. Episode seven of Season 10 has been deemed too raunchy for TV.
It's the nightmare of the show's main character Sheldon (Jim Parsons). He's dreaming that Penny (Kaley Cuoco) and Leonard (Johnny Galecki), have turned his bedroom into a sex dungeon.
The scene cuts to exactly that.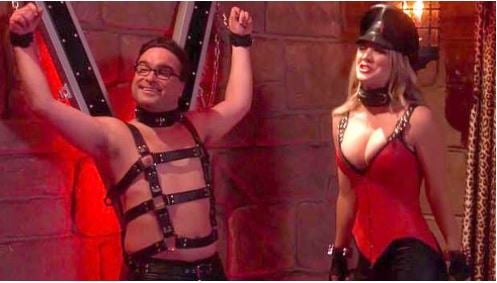 Red lighting. Leonard chained up wearing leather. Penny in a red corset and fishnet stockings holding a whip.
Sheldon stammering at the door and Penny laughing, "We've turned your room into a sex dungeon."
On The Binge we asked: Is this show really worthy of all the accolades and the money it receives? Post continues below.
According to The Mirror, it was Penny's outfit that was deemed too "busty" for UK television.
In the US, the episode was shown in full on November 3 and the scene was called a "laugh-out-loud" moment by local media.
It is unknown yet whether Channel Nine, who broadcast the series in Australia, will air the full episode or the edited version. Currently, we're only up to episode four.
Penny and Leonard were married at the start of Season 10. In real life, Cuoco and Galecki dated for a time in 2008. They've remained close friends since then.