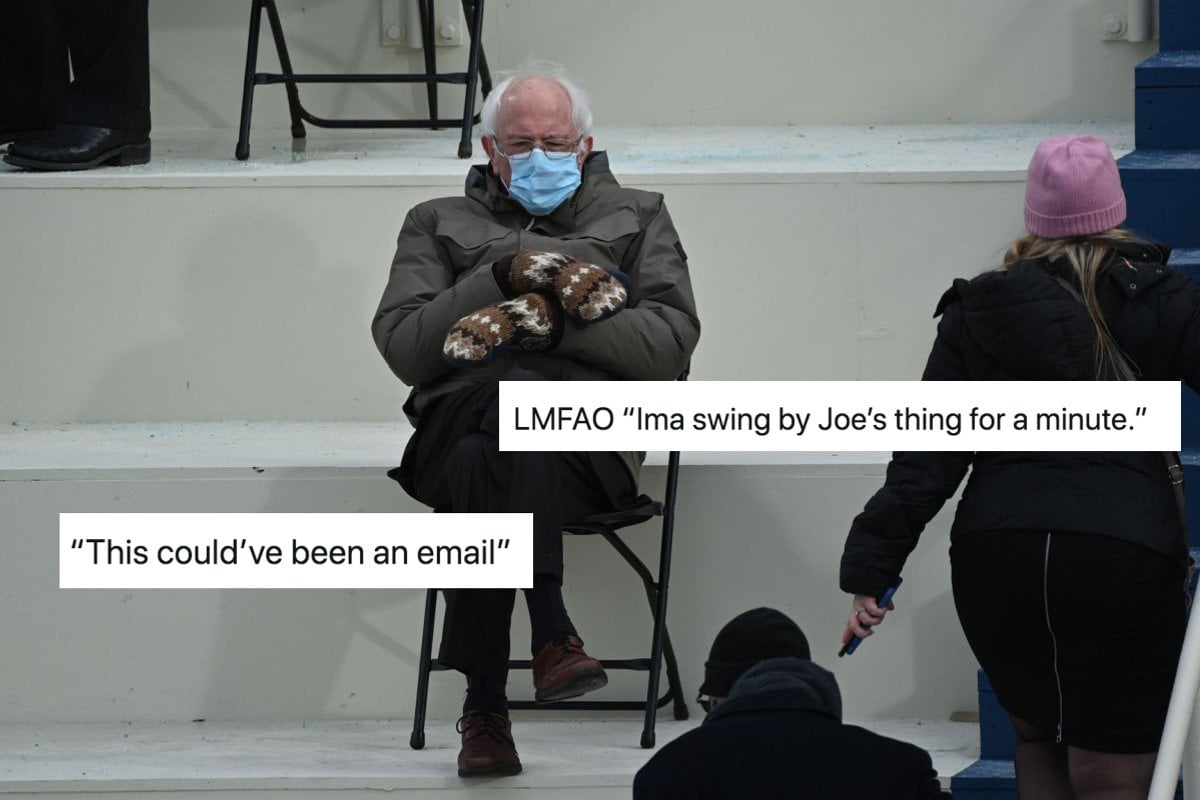 In case you missed it (you definitely haven't), Donald Trump has left the building. 
On Wednesday morning, local time, in Washington D.C., Trump boarded Marine One for the last time as he left the White House, breaking tradition by not attending Joe Biden's inauguration. 
Watch: President Joe Biden's inauguration speech. Post continues below. 
Tens of millions watched on as Trump left and Biden arrived, with many taking to Twitter to share their delight at the departure of America's most controversial president. 
Yes - memes were in grand supply. And they are just as glorious as you'd expect.   
Here are the best memes from the past 24 hours, because there's no better medicine than laughter. 
Trump's departure.
Of course, the Internet couldn't let Donald Trump walk of the White House before prov
He's Gone good riddance alright Trump will holla! pic.twitter.com/OcGKYEVAUn

— Lamar_Coupe (@Lemories_I) January 20, 2021
He's Gone !!! Watching Trump leave.... pic.twitter.com/MiIT3MF2rX

— No (@NoNotNowRose) January 20, 2021
and it ends just as it began pic.twitter.com/lJWSm1EC5C

— Jimmy Kimmel (@jimmykimmel) January 20, 2021
Moving boxes at the White House. The one marked "FRAGILE" is for his ego. pic.twitter.com/eIRJEYh4yF

— Eric Pfeffinger (@epfeffin) January 15, 2021
today is literally the only day you can retweet this bc HES GONE. TRUMP IS GONE !!!! #WorstPresidentEver pic.twitter.com/bKAEdDOG6t

— gabs ☾ (@hcneymonave) January 20, 2021
Hey you forgot your kid pic.twitter.com/rBCUput3kJ

— Sarah Cooper (@sarahcpr) January 20, 2021
Trump: We love you. Have a good life.

American democracy: pic.twitter.com/CDiWU4ntnU

— Michael Kimmerlein (@kimmerman_) January 20, 2021
WE OFFICIALLY TOOK OUT THE TRASH #ByeTrump https://t.co/3MZVA4J66L pic.twitter.com/LUw4XxBbbO

— Rihanna 🅴 (@fentxyy) January 20, 2021
Thinking back to Trump's inauguration ... pic.twitter.com/6BNjr6HRWx

— Kevin M. Kruse (@KevinMKruse) January 20, 2021
Tomorrow, Trump is the hell out of there. #ByeFelicia pic.twitter.com/AeP2rJ30lG

— ShelleyBidenHarris2020💙🌊 (@shelleyann70) January 19, 2021
Barron walking downstairs for breakfast pic.twitter.com/FLXQoKK6GV

— yum maga tears (@BringOutTheDead) January 20, 2021
Biden's inauguration.
how it started how its going#Inauguration2021 #Inauguration #Inaugurationday pic.twitter.com/C12n9cnC7A

— The second coming of B E A N Z (@photosbybeanz83) January 20, 2021
The hair is laid; the outfit is on point. Michelle Obama came to slay, yass! #InaugurationDay pic.twitter.com/nVPoozl1O3

— 𝐂𝐮𝐥𝐥𝐞𝐧 (@cxllenpnd) January 20, 2021
Lady Gaga's outfit is also being inaugurated.

— Jessica Vosk (@JessicaVosk) January 20, 2021
Today we are all Leslie Knope. pic.twitter.com/ptarUSoDMN

— The Geeky Waffle (@Geeky_Waffle) January 20, 2021
Guess we're done being subtle about it, huh? pic.twitter.com/ogGg50K7Ht

— Yamazuya (@Yamazuya) January 20, 2021
And of course, one of the shining stars of Biden's inauguration: Bernie Sanders' mittens. 
Shoes: model's own. pic.twitter.com/ZwbgEpNspJ

— Burton Snowboards (@burtonsnowboard) January 20, 2021
I've seen enough. This is the winner. pic.twitter.com/DuDeUGnGz4

— Fred (@WaywardWinifred) January 20, 2021
LMFAO "Ima swing by Joe's thing for a minute." https://t.co/FBo5IoxFA1

— Bri (@shes_the_maNN1) January 20, 2021
"This could've been an email" pic.twitter.com/kn68z6eDhY

— Ashley K. (@AshleyKSmalls) January 20, 2021
In all the inauguration fashion news, let us not overlook Senator Bernie Sanders' mittens pic.twitter.com/BlZivZ8cMP

— Vanessa Friedman (@VVFriedman) January 20, 2021
Out on the town having the time of my life with a bunch of friends pic.twitter.com/Qu7UpVTKgQ

— Dave Itzkoff (@ditzkoff) January 20, 2021
a person only needs one good coat https://t.co/TYtoS0Hb8h

— Brandy Jensen (@BrandyLJensen) January 20, 2021
---
Sign up for the "Mamamia Daily" newsletter. Get across the stories women are talking about today.
---