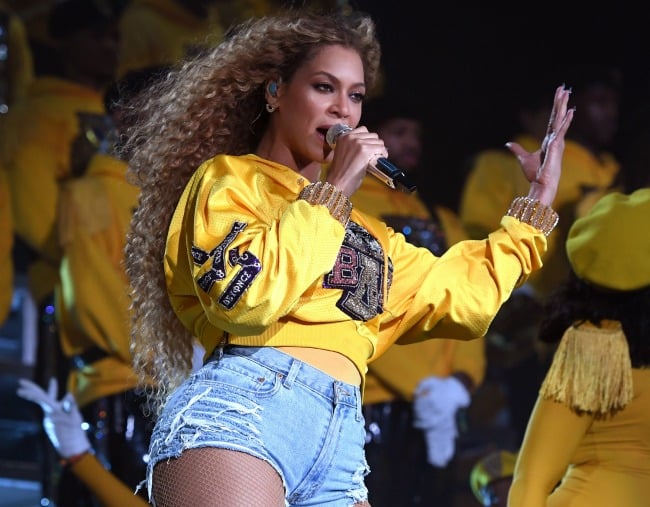 Beyonce Knowles' Coachella performance was so good there were people renaming the festival after her. Making this feat even more impressive was that she managed to pull off part of it with a completely uncooperative outfit.
After surprising fans by bringing out her husband Jay Z to join her, they were just about losing their minds when she reappeared onstage alongside Destiny's Child members Kelly Rowland and Michelle Williams.
The trio then put on a spectacular performance of their hits including Soldier and Say My Name. It was so entertaining that some fans didn't even notice the Formation singer was trying to keep her breasts from escaping from her camouflage leotard.
Beyonce made every 90s girl's dream come true with her Destiny's Child reunion. Post continues.
While keeping her hand on her shoulder, 36-year-old Beyonce still managed to keep up with the energetic routine like the total pro that she is. From then she kept going back to place her hand on her strap to prevent any pesky nip slip.
And she didn't even let her second outfit failing from keeping her. Audiences watching very closely noticed that her thigh-high boots had slipped to her knees during the performance.
Fans were quick to praise Bey for not missing a single beat despite having not one, but two, wardrobe bloopers.
Beyonce's headline act – which also included an appearance from her sister Solange –  was two years coming. The 36-year-old was due to perform last year, but had to pull out months after she was announced on the line-up because of her pregnancy with twins Rumi and Sir.
Yeah, we think she definitely made up for any disappointment caused by that.
LISTEN: Beyonce and Jay Z called their twins Sir and Rumi. Hip, or way too out there? The Mamamia Out Loud team discuss.