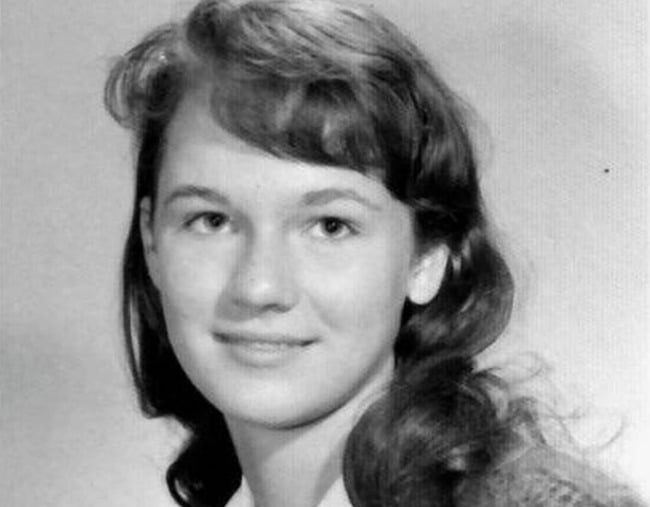 The only sign that something was awry on the afternoon of November 28, 1969, in the cramped library at Pennsylvania State University was the sound of falling books.
There wasn't a struggle to be heard, not even a scream.
But that afternoon, about 4.45pm, 22-year-old graduate student Betsy Aardsma was stabbed to death between two rows of floor-to-ceiling bookshelves.
Only, it wasn't until hours later that doctors realised what killed her. Nobody could see she had a knife wound. Most of the bleeding was internal, and what little blood did seep out was camouflaged by her red dress. Her hands also showed no defence injuries. Shrouded in mystery, it's a case that still haunts the community. And 49 years later, police are still searching for the murderer.
On the morning of Betsy's death, she woke up in the dorm room she shared with fellow student Sharon Brandt and began her day the way she always did: by writing a letter to her boyfriend David Wright. It was the last one she'd ever write.
Later that day, about 4pm, she and Sharon headed over to the library to do research for a project. When they arrived, they went their separate ways.
Betsy first visited the office of a chief bibliographer before heading to the second level to grab a book she needed. There were only about 90 people in the building at the time, as it was the day after the Thanksgiving holiday.
Betsy went into a passage between bookshelves so narrow, only one person could comfortably pass at a time.
It was here, a space near impossible to escape when confronted, that her killer approached. The autopsy report showed she was stabbed with a blade only about 9-10cm long. The knife pierced her breastbone, severed her pulmonary artery and hit her heart. It's believed she died within five minutes.
"The findings also suggest that the wound was inflicted with considerable force at the time of a face-to-face confrontation of the victim and the assailant, and that this weapon was held in the right hand of the assailant," the autopsy report stated.
As Betsy slumped to the floor, pulling books down as she fell, the killer walked away with the knife.
Nobody saw the attack. It was only when a student was told by a man, "somebody help that girl", that the alarm was raised. The stranger vanished shortly after.
Seeing no sign of foul play, no one at the library could understand why Betsy had suddenly collapsed, figuring she might have simply fainted.
An ambulance was called to take her to hospital. Medical staff thought she was still alive and had suffered a seizure. At 5.50pm, she was pronounced dead. It wasn't until after this that the tiny stab wound was found as well as the specks of blood hidden on her red dress. Then, the hunt for her killer started.
Dozens of police were assigned to work on the murder, and tip-offs sent them around the country. But decades later, they are still looking.
Officials say identifying suspects was made extremely difficult because the crime scene was so tainted by other students, as well as by a janitor who cleaned the area shortly after paramedics arrived.
Police at first set their sights on Betsy's boyfriend, amid unconfirmed rumours that she tried to break up with him. Police were also suspicious when David thought about not going to the funeral because it was close to his exams, before family convinced him to change his mind. But an intensive investigation led police to accept his alibi that he was on his own campus at the time of the murder.
Detectives also searched for the unknown man who alerted a student to Betsy on the library floor, but he was never identified.
Then, in 2008, a book was published by author David Dekok, who'd deeply researched the case. His theory was that a geology student named Richard Haefner, who died in 2002, was responsible for the murder.
Richard lived in Betsy's dorm, and Dekok claimed she had befriended him but then cut him off, telling friends he was a "creep". Richard had been interviewed by police but never arrested, and he'd been investigated for child molestation.
Two other writers, Derek Sherwood and Sascha Skucek, shared the same theory.
Nonetheless, as things currently stand, we are no closer to establishing why someone viciously extinguished Betsy's young life.
She was described by family and friends as artistic, intelligent, driven and compassionate. She loved her boyfriend and she followed him from Michigan to Pennsylvania to be closer to him. They were studying on separate campuses, about two hours apart, and spent time together on the weekends.
"She was just a very brilliant person, extremely smart… Good sense of humor. Just a wonderful person," David said.
She was studying English and hoped to become a teacher. David was planning on proposing to her that Christmas.
In hindsight, David worried there were warnings he missed that things were turning sour for Betsy, such as when she said she wanted to change campus.
"In retrospect, when I thought about that, I wondered if she was worried about something up there," David said.
Betsy also reportedly told her mother she had a "weird feeling about being here".
But such concerns never led detectives to her killer. This terrible crime involved a single stab that was so precise and so deadly, it would seem the method was carefully planned. The question that still needs to be answered is, was the murderer intending on taking Betsy's life, or was this a thrill kill?