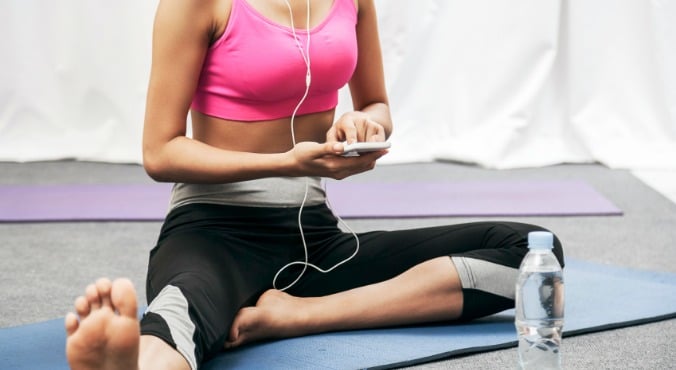 Image: iStock.
Workout Playlist Fatigue (WPF) is a very real, very troubling phenomenon.
There's no exact timeframe in which WPF occurs, but if you've been listening to the same songs at every gym session for the past few weeks you're undoubtedly putting yourself at risk.
Symptoms include, but are not limited to: a complete lack of motivation while listening to said playlist; boredom; and wanting to never hear that collection of songs again until the day you die.
The cure for this condition? A new playlist, of course. To help you out, we asked nine fitness experts and trainers to share their all-time favourite workout jams to serve as your playlist inspo. You're welcome.
Carla McMillan
Co-founder of Bodypass and yogi
Station — Låpsley
Sunset Lover — Petit Biscuit
Clair de Lune — Flight facilities
Gooey — Glass Animals
I Wanna Dance With Somebody — Whitney Houston
Watch: PT and ex-Bachelor Sam Wood demonstrates a workout routine you can do anywhere. (Post continues after video.)
Ali Cavill
We Found Love — Rihanna
Rest of my Life – Ludacris
Young and Beautiful — Lana Del Rey
Don't You Worry Child — Swedish House Mafia
Geronimo — Sheppard
"I love using music that's fresh and exciting entices the body to function outside of its comfort zone, with a strong beat and tempo that matches the pace of our workout, i.e. something fast for a run but more soothing for stretch," Ali explains.
Nadine Veverka
Personal trainer and founder of Her Master Plan
Bring Me to Life — Evanescence
I Would Do Anything for Love — Meatloaf
Silence — Delerium and Sarah McLachlan
Slide — The Goo Goo Dolls
Gold — Spandau Ballet
"I am almost embarrassed to admit to this list. I love working out to 80s ballads (no joke) and emo rock (again, no joke)," Nadine adds.
"Under normal circumstances this kind of thing isn't usually my jam but pump it in to my ears while I pound the pavement and I am in my element."