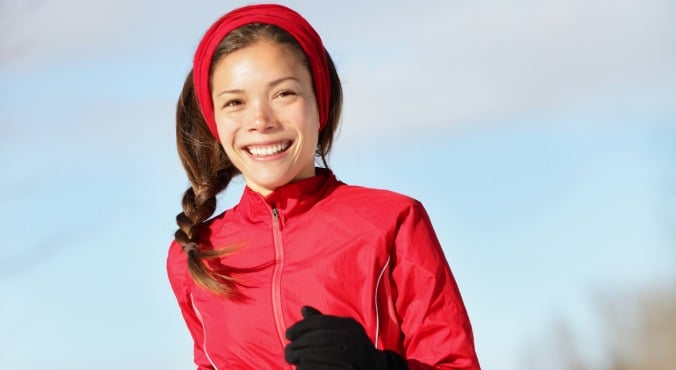 Image: Nobody smiles like this during winter runs. Nobody. (iStock)
It's not hard to find excuses to forgo exercise — here are 97 of them, if you're in the market for some news ones — but it's even easier during the year's coldest season.
The simple truth is working out in winter is just not very fun.
RELATED: 16 (very convincing) reasons winter should be your favourite season.
The cold air makes your lungs hurt, it's still dark when your alarm goes off, and your motivation to even leave the house, let alone run, plummets (okay, that one probably has something to do with the appeal of staying inside and watch Netflix instead).
Unfortunately, winter is here to stay, and it's only going to get colder before it gets warmer. What you need is some snuggly exercise gear and a piping hot playlist that will keep your bum moving. You're on your own with the clothes, but we can certainly help you with the latter.
Courtesy of Spotify Australia, here are the 10 exercise-friendly songs the nation is running/walking/lifting/cycling to right now:
1. Can't Hold Us — Macklemore and Ryan Lewis
2. Uptown Funk — Mark Ronson and Bruno Mars
3. Lean On — Major Lazer, MO, DJ Snake
4. Turn Down For What — DJ Snake and Lil Jon
5. Outside — Calvin Harris and Ellie Goulding
6. High — Peking Duck and Nicole Millar
7. Black Skinhead — Kanye West
8. Ni**as in Paris — Jay Z and Kanye West
9. Where Are U Now — Jack U, Skrillex, Diplo and Justin Bieber
10. Take Me Over — Peking Duck and SAFIA
Here's the playlist all locked and loaded if you want to have a listen right now:
If you're the kind of person who gets tired of listening to the same ol' playlist every time you work out, but can't be bothered to find new songs and update it, we have another slice of happy news for you. (Post continues after gallery.)
There's a brand new iPhone feature called Spotify Running, which can integrate with your Nike+ or Runkeeper app and does all the hard work for you.
The function detects the speed you're running at and provides you songs that match your pace — these recommendations are based on your listening history, so you won't be bombarded with Nicki Minaj tracks if you're more of a Strokes gal.
RELATED: Gwyneth Paltrow hated exercising every day. One piece of advice changed that.
That's not the only app that can make your workout more enjoyable — we've rounded up a few more suggestions over here. 
Happy winter workouts, friends. Remember to think warm thoughts.
What's your favourite song to exercise to?
Trying to drink more water? Try this.