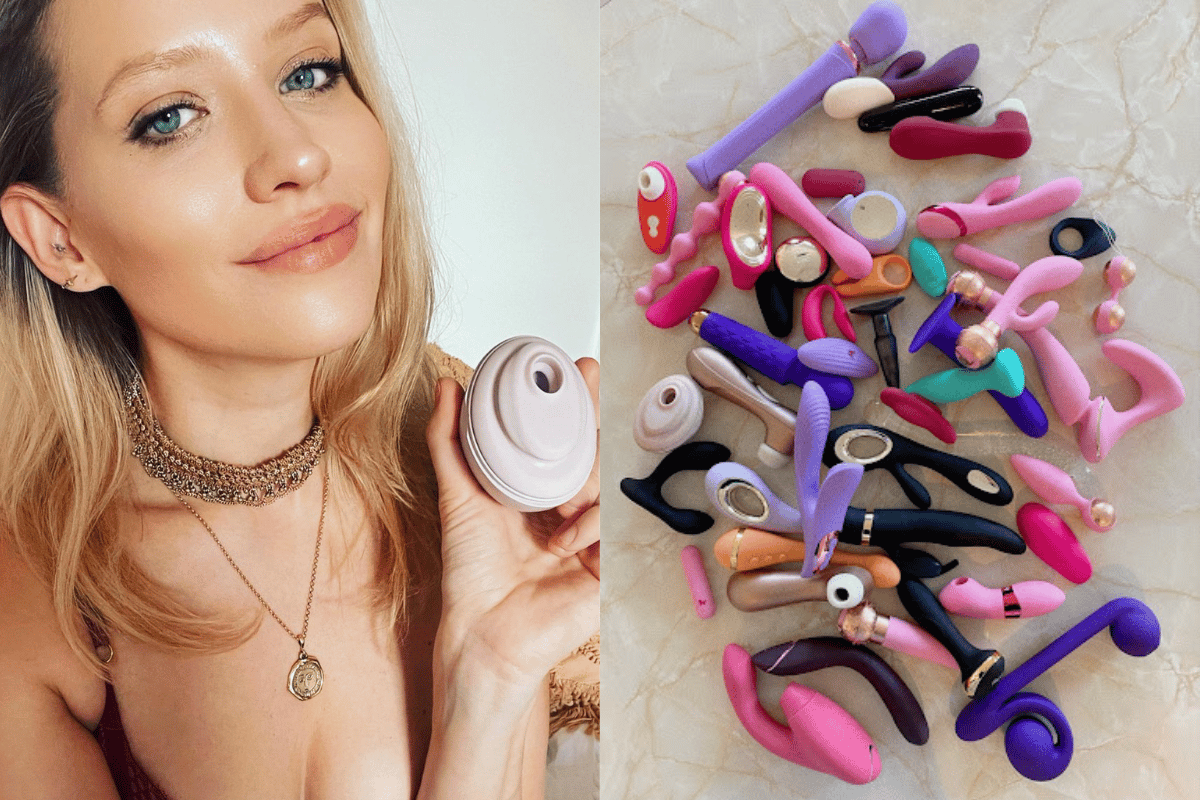 For those not privy to my dildo-slinging antics over on Instagram, I'm a beauty writer by day, sexual wellness warrior by night!
In addition to being the luckiest girl alive (skincare and orgasms, what more could you possibly want?), I'm also the proud owner of about 56 vibrators.
I will admit that this is a rather excessive amount.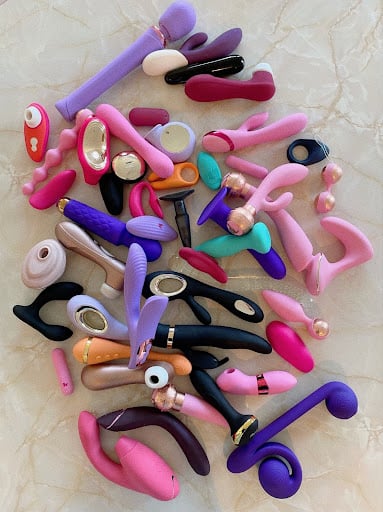 Image: Supplied/Carly Sophia
Unless there's some sort of lucrative market for used dildos, or the opportunity to turn them into some sort of Tracy Emin-inspired installation art, I don't actually know what to do with this many toys. So, the majority of them live in an industrial-strength plastic tub on the top shelf of my wardrobe. Then there's a few in the shower, and four permanently inhabiting my bedside drawer.
Quick note on the shower vibes – I like to start every day with an orgasm. It's somewhat perfunctory, but I like to get a quick cab off the rank first thing because it truly sets me up for a good day.
Orgasms release oxytocin, which makes you feel happy and less stressed, and they even improve your skin – giving you that 'glow' from within!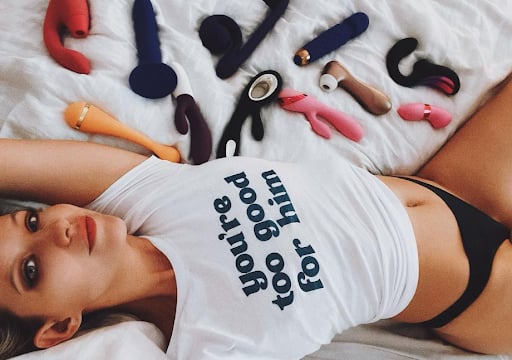 Image: Supplied/Carly Sophia.

So every morning, I pop my conditioner in and let it marinate for a few minutes while I sort myself out. If anyone asks, the, er, implement in question is a "facial cleansing device". And while we're on the subject, the four at my bedside are "massagers, for my sore back".
Now, I am incredulous when someone tells me that they don't own a vibrator. And only slightly less so when someone tells me they only own one. I actually do believe you need a minimum of four, demonstrated by the ones I've liberated from the aforementioned plastic tub.
Here's why.
1. Multiple orgasms.
Sometimes you want/need to indulge yourself with more than one climax, which is why you need the latest version of the Satisfyer Pro 2, $89.99. I have three of these – one from each generation – and the Gen 3 is the first to use 'liquid air' tech.
With two head attachments, you can use the original to 'contactlessly' enjoy the classic air-pulse sensation (the fact it doesn't touch your clit means you don't get over-stimulated and can just keep going – my record is eight!) or you can swap it out for the new membrane-covered option that feels like surges of pulsing water.
It also has in-app control which features an 'orgasm boost' setting and can be synced to music, or operated by a partner remotely.
2. A girl's gotta eat.
Sex with a man is fine, I guess, but if you're a clitoral climax girlie (me!) the chances of penile penetration getting you off are probably unlikely.
A good old-fashioned finger bang definitely has its place, but if you've ever wished that you could experience the throes of ecstasy while getting simultaneously pounded, then you NEED the Wild Secrets Kiss Bullet, $51.99.
I thought I lost this, and urgently ordered a new one, only for my removal men to discover the original (alongside several others) while dismantling my bed. Oops!
So now I have two – one in each bedside table. This works out fabulously though, because when I have a "friend" over, it doesn't matter what side of the bed I'm getting some on, my li'l mate is always within reach.
Small enough for use during partnered play and powerful enough to absolutely get it done, this is an incredibly skilled 'third' to bring into your room.
3. Rabbits are iconic.
My first vibrator was a 'rampant rabbit' – hard plastic, rotating shaft of silver balls, and two AA batteries, frequently lifted from the TV remote. THANKFULLY, sex toy tech has come a long way since then, but the old-school rampant rabbit shape remains, probably because everyone knows you don't mess with a good thing.
Lelo's Soraya Wave, $323.99, is like the Rolls Royce of rabbits. I recently recommended this one to a friend, and she sent me back about 50 'thank you's – her husband was away for work and she'd thrown herself quite the party, culminating in no fewer than six intense orgasms.
The smooth, soft silicone shaft features WaveMotion technology which makes that 'come hither' motion we all know and love, while the flexible external arm expertly takes care of your clit. Delicious.
4. It's all G.
There are a few of these double-trouble style g-bangers about, but none hit the spot, quite literally, like the Lelo Enigma, $278.99
When I first tried this, I felt like I'd upgraded from dial-up and was now experiencing orgasms in 5G. I once came so hard I actually popped my knee out, so... you've been warned.
Its flexible inner arm nestles right up against your g-spot while trademarked Sensonic technology stimulates the entire clit (and I say 'entire, because 90 per cent of it is internal).
Worryingly, I couldn't include this in my photos because I couldn't find it, despite a very thorough search. How do you even lose a toy of this magnitude?
If it doesn't show up, I will definitely have to order a new one, at least until I move house again. Really hope the twins haven't taken it to school for 'show and tell' like my little brother did with a tampon that time…
If you have any questions, want to stay up to date with the search for the missing Enigma, or have any fun ideas for dildo-themed installation art, you can connect with me here.
Feature image: Instagram/Carly Sophia.
Unlock unlimited access to the best content for women