My babies were boring. Not once did they bother to make any hand signals whatsoever in utero, leaving me with boring ultrasound photos of them just floating there.
Not being cool at all.
But some babies clearly have the cool-factor before they are even born. Going by this ultrasound photo an expectant mum, her baby is going to be the coolest person to have ever lived.
This is the image that appeared when Makelle Ahlin, 27 from Utah in the US and husband Jared, 30, went to the doctor for their 22 week ultrasound.
Pregnant woman Makelle Ahlin shared this awesome ultrasound photo. Article continues…
Makelle Ahlin told Mamamia this is her third child and she is 23 weeks along, already mum to Cooper, four and Boone, two.
With her unborn bub flashing the "sign of the horns" – i.e. the universal symbol for rock music – this kid is clearly a little rocker in the making.
(Let's hope that doesn't include the heavy metal screaming.)
"My husband spotted it first, he actually had the ultrasound lady go back for it," Makelle said. "My first reaction was 'is our baby really telling us to rock on'? Followed by giggles. My husband was so proud!"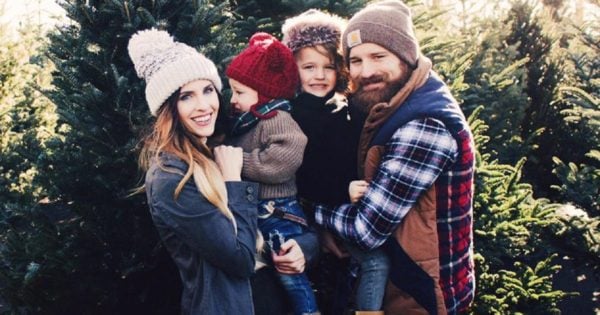 "We were really excited and I was feeling pretty relived. I took it as a sign that this baby will be able to hold his/her own against it's older siblings which was something I have been worried about since they are so active and a little on the wild sign," Makelle said.
The baby is due in late June, 2017.
How to handle the question...When are you having a baby?
So, when are you having a baby?!?