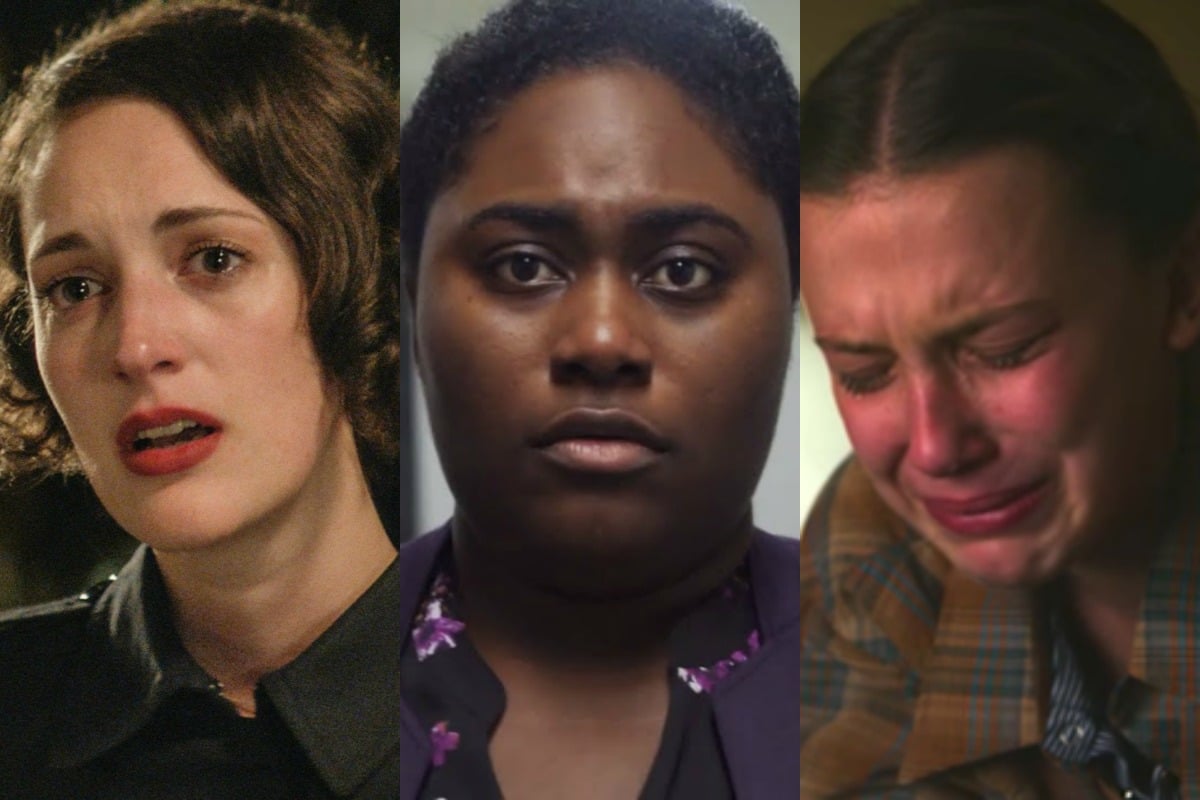 *Content warning: This post contains MANY spoilers for some of the biggest TV shows of 2019. Read on at your own peril.*
2019 gifted us with some of the greatest TV shows, characters and moments that have ever graced the small screen.
Unfortunately, it all came at a price because many of these scenes also left us ugly crying at home alone on our couches, broken by the very fictional characters we'd lost our hearts to.
So, in the spirit of opening up old wounds, here are the TV moments from 2019 that left us in tears.
SIDE NOTE: Take a look at the trailer for Younger season six, post continues. 
Fleabag
The closing scene of Fleabag's second and final season is beautifully crafted while also packing a pretty hefty emotional punch.
Following her father's somewhat disastrous wedding, Fleabag (Phoebe Waller-Bridge) and Hot Priest (Andrew Scott) are sitting at the bus stop and finally admit their love for one another, but it's not meant to be.
Hot Priest has found a renewed love for his faith and resigned himself to making a decision that is best for both of them, he walks away from Fleabag. The next moment is what makes this such a perfect (and tearful) ending, as Fleabag finally makes the choice to walk away from the camera and the audience for good, heading into a new life with real relationships.
Stranger Things
There's nothing better than a good redemption story, so watching Billy (Dacre Montgomery) go from jerk to villain to hero was one of the best story threads from Stranger Things season three. It also made things a lot more heartbreaking when he died.
When Billy stands up to the horrifying Mind Flayer and jumps in front of its barbed tendrils to protect Eleven (Millie Bobby Brown), it's a pretty emotional death scene, made even more upsetting by the fact that he survives just long enough to tell his little sister Max (Sadie Sink) that he's sorry for everything.
When They See Us
This award-winning Netflix drama series was a stand-out of 2019. The prestige limited series When They See Us follows the real-life 1989 case of a jogger who was assaulted and raped in New York's Central Park, and the five young people who were then charged with the crime.
The accused were labeled the Central Park Five and always maintained their innocence. The series kicks off in 1989, and spans right through to their exoneration in 2002. There are many devastating moments in this series that will bring tears of injustice to your eyes, especially when you remember that it all took place in real life.
In saying that though, it's hard to go past the moment when the innocent boys are read their guilty verdicts in court, it will break you every time.
Younger
I know a lot of Younger fans might think it was most upsetting to see Kelsey (Hilary Duff) or Charles (Peter Hermann) discover Liza's true age and back story, but for me, the most devastating truth-telling blow was when Diana Trout (Miriam Shor) finally learned the truth.