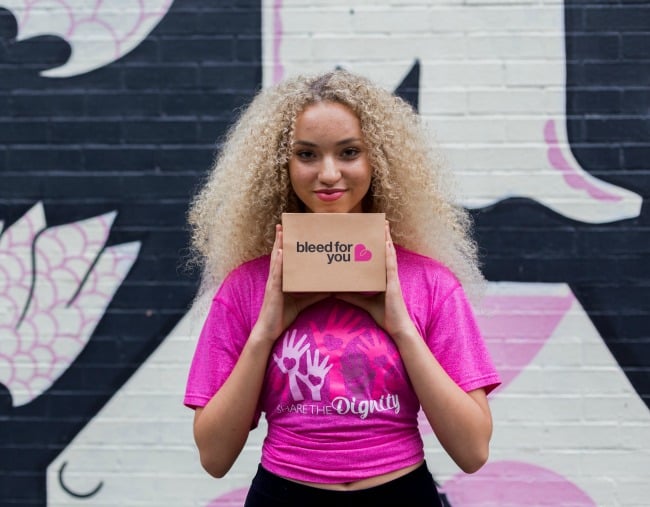 EXCITING UPDATE: In honour of International Women's Day, Bleed For You are going to pay your tampon tax for you this month.
Bleed For You will pay the tampon tax for every box of organic tampons bough through their website in March.
Simply visit their website, enter the code AXETHETAX at the check out, and while you're at it, sign the federal petition to axe the tampton tax at: https://www.sharethedignity.com.au/axethetax/
It's time for the tax to end. Period.
Also, how amazing is this video about how seriously un-luxurious tampons are below? Post continues after video.
Vanessa Alexander and co-founder Cherry Connew believe in the power of socially-conscious and environmentally sustainable enterprises to create change.
With their company, Bleed for You, they are committed to supporting access to women's reproductive health services in every way they can.
They got talking over a glass of wine one night about where the profits from tampons went. They discovered that the profits most definitely do not go back to women. Instead, they go to big overseas 'multi-corp octopuses' with male CEOs who prioritise profit for shareholders and don't care about women or the environment.
It shocked them to discover that pads and tampons are a 'blood' market worth around $35.4 billion worldwide.
So, they set out to create an option for women that gave some of the profits back to women in need.
Across an average woman's lifetime, she'll purchase around 14,000 tampons, so wouldn't it be amazing if we used that buying power for good?
Read Vanessa's interview with Mamamia.
What is Bleed for You?
A small, Australasian tampon company with a big heart. We deliver to your door ethically-certified, organic cotton tampons and give 50 per cent of profits to charities that support women's health and education.