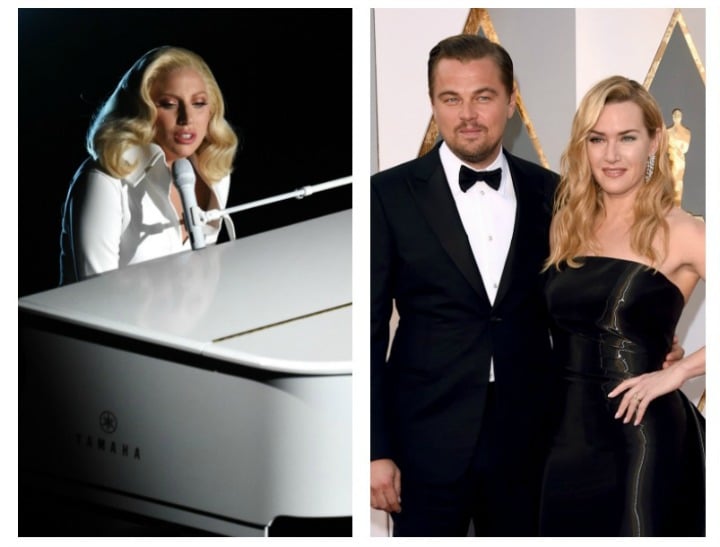 The 2016 Oscars got off to a spirited start. The tone of the night was set when host Chris Rock, 51, strode on stage to the strains of Fight the Power by Public Enemy.
In a year in which Hollywood's neglect of actors (and writers, and directors) of colour has been highlighted by the trending hashtag #OscarsSoWhite, Rock was an inspired choice to host the biggest awards show in all the land.
So, yes, Rock added some much-needed colour to this show in more ways than one, but there were other excitements, too. Read on for the unmissable moments from the 88th Academy Awards.
1. Kate and Leo walked the red carpet together.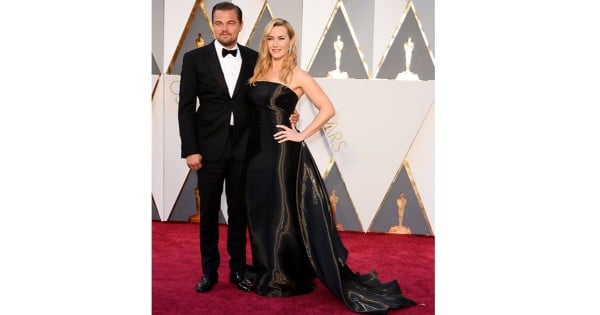 Rose and Jack for ever!
2. Chris Rock's opening monologue was funny, political, and confronting.
Chris Rock doesn't need to do cute bits like the Girl Scouts he had selling cookies to the audience — he's really best when he just stands on-stage castigating all of Hollywood for being racially biased and narrow-minded.
It's the 88th Academy Awards. It's the 88th Academy Awards, which means this whole no black nominees thing has happened at least 71 other times. O.K.?
Watch Rock's opening monologue here.
You can read our post about the 9 best lines from his monologue here.
3. Ryan Gosling and Russell Crowe nearly had fisticuffs on stage.
You know when on-stage banter between actors is awkward and stilted and makes everyone feel really uncomfortable? This was the opposite of that. Crowe may finish Gosling backstage with a swift mobile phone to the chin.
4. Sly Stallone won big love from Arnie.
OK, so he didn't win Best Supporting Actor — that honour was taken by Mark Rylance — but Sylvester Stallone'll always be a winner in Arnold Schwarzenegger's eyes.
.@TheSlyStallone To me, you're the best, no matter what they say. pic.twitter.com/zs4ZLl1nhY

— Arnold (@Schwarzenegger) February 29, 2016
5. The year's biggest films were re-imagined with black actors.
"If you're a black actor, just getting an opportunity to be in a movie can be a struggle," Chris Rock said, and rammed it home with some cleverly spliced-together scenes: Leslie Jones enters The Revenant, Chris Rock is in The Martian, while Whoopi Goldberg, as a janitor, scolds a Jennifer Lawrence, "It's not rocket science, it's a mop!" in Joy. 
6. Jacob Tremblay wanted to see R2D2 in the cutest way.
Jacob Tremblay, the nine-year-old actor from the Oscar-nominated Room, is a gigantic Star Wars fan. I mean, he's adorably tiny, but he's such an enthusiast he wore Darth Vader socks with his teeny little suit – and Millennium Falcon cuff-links.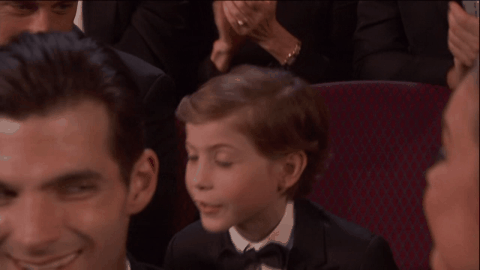 That's him standing up so he could see C-3PO, R2-D2 and BB-8 onstage to give a nod to composer John Williams.
7. Lady Gaga
Fresh from her David Bowie tribute at the Grammys, Gaga performed her song Til it Happens to You, a powerful anthem about rape. The song was nominated for Best Original Song.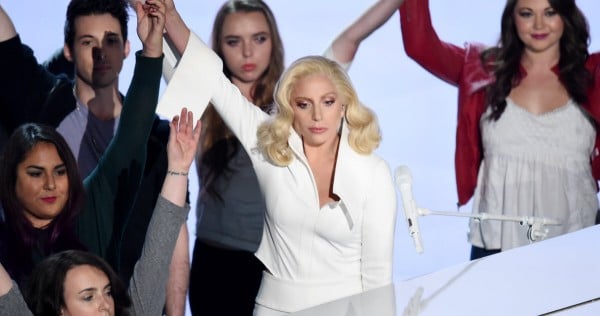 She was joined on stage by survivors of sexual assault who stood bravely while Gaga sang "it gets better, it gets better, in time." The survivors had powerful messages scrawled on their wrists, including "survivor", "It's not your fault", "We believe you" and "unbreakable".
Gaga tweeted that the song was dedicated to Kesha, who is currently locked into a recording contract with the man she says raped her, Dr Luke.

Watch Lady Gaga's performance here


8. Sam Smith won and dedicated his award to the LGBTQI community — but his dad's the real winner.
Smith said, "I read an article that said no openly gay man had ever won an Oscar, and if this is the case, I want to dedicate this to the LGBT community all around the world. I stand here tonight as a proud gay man and I hope we can all stand togetehr as equals one day."
His dad? He wished his son the best of luck: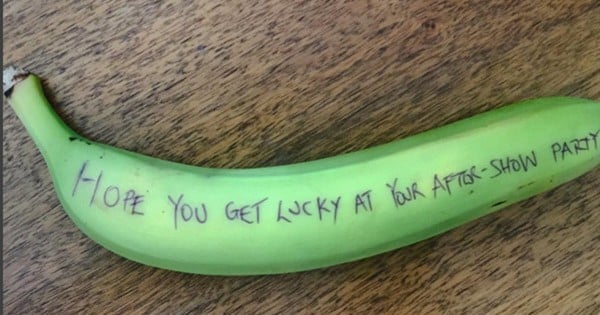 9. Ali G at da Oscars did a Black Power salute.
Sascha Baron Cohen revived his first and in my humble opinion, greatest creation, Ali G, who wanted to speak not just for his "bredren" but all the other neglected races, such as those tiny little yellow guys, the Minions.
And then he did a Black Power salute, which fell incredibly flat.
10. Leo, Leo, Leo!
The wait is over. DiCaprio finally, finally won. Kate Winslet listening to his speech is all of us.
Watch Leo's speech here…
And the winners were:
Best Original Screenplay: Spotlight, Josh Singer and Tom McCarthy
Best Adapted Screenplay: The Big Short, Charles Randolph and Adam McKay
Best Supporting Actress: Alicia Vikander, The Danish Girl
Best Costume Design: Jenny Beavan, Mad Max: Fury Road
Best Production Design: Colin Gibson and Lisa Thompson, Mad Max: Fury Road
Best Makeup and Hairstyling: Lesley Vanderwalt, Elka Wardega and Damian Martin, Mad Max: Fury Road
Best Cinematography: Emmanuel Lubezki, The Revenant
Best Film Editing: Margaret Sixel, Mad Max: Fury Road
Best Sound Editing: Mark Mangini and David White, Mad Max: Fury Road
Best Sound Mixing: Chris Jenkins, Gregg Rudloff and Ben Osmo, Mad Max: Fury Road
Best Visual Effects: Andrew Whitehurst, Paul Norris, Mark Ardington and Sara Bennett, Ex Machina
Best Animated Short: Gabriel Osorio and Pato Escala, Bear Story
Best Animated Feature Film: Pete Docter and Jonas Rivera, Inside Out
Best Actor in a Supporting Role: Mark Rylance, Bridge of Spies
Best Documentary Short Subject: Sharmeen Obaid-Chinoy, A Girl in the River: The Price of Forgiveness
Best Documentary Feature: Asif Kapadia and James Gay-Rees, Amy
Best Live Action Short: Benjamin Cleary and Serena Armitage, Stutterer
Foreign Language Film: Son of Saul, Hungary
Best Original Score: Ennio Morricone, The Hateful Eight
Best Original Song: Jimmy Napes and Sam Smith, "The Writing's on the Wall," from Spectre
Best Director: Alejandro González Iñárritu, The Revenant
Best Actress: Brie Larson, Room
Best Actor: Leonardo DiCaprio, The Revenant
Best Picture: Spotlight
Until next year everyone…