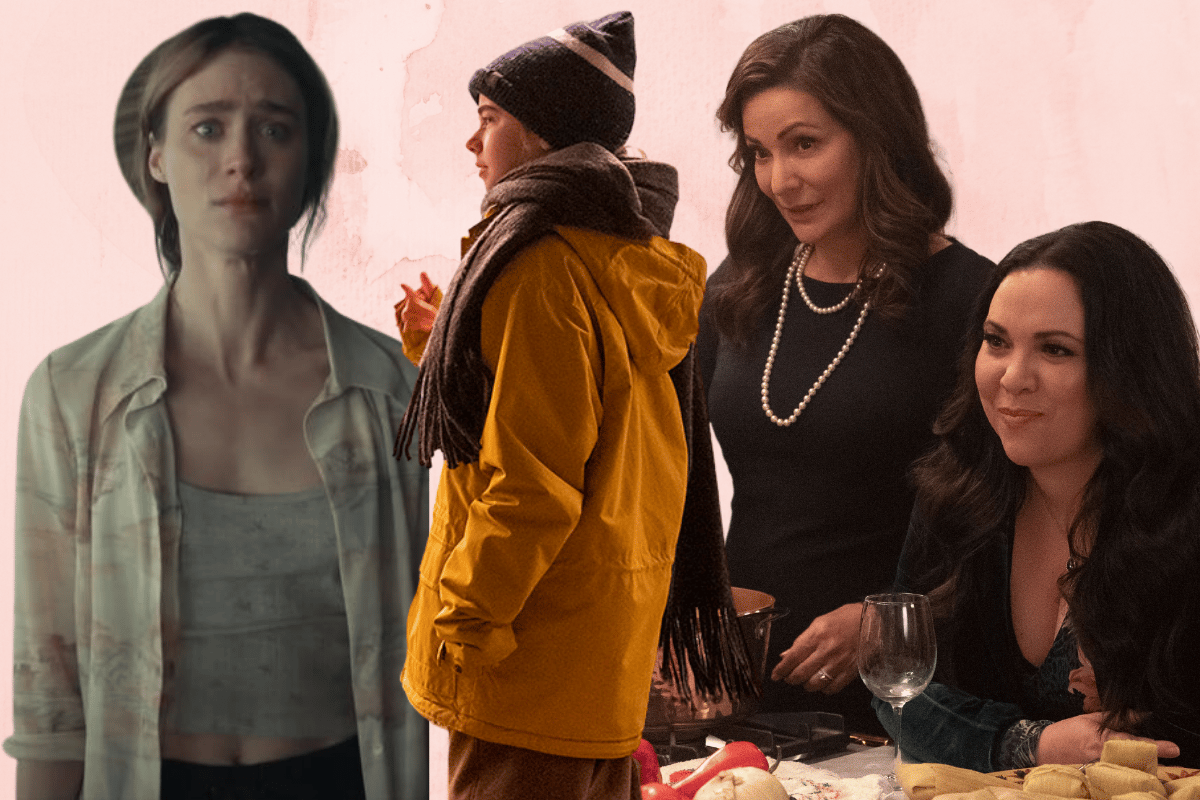 If there's one time of the year where you can give yourself permission to binge endless hours of great new TV, it's the summer holidays.
With that in mind here are four new TV shows, that might not yet be on your radar yet, that will keep you entertained over the holiday season. 
Station Eleven
A new series looking at what the world would be like following the outbreak of a deadly virus might not seem like something you'd want to watch right now, but Station Eleven is less about devastation and more about the small moments of humanity that are left behind. 
The new 10 episode Stan science fiction miniseries is based on the 2014 novel by the same name by Emily St. John Mandel and stars Mackenzie Davis, Himesh Patel, Daniel Zovatto, Lori Petty, and Gael García Bernal.
Station Eleven takes place decades after a flu pandemic wiped out the majority of the world's population and basically caused the collapse of civilization. The story moves backwards and forwards in time but mostly centres on a group of survivors who make their living as travelling performers, reminding what's left of the world about the magic of the arts.  
Unlike other post-apocalyptic shows, Station Eleven doesn't take place in a dark and desolate world, instead offering up a lush landscape where groups of humans have found a new way to survive. 
Of course, like any good post-apocalyptic show, there are dangers for our main characters to face, and encountering a violent cult, led by a man with a dark secret, is just one of them. 
Watch it on Stan from December 17.
Watch the trailer for the Stan series Station Eleven.
Love Me
We love an Australian-created series, and that's just one of the reasons why Love Me earns a spot on the 'must watch' list. 
Love Me is Binge's very first original series and stars Hugo Weaving, Bojana Novakovic, and William Lodder in a story about three different family members facing a crossroads in their lives while all looking for love, in different forms. 
The story follows the Mathieson family, father Glen and his two adult children Clara and Aaron. Glen is trying to figure out what love looks like later in life, Clara is approaching 40 and worries that her career could have cost her a family, and Aaron is navigating life in his early 20s and trying to figure out what love actually is.
Not only does Love Me feature an all-star cast, it's also been created by a team of  Australian powerhouses including director Emma Freeman (Stateless, Glitch) and lead writer Alison Bell (The Letdown).