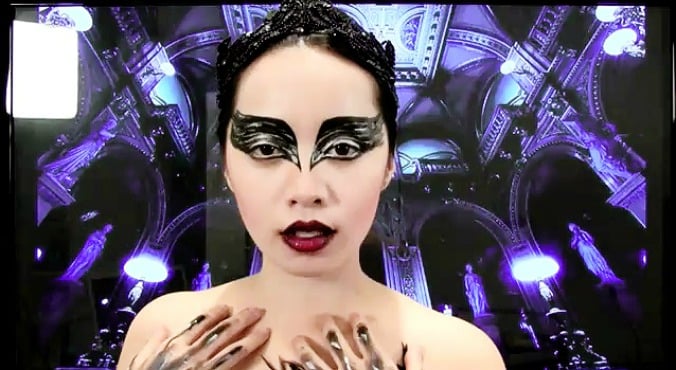 Image: Michelle Phan nails Natalie Portman's Black Swan look (Youtube)
In case you haven't looked at a calendar today, Halloween has crept up on us once again.
This news will either make you panic, because you've just realised you haven't sorted an outfit (tip: smudgy black eyeshadow + red lipstick = vampire); or it'll make you insanely excited because you'll finally have a chance to try your hand at an extreme beauty look. Regardless of your views on trick or treating, we can all agree October 31st is the perfect excuse to get creative with the makeup.
For those with a steady hand and who love a makeup challenge, we've rounded up 5 of the coolest tutorials to try at your Halloween parties this weekend. Brushes and fake blood at the ready…
1. Clown
Fact: clowns are terrifying, especially ones that look like this.
2. Pop Art
Pop art makeup, inspired by the works of artists like Roy Lichtenstein, is seriously cool. Black eyeliner is your friend here.
Need some more Halloween inspiration that's slightly less… complex? Here are some of the efforts from around our office:
3. Black Swan
Darren Aronofsky's 2010 Oscar-winning thriller was striking, unique and a little bit unsettling – and this makeup look, recreated here by Michelle Phan, will have the same effect. Just team with a black tutu and singlet, tiara and black wings.
4. Stretched lips
Get ready to freak out your friends with this one.
5. Skull
It takes a lot of skill to look really dead.
Are you dressing up for Halloween this year?