It's a story about the one that got away.
The 1997 hit movie My Best Friend's Wedding – which revived the career of Julia Roberts – was almost a dud, with test audiences hating her character Jules so much by the end they wanted her to die.
A pretty harsh reaction to someone who was just trying to win the love of her life back.
In the movie Jules learns that her ex Michael – played by Dermot Mulroney – is engaged to be married to loveable Kimmy – played by Cameron Diaz – forcing her to realise she's in love with him. In sheer desperation, she flies to Chicago seemingly to attend the wedding only to spend most of her time trying to sabotage Michael and Kimmy's relationship.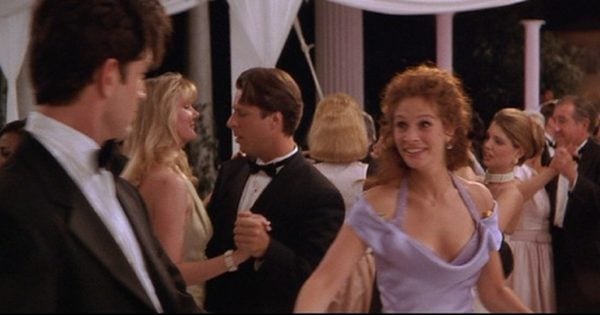 Director P.J. Hogan recently told Entertainment Weekly that the original version of the film was a little different, with Rupert Everett's gay best friend character George a much more minor character and a completely different ending.
But test audiences hated it.
"They wanted her dead. They just couldn't understand her motives," Hogan told Entertainment Weekly.
The original ending didn't include the dance scene with George, but instead showed Jules meeting a new love interest played by Sex and the City's John Corbett. But the ending left audiences with a sour taste in their mouths due to the unforgivable behaviour of Jules as she tried to break up the happy couple.