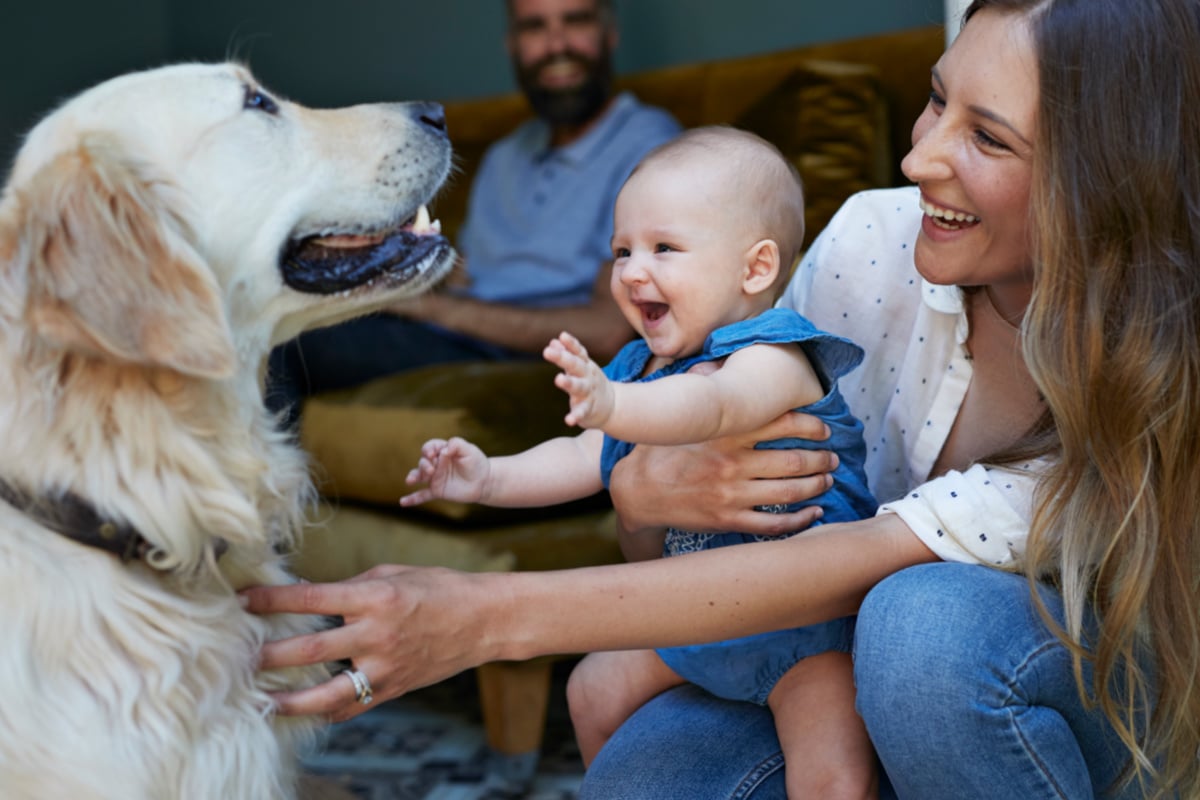 When you have children or are thinking of starting a family, the decision to introduce a pet to your household can become a little… tricky.
Certain thoughts come to mind, such as: What if the dog is too rough with the baby? What if my young children are too rough with the dog? What if we don't have enough time to meet the dog's exercise requirements? And what if the dog doesn't fit in with our family?
These are all very real concerns, after all, the decision to adopt a dog and give it a loving home deserves lots of consideration – especially if you have a young family.
Lara Shannon, dog trainer and behaviourist and host of Channel 10's Pooches at Play, spoke to Mamamia about how to choose a dog breed that will complement your family and be beneficial for the pooch as well.
Listen to Mamamia Out Loud, Mamamia's podcast with what women are talking about – this week the team discuss dogs in public. Post continues below.
What to know before you even look at breeds.
Before jumping on PetRescue, there are important things you should think about – ask yourself how much time you can dedicate to training, walking the dog and spending time with the puppy and think about the costs associated with desexing, vaccinations, obedience school and pet insurance.
Be sure to take the time to think about what energy levels and temperament would be a good fit for your family, and remember: just because a puppy is cute, it doesn't mean it will fit in with your family's lifestyle.
"Whether you are getting a new puppy or adopting a rescue dog, you need to do your homework," Shannon says. "Research the common traits/temperament of the breed you are thinking about."
Things Shannon says to consider:
What are their common health issues and dietary considerations?
Do they have specific exercise needs – mental and physical?
If you are looking to rescue, ask about and ensure you understand any behaviour issues a particular dog may have. Are you equipped and prepared to put in the time and money that may be required for training and veterinarian care, particularly for any fear and anxiety, aggression, phobias or health issues they may have?
I would also suggest that if you are giving it to the children pestering you for a dog, that you look at fostering a dog first to ensure you are ready for a dog, and you can see if the children are actually going to help look after it, which they all promise to do at the start…which very few follow through on.
The best family dogs for kids.
So if you've thought about the costs, training and exercise requirements and still want to introduce a fur baby to your home, how do you know what is the right breed?
Shannon says not every dog suits all lifestyles, and if we don't get it right, it can cause issues for both the human and our furry family members.
"When it comes to families with children, breeds that are known to be patient, resilient and friendly are important to choose," she says.
Dogs that are great with children and teens of all ages include:
British Bulldogs
Beagles
Cavalier King Charles Spaniels
Gentle giant breeds (see below for a breed breakdown)
Boxers
Mastiffs
Vizslas
Cavoodles and other 'oodle' variations
Staffys
BITSAs
What you need to know about the breeds.
It's worth noting that while dog breeds generally have similar temperaments and energy levels, every dog has its own unique quirks and traits.
British Bulldogs
"The British Bulldog is particularly great with kids of all ages who can be a little rough as they are built a bit tougher than some others. They are known for being very friendly, pretty docile and laid back and are very loyal," says Shannon.