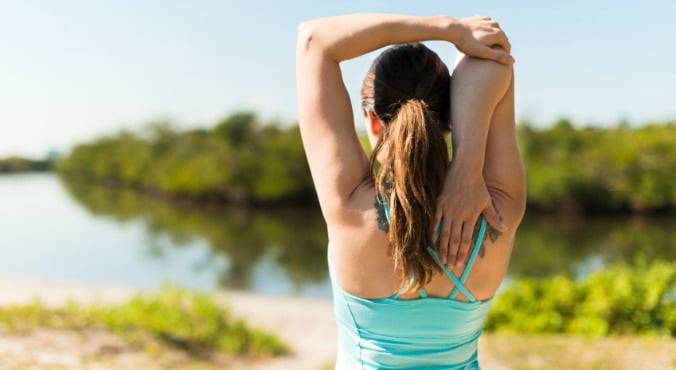 Image: iStock.
When you go to the gym, what's the one part of your body that's at the forefront of your mind? Chances are it's your legs, your core, your chest or your arms — the areas where you can actually see the results of your hard work.
Yet fitness experts say you should also be mindful of working on the parts of your physique that are out of sight.
We spoke to personal trainers and IsoWhey Sports ambassadors Andrew Pap, Alexa Towersey and Lauren Hannaford about why your back needs a bit of love, and how to go about strengthening it.
Why backs are important
Your back plays a significant role in the body. Along with the rest of the "posterior chain" — including your glutes, hamstrings and calves — it's responsible for a number of functions and key movements.
"Our core keeps our body stabilised and balanced but our backs need to be strong so they can help keep our shoulders, neck and upper back stabilised also," Hannaford says.
Focusing on the spine is particularly important given how much time we spend sitting down (hello, office workers). Pap says a sedentary lifestyle can cause our bodies to become imbalanced — tight through the front yet weak at the back.
Watch: Paper Tiger shares their tips for a healthy working day in the office. (Post continues after video.)
"This inevitably leads to habitual poor posture and eventual injury, whether it be because we are sedentary or because we then go and train and reinforce these incorrect movement patterns even more," he adds.
Continual poor posture can also result in back pain, neck pain, headaches, and lectures on "slouching" from your loved ones. All of this is best avoided where possible.
Why we neglect them
Obviously, one of the reasons our backs are forgotten is visibility — or lack thereof. "I think a lot of the time if people are focused on the aesthetic benefits of training only, it can definitely be overlooked," Towersey says.