It's that time of the year when we look back on the year that was and either smile or ask 'what the hell happened?'
And in case you need help doing some of the former, we've put together a list of the adorable moments between celebrities and their children. It might just help you unearth a few nice memories of your own.
Kate Middleton hushing her children.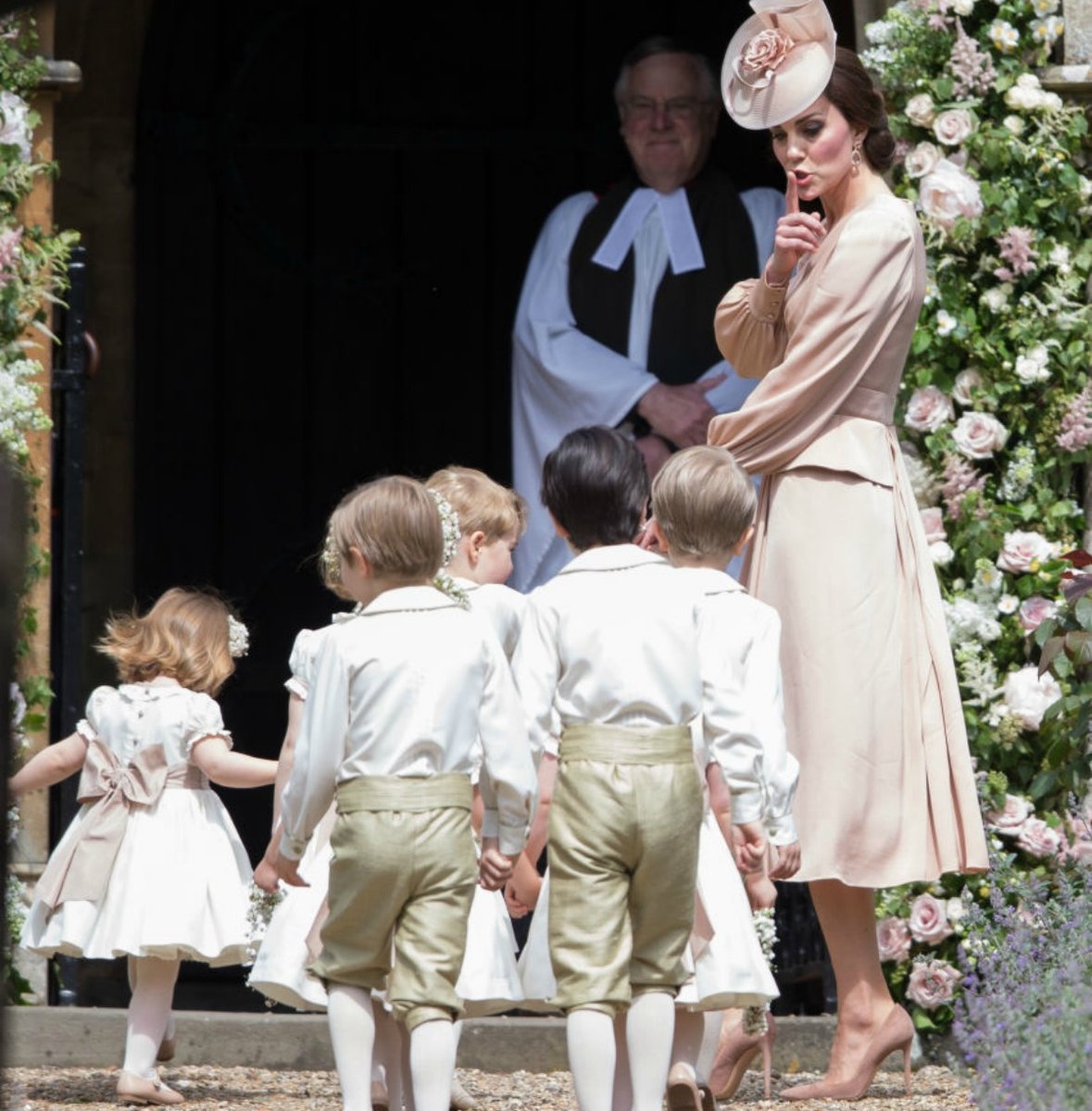 The Duchess of Cambridge proved to be the ultimate wedding party member when she was put in charge of wrangling the kids at her sister Pippa Middleton's wedding in May.
Photographers managed to snap some candid photos of Kate as she hushed the children, including Prince George and Princess Charlotte.
It was the moment most of us realised that, despite her royal status, Kate was just like any other mum, struggling to keep kids from being well, kids, just long enough to get everyone through a wedding unscathed. Mums know how to keep it together, even in a hat and heels.
Pink's speech for her daughter.
When Pink's daughter Willow said she was the "ugliest girl" she knows, the singer was a little lost for words. By the time she was taking the stage to accept the Michael Jackson Video Vanguard Award at the Video Music Awards, however, she knew what she wanted to say.
The six-year-old had said she, "looks like a boy with long hair".
And Pink replied to her: "And I said to her, 'Do you see me growing my hair?' She said, 'No, mama.' I said, 'Do you see me changing my body?' 'No, mama.' 'Do you see me changing the way I present myself to the world?' 'No, mama.' 'Do you see me selling out arenas all over the world?' 'Yes, Mama.' 'OK! So, baby girl. We don't change. We take the gravel and the shell and we make a pearl. And we help other people to change so they can see more kinds of beauty.'"
Pink's powerful speech about providing an example to her daughter of how looking different can be special and powerful and that beauty is not as narrow as society makes out inspired millions around the world.
LISTEN: Being the kickarse women she is, Pink also summed up long-term relationships in one perfect sentence this year. Post continues after audio.
Kristen Bell keeping her cool.
Kristen Bell has proved time and time again she's a perfectly imperfect mum, but perhaps our favourite parenting moment of hers is when her son Lincoln and daughter Delta broke an ornament of hers.
Captioning an image of Frozen's Anna (the character Bell voiced) and Elsa with Anna's head removed: "This will be the cover of my autobiography and it will be titled 'My children keep me grounded'."
That beautiful Beyonce baby shoot.
This is less "heartwarming" and more goals, but we thought nothing could top the series of spectacular photos released as Beyonce announced her pregnancy.
But then, a month after news her and Jay Z's twins Rumi and Sir Carter had arrived, the Queen posted a photo so fabulously over-the-top, it's set a new standard for baby shoot photos.
And look at those precious little bubs! Look at them!
Victoria Beckham's proud mum moment with Brooklyn.
As any parent of a school-leaver will know, nothing prepares you for the moment they head off to university. In August, Victoria Beckham told her Instagram followers she was "crying" and "emotional" and she posted a heartfelt message to her son Brooklyn, who was about to start university.
"We are all so proud of you Brooklyn. Amazing A level results and off to college. We love you so much and will miss you. #yesiamcrying #emotional."
Serena Williams asking for parenting advice on Instagram.
She doesn't need anyone's help when it comes to winning tennis championships, but Serena Williams this year proved she isn't afraid to ask for parenting advice.
The tennis champ celebrated the arrival of her daughter Alexis with husband Alexis Ohanian in September. It wasn't long before she turned to fans on Instagram and other social media sites for advice on common complaints like teething.
Did we mention she's already set up an Instagram account specifically to share pics of her adorable bubba?
Reese Witherspoon's heartfelt 18th birthday present.
Many children of celebrities might be expecting something like a car or a Tiffany locket on their 18th birthday. Reese Witherspoon's daughter Ava, however, was happiest with the simple, homemade gift her mother gave her on the big day.
The actress, who also has sons Deacon and  Tennessee, had penned a letter each year of her eldest child's life and presented all 18 letters to her on her birthday - causing her to start bawling. Aw.