At Mamamia, we want to acknowledge and celebrate the Australian men who are doing good things and trying to make our country a better place. So we came to you with a list of 100 great Aussie men and asked you to decide Mamamia's 50 Best Blokes. This week, we'll be counting down the top ten and announcing who you chose as Mamamia's Best Bloke on Friday. We're so pleased to present number ten: Dr Gordian Fulde. 
While most of us are tucked up in bed, Professor Gordian Fulde is busy running one of Australia's most famous and hectic hospital emergency departments.
He has a face you might well recognise. The doctor is a mainstay of Nine's reality show Kings Cross ER, where viewers get to see his difficult work in action.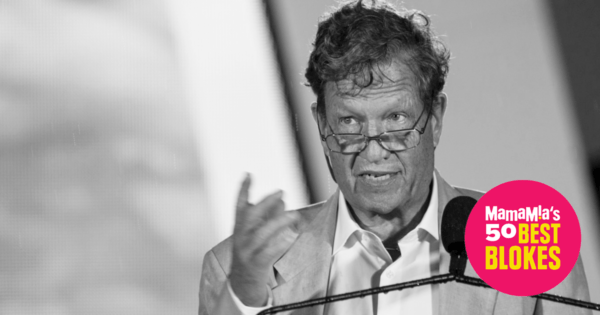 The son of two German doctors, Fulde emigrated to Australia as a young child and ultimately followed his parents into medicine - a passion and profession that he also shares with his wife and has passed on to his two children.
He is the longest-serving emergency department director in Australia, having been in the role for more than three decades at St Vincent's Hospital and Sydney Hospital, and this year was awarded the prestigious title of Senior Australian of the Year.
His workplace in on the frontline of Sydney's tumultuous and violent nightlife, so Dr Fulde has seen first-hand the effects of drugs and alcohol on the community.
The 67-year-old has been passionately outspoken about substance abuse, telling Fairfax he sees drugs and alcohol causing untold "damage and devastation".
"We really do not need to be drunk and ugly or out of it to enjoy this fantastic country," he said.
As well as spreading this message via the media, Fulde also takes it to the places where it can have the most impact: schools and community groups. By sharing his tragic and at times frightening frontline tales about the impact of drugs and alcohol abuse, he hopes to prevent other young people from ending up in his care.
It won't surprise many that Dr Fulde was a key backer of the lock-out laws in Kings Cross to combat alcohol-fuelled violence, following the one-punch death of Thomas Kelly in 2012.
He is also a board member of the Thomas Kelly Foundation.
This illustrates his determination to eliminate the dangers of binge drinking, the results of which he says turn his hospital wards into a warzone.
Working in emergency, Dr Fulde trains his students and staff to deal with the floods of patients that stream in each night, particularly on weekends.
One of his biggest concerns is crystal meth or ice and the affect it is having on modern society.
"Ice is the most evil drug we have at the moment because it's got the biggest profit margin; the precursors are not that hard to come by, and it's so insanely addictive that your first dose can get you into real trouble," Dr Fulde told The Australian.
"It destroys the person very quickly, and their family, their friendships."
The content of his work aside, his shifts are also excruciatingly long.
He told The Australian he has built up his incredible mental and physical stamina over the years:  "I can sleep anywhere, any time, for any length of time and I can wake up and be fully functional."
But he confessed that, as a father of two, some situations are too much to bear even for him.
"When a critically ill patient comes in while conscious, so that you are able to talk to them, make human contact with them, and in spite of whatever you do for them, they die. That's as tough as it gets. When children die, it's just beyond description," he told The Australian.
To cope, he said mourning was essential, as well as sharing your grief with loved ones.
"Talk to someone about it. I have a fabulous family: my wife and daughters, and the dogs. Black humour is quite important," he said.
Dr Fulde's tireless work ethic, his deep care for the sick and injured and his concern and dedication to creating a better future for our country make him eminently worthy to be among Mamamia's 50 Best Blokes for 2016.
This week at Mamamia, we're celebrating our 50 Best Blokes for 2016.