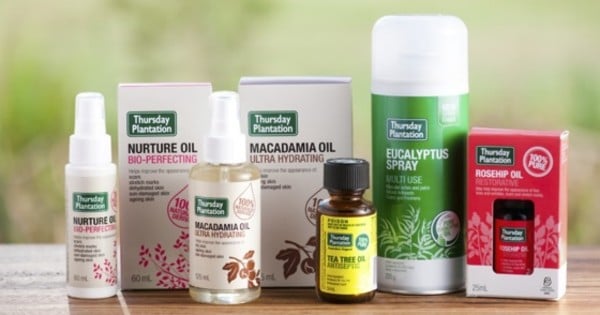 Last Thursday I caught a fleeting glance at my reflection, it wasn't good. It wasn't that my iPhone camera was accidentally on selfie mode – even though it was. It wasn't that I had multiple double chins – I'm used to them. It was that my skin looked awful. I had dropped the ball. While I was busy doing other things, a pizza had erupted on my face.
Call it fate. Call it a message from the skincare gods, because not even two hours later, I was asked to trial Thursday Plantation's skincare line. I am familiar with (and use) their Tea Tree Oil deodorant, but I was unaware they branched into skincare. Since I fell pregnant with my first baby six years ago, I've been a natural and organic skincare devotee. Needless to say, I said yes faster than Beyoncé fans jumped on celebrities named Becky with possibly Good Hair.
The premise was simple. I was to road test the natural beauty oils in their Deep Cleansing Oil Cleanser, serums, and Replenishing Face Moisturiser. I could hardly wait.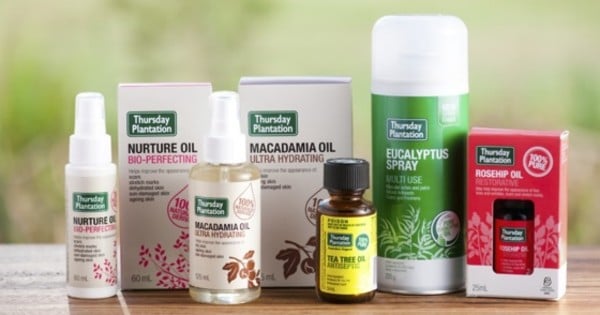 All mine for the taking, dreams do come true. Image: Thursday Plantation.
I have been using an oil cleanser (ahem, when I remember) for years now, so I was intrigued to see how Thursday Plantation's would compare. I applied two pumps of the Oil Cleanser as directed to dry skin. I quickly found out two pumps is too generous. This product goes a long way. For some reason, I expected the cleanser to be odourless, but I was pleasantly reminded of an aromatherapy facial. This cleanser gets its first tick from me.
Oil cleansers work by gently drawing out impurities like sunscreen, makeup and sebum. They are great for people, like me, who are diligent at applying sunscreen each morning, and so not diligent about taking it off at night. They leave the skin feeling clean without that stripped-dry sensation you get from foaming and soap-based cleansers. I'm happy to report this one does exactly that. Second tick.
After I remove the cleanser with a warm washcloth (I initially found it hard to rinse off as I had put too much on), I then applied a serum, Thursday Plantation's Brightening Oil. This one comes packed Vitamin C and E and five antioxidant-rich natural oils: Rosehip, Avocado, Macadamia, Lemon and Mandarin. For the uninitiated, oils are the unsung heroes of glowing, healthy skin. They help to protect, brighten, plump and reduce the enemy of even skin tone, pigmentation. Rosehip oil alone has the power to fade scars. Macadamia and Avocado Oil, while delicious in salad dressings, also assist in restoring radiance and reducing sun damage caused by UV exposure. Oils also feel wonderfully hydrating when applied to the skin.