Benedict Cumberbatch is on the cover of the latest edition of Vanity Fair magazine. The usually very private actor gave a candid interview about family, travel, his need for adrenaline, so-called 'Cumber-bitches' and the danger of being typecast.
In the course of the interview he's asked about being 'the Internet's boyfriend', in reference to the legion of fans who have an intense admiration for him.
Vanity Fair journalist, Michael Schulman writes, "Cumberbatch greets the fan deluge—some of it creative, some of it creepy—with a practiced amusement. On my way to meet him in Santa Monica, I check online for the latest haul. A Twitter user has posted: 'Sometimes when I'm sad I picture a shirtless Benedict Cumberbatch slowly eating an apple fritter. Try it!'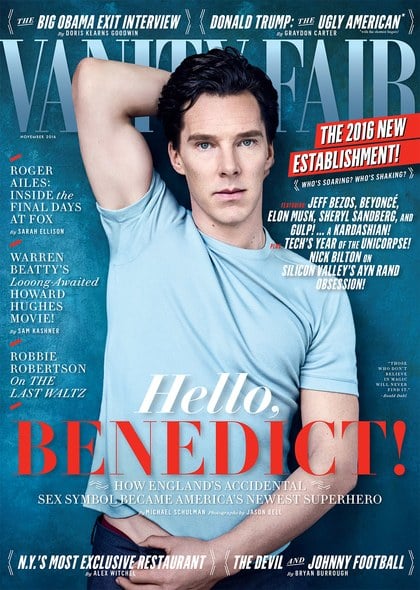 When I read this to Cumberbatch, he blushes on cue and says, 'Have you tried that? It wouldn't work for me.' He laughs, a little uneasily," the piece reads.
'"There are people who believe that my wife is a P.R. stunt and my child is a P.R. stunt,' he says, unsure if he should even be bringing this up—he knows that there's no arguing with conspiracy theorists. 'I think really it's to do with the idea that the 'Internet's boyfriend' can't actually belong to anyone else but the Internet. It's impossible he belongs to anyone but me. And that's what stalking is. That's what obsessive, deluded, really scary behavior is.'"